Tampa, Florida:
Where Surf Meets Safari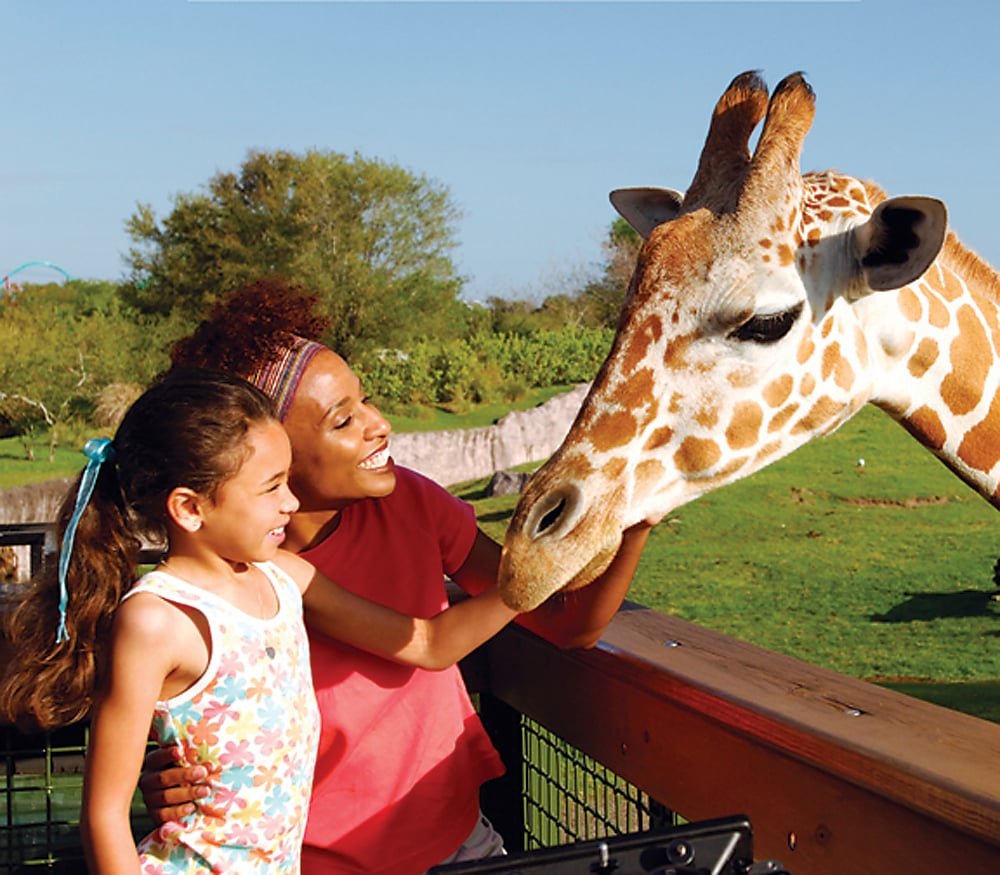 I know of only one place where you can take a morning swim in crystalline sea water and then, later that same day, get up close and personal with gorillas in the mist and endangered species normally found only on the Serengeti Plains. That unique spot is Tampa, Florida.
The heart of the sunshine state's gulf coast, the Tampa region boasts miles of shoreline, with award-winning beaches in nearby Clearwater and St. Petersburg. This fast-growing metropolis is also home to Busch Gardens Africa, where you will find one of the world's largest natural habitat exhibits outside of Africa.
Surfside Playgrounds
As a frequent traveler who has become skilled at examining beaches both aesthetically and functionally, I give a sandy thumb's up to the Tampa Bay coastal playgrounds. In fact, over the years, several of its beaches have been noted as the some of the finest in the country.
There are over 35 miles of shoreline in and around the nearby peninsula where St. Petersburg and Clearwater Beach are located, and among the offshore keys and barrier islands. These spectacular beaches are close to everything the city of Tampa has to offer, yet feel like a world away.
Recommended Beaches
Caladesi Island State Park: Accessible by ferry ride, this 2008 award-winning beach is comprised of six keys that were created from major storms that swept through the region in the late 1800s. Here you will find sand dunes, mangrove forests and nature trails. And, if you like shells, you won't have to comb the beach very hard to add winners to your collection.
Clearwater Beach: This popular white, sandy beach, with its relaxed atmosphere, affords more than fun in the sun along the water's edge. There are unique shops, bars and restaurants to enjoy. Plus, you can see dolphins swimming near the shore and be mesmerized by the spectacular sunsets that melt into the horizon at dusk.
Egmont Key Beach: This natural beauty in the Clearwater area at the mouth of Tampa Bay is only accessible by boat. Some say it has the best snorkeling anywhere along the Gulf Coast. It is also home to a Natural Wildlife Refuge and is on the Natural Register of Historic Places.
Busch Gardens Tampa Bay, located just 8 miles from downtown Tampa, is a zoo and a theme park in one. Spanning 335 acres, the park is loaded with amazing animal encounters and thrill rides – all created in the spirit of a safari experience!
Natural sounds from the animals themselves in combination with African music piping through speakers hidden among marvelous tropical gardens pulls you into a different world where you become one with the surroundings.
The animals are the priority here, making Busch Gardens Tampa Bay one of the largest zoos in the nation, with over 200 different animal species on property.
Today, Busch Gardens Tampa Bay is a leader in endangered African animal preservation. The park is divided into various regions with their own special animal exhibits such as:
The Serengeti Plain/Edge of Africa
In 1965, the park opened its Serengeti Plain animal habitat, the first of its kind to offer animals in a free-roaming environment. It is home to reticulated giraffes, Grevy's zebras, bongos, and impalas, to name a few. In 1997 Edge of Africa was created to allow guests to walk through and witness African animals such as prides of lions, a host of hippos, a pack of high-strung hyenas and a troop of lemurs, the most endangered of all primates.
Among the many thrill rides throughout the park (which includes 4 of the top 50 roller coasters nationwide), there is the unique Rhino Rally. This adventure combines animal sightings with a capricious trek on tricked out Land Rovers that take you through the Serengeti, finishing off with a trip afloat a roaring river. After sunset, the Serengeti Night Safari allows you to take a two-hour expedition through the Edge of Africa and onto the open plain where you can witness the animals' behavior under the moonlight.
Nairobi
This section of the park features a tropical rainforest that is home to families of Western Lowland gorillas and common chimpanzees. Here, we witnessed a mother gorilla feeding her new baby in the misty, emerald-green brush. It was a moving moment for our family as we agreed that these giant creatures are so eerily similar to humans.
The Right Time and Place
Without having to set aside large chunks of money and time to go across the globe, my family experienced some amazing adventures normally available only on an official African safari. We still dream of taking that trip to Africa. But, for now, we are happy to display the souvenir shells from our beach time together and recall the fascinating things we witnessed on the Serengeti Plain at Busch Gardens.
Currently, the Tampa region is offering up some attractive and affordable vacation packages, which include not only hotel accommodations, but also admission into Busch Gardens Tampa Bay. Check out buschgardens.com for more information. Or call your local travel agent to discover some of the amazing deals out there right now.
PLACES TO STAY
"Surf-side" Suggestions
Sheraton Sand Key Resort
1160 Gulf Boulevard
Clearwater Beach, Florida 33767
727.595.1611
Hilton Clearwater Beach Resort
400 Mandalay Avenue
Clearwater Beach, FL 33767
727.461.3222
"Safari-Side" Suggestions
Embassy Suites Hotel Tampa
3705 Spectrum Boulevard, Tampa
813.977.7066
Renaissance® Vinoy
Resort & Golf Club
501 5th Avenue NE
St. Petersburg, Florida 33701
727.894.1000
---