Taking a Trip to "Hadestown"
The hit musical is playing at the Tulsa PAC through October 2, 2022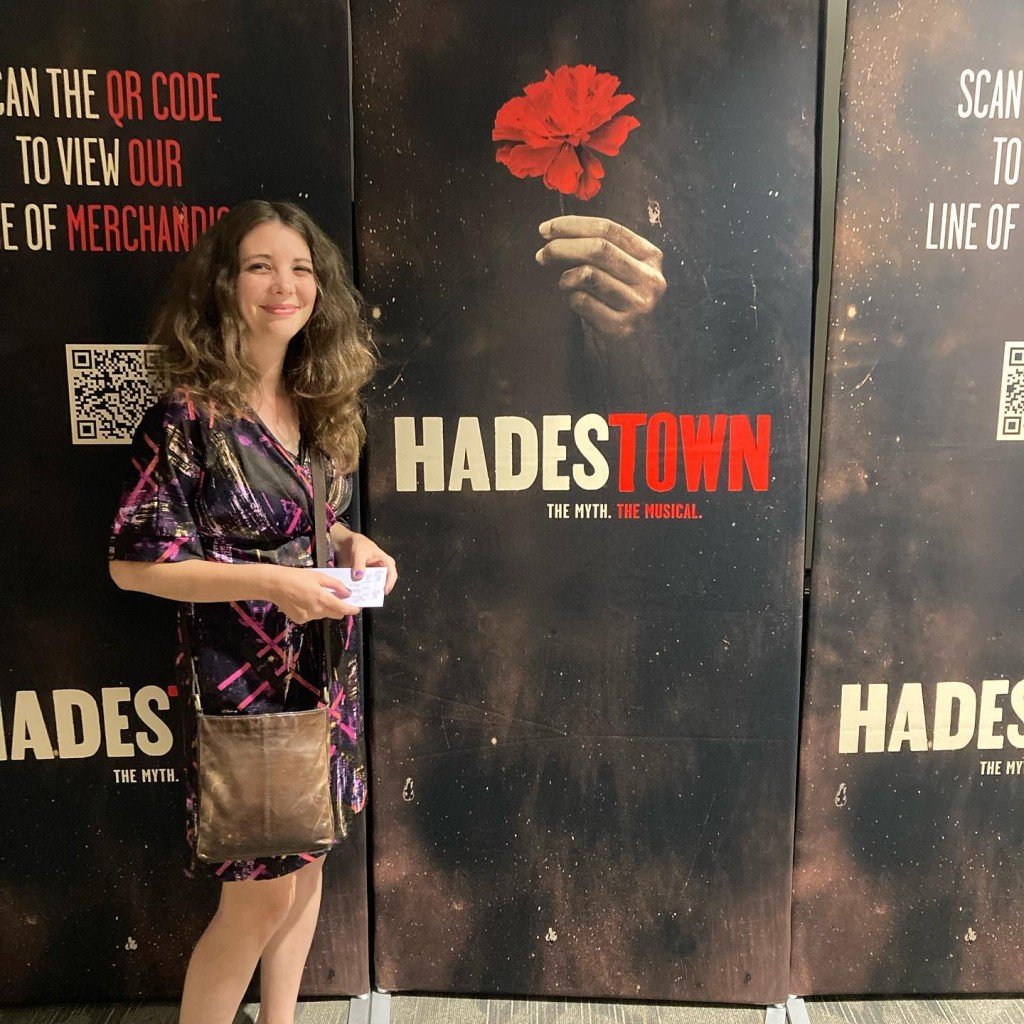 First off, many thanks to Celebrity Attractions for giving me tickets to "Hadestown," which opened last night at the Tulsa PAC. Without knowing too much about the musical, it was nevertheless the one I was most excited to see from their 2021-2022 season. And yes, that includes next month's "Frozen."
The Myths
"Hadestown" re-tells the Greek myth of Orpheus and Eurydice. If you're unfamiliar, here's a quick summary (spoilers!): Orpheus is a musician with godly parentage; Eurydice, the woman he loves. Sadly, Eurydice dies, and a heartbroken Orpheus eventually travels to the underworld to see her. Hades tells Orpheus he can bring Eurydice back to the land of the living, as long as he doesn't turn around to look at her before they depart the underworld. At the last minute, Orpheus, afraid the gods may have tricked him because he can't hear her footsteps, turns to make sure she's following him. And she is taken back into the underworld forever. As narrator Hermes says in "Hadestown," "It's a tragedy."
Entwined with this myth in "Hadestown" is the myth of Hades and Persephone. Hades is the god of the underworld, and Persephone the goddess he fell in love with. She's supposed to live with him six months of the year – fall and winter. And then return to the land of the living, bringing spring and summer with her. The original myth is more complicated, but in this version, Hades and Persephone seem genuinely in love at the beginning of the production. Unfortunately, the long-distance situation sees them growing apart. Their rocky relationship is the catalyst for the plot of "Hadestown."
The Themes
Although based on an ancient myth, "Hadestown" is very relevant. There are strong messages about the environment, immigration, the pursuit of profit over the good of others, etc. Hades himself is not just god of the underworld. He's become a god of industry, creating power grids, coal mines, oil fields, and more. Although he expects Persephone to celebrate his acquired power, the expression on her face as she see what he's become is moving. And his heart becomes harder against her.
In the original myth, Hades abducts Persephone and drags her back to the underworld. Her mother's intervention is what allows Persephone to return to the land of the living at least part-time. In this version, Persephone is full of vitality, strength and humor. But even so, the situation with Hades dims her light.
Furthermore, Hades is jealous of her time spent above, and tries to keep her with him beyond his allotted time. This is what compels Orpheus to write a song that will help the two fall in love again – and what leads to Eurydice's untimely death, as a life of perpetual winter is full of hunger and hardship.
Even knowing the original myth, the scene where Orpheus and Eurydice flee the underworld is nail-biting! It's hard not to hope for a happy ending. Which, as Hermes says at the very end of the play, is kind of the point. Orpheus is an optimist who believes in the power of love. He may fail – over and over again – but in telling his story, we betray our own hope that things can change, no matter how dark they get.
According to an article sent by Celebrity Attractions, "The show's world is one of suffering. Power and wealth reign supreme; the poor go hungry; seasons are unstable; and love is lost. In the real world, COVID-19 wreaks havoc, systemic racism forces persistent protest, border security fuels contentious debate, unemployment skyrockets, and climate change happens in real time." But later, "Orpheus offers a glimpse at humanity's fullest power by following through on his conviction for goodness and beauty."
The Talent
I really think this was one of the most talented casts I've seen on stage! Not only that, but the musicians got to play on stage! There were just seven musicians, playing cello, violin, trombone, piano, guitar, drums and bass. Some played secondary instruments as well. They were an incredibly integral part of the production. Persephone introduces them all to the audience at the beginning of Act II, and the trombone player gets up and moves around at least once. It's so much fun. They got the biggest cheer of the night.
Plus, Orpheus actually plays a beautiful guitar – rather than his traditional lyre – throughout the show. I was like, "Is he really singing and playing and acting at the same time?!" And…yes. Absolutely incredible, and he had a beautiful, ethereal voice. Perfect for playing the best musician who's ever lived.
The cast was not very large, and there really were no small parts. The chorus of five was on stage the entire time, I think. The three fates were ever-present, stirring up trouble and watching to see where the chips fall. The dancing and acting were full of energy. Persephone's transformation from celebratory goddess of spring and summer to a wife grieving over her husband's callousness was perfect.
The whole musical felt very interactive and intimate as well. As soon as Hermes steps on stage at the beginning, he starts engaging with the audience, drawing you in immediately.
Celebrating Diversity
An article sent by Celebrity Attractions, "Diversity and the Dynamic Women Behind Hadestown," says, "Hadestown demands that theater make space for diverse voices. Its modern premise reflects the values of our changing culture through a transformative musical that reimagines Greek mythology. Beyond artistic excellence, Hadestown's diversity cements the musical's lasting influence."
Not only is the cast diverse, Anaïs Mitchell wrote and composed the music for "Hadestown." Director Rachel Chavkin brought it to life. According to the article, it's rare to find a Broadway production team led by women. And when she won the 2019 Tony award for Best Direction of a Musical, Chavkin was the only woman nominated in that category.
The article quotes Chavkin as saying, "I think a [diverse] room is far more interesting, just purely on a dramatic level. It's so much better stylistically, emotionally to have varied voices. And so, with Hadestown specifically, we have reaffirmed time and again that racial diversity in particular is core to our vision of excellence."
And Mitchell adds, "Theater depicts and celebrates humanity, and humanity is diverse."
The whole production really is a complex celebration of humanity. It acknowledges our tendency towards selfishness and doubt, but it still inspires the viewer to stay hopeful and to keep striving for a better outcome.
The cast of "Hadestown" ended their curtain call with a special acknowledgement of Tulsa Race Massacre survivors and descendents, and the Greenwood District's legacy. They reprised one of the songs and "raised a glass" to honor the descendents present in the audience.
"Hadestown" Tickets
"Hadestown" is playing at the Tulsa PAC through October 2. Showtimes are:
9/28, 7:30 p.m.
9/ 29, 7:30 p.m.
9/30, 8 p.m.
10/1, 2 and 8 p.m.
10/22, 1 and 6:30 p.m.
Tickets are available for purchase at secure.tulsapac.com/96
---