Sweet Spider Treats and Picture Books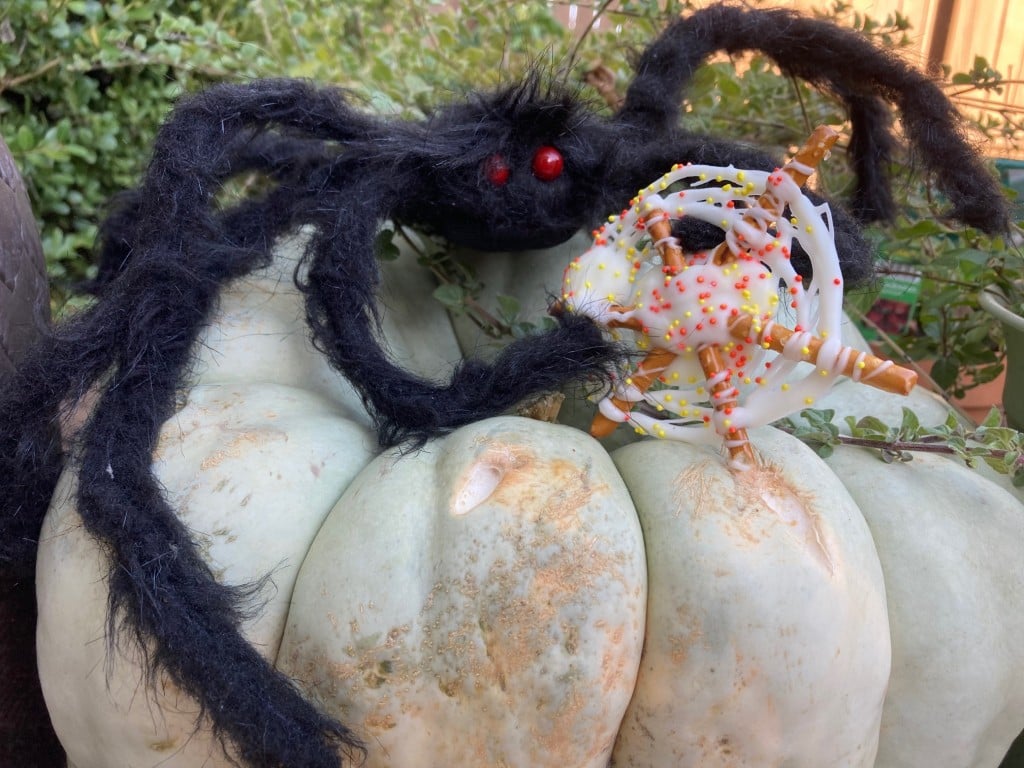 When we watched the 2019 Addams Family movie a couple weeks ago, Joss liked it so much he asked to watch it again the next day. Despite the fact that, the previous night, the memory of seeing thousands of spiders pouring out from the bottom of Morticia's dress had him completely freaked out. He knew that the spiders in the film were friendly. And I reminded him that, as self-proclaimed keeper of an Ant Zoo, he had never minded bugs before. But for the next several nights, he asked to sleep on the floor because touching the covers of his bed reminded him of spiders, and that was terrible.
After a few days, he came up with a way to help with his spider-induced cringes: singing "meow meow, kitty kitty, meow meow" until he felt better. Unfortunately, he did this at school a few times, which his friends did not appreciate. I was proud that he came up with a solution of sorts, but did say it is probably better not to sing solos during class.
Anyway, what seemed to help the most was when Daniel showed him TikTok videos of a woman's pet spider. She purchased a jumping spider to help her get over her own arachnophobia, and documented the experience on TikTok. Now she owns several spiders, and gives them cute voices in her films. Much in the vein of Lucas the Spider, who Joss has always been a fan of. Thankfully, watching those videos did not backfire, and he hasn't had an issue with spidery thoughts in the past few days.
Sweet-and-Salty Spider Webs
All that to say, spiders have been on my brain. As well as, being that it's almost October, all things Halloween and sugary. So when I saw a recipe for a cute, spider web treat, and realized we had the ingredients on-hand, I had to make them! (The original came from Ree Drummond on Food Network.)
You'll need:
Almond Bark
Pretzel sticks
Halloween sprinkles
Wax Paper
How to Make Them:
Melt the almond bark in a microwave-safe container. Spread wax paper onto two baking sheets. Drop a dollop of melted almond bark onto the wax paper. Lay one pretzel stick across the middle of the almond bark. Break two other pretzel sticks in half. Place two halves into the almond bark on one side of the first pretzel stick. Repeat on the other side. Make sure they are approximately equidistant, as seen below.
Cover the middle with another dollop of almond bark, to help seal them in. Then, using a spoon, drip almond bark in circles around the pretzels to form a "web." Slightly thicker strands will help it stay together better.
Before the almond bark dries, top them with Halloween-colored sprinkles.
Joss really got into the sprinkles.
Stick your spider webs into the refrigerator for a few minutes, until set. I think we left ours in about 15-20 minutes. Remove gently from the wax paper. Enjoy!
Other Spider Treats
Since I went on a pumpkin baking spree over the weekend, I don't need any more treats at the moment! But here are some cute ideas:
Spider Books
In addition to stuffing your face with delicious spidery goodness, you can feed your mind with these delightful spider books! Of course, "Charlotte's Web" is a great place to start. Or possibly, "James and the Giant Peach." Younger kids may also enjoy:
I'm sure I've missed some classics! Let me know what your favorite spider picture books are – there are way more than this, but I had to stop somewhere 🙂 I haven't read most of these, but they all seemed to have good reviews. Also, I linked to the books' Amazon pages so you could see the cute covers/get more info. But check with your local bookseller first to see if they carry these or other relevant titles. 🙂
How do you feel about spiders?
---