Summer Popcorn Bucket List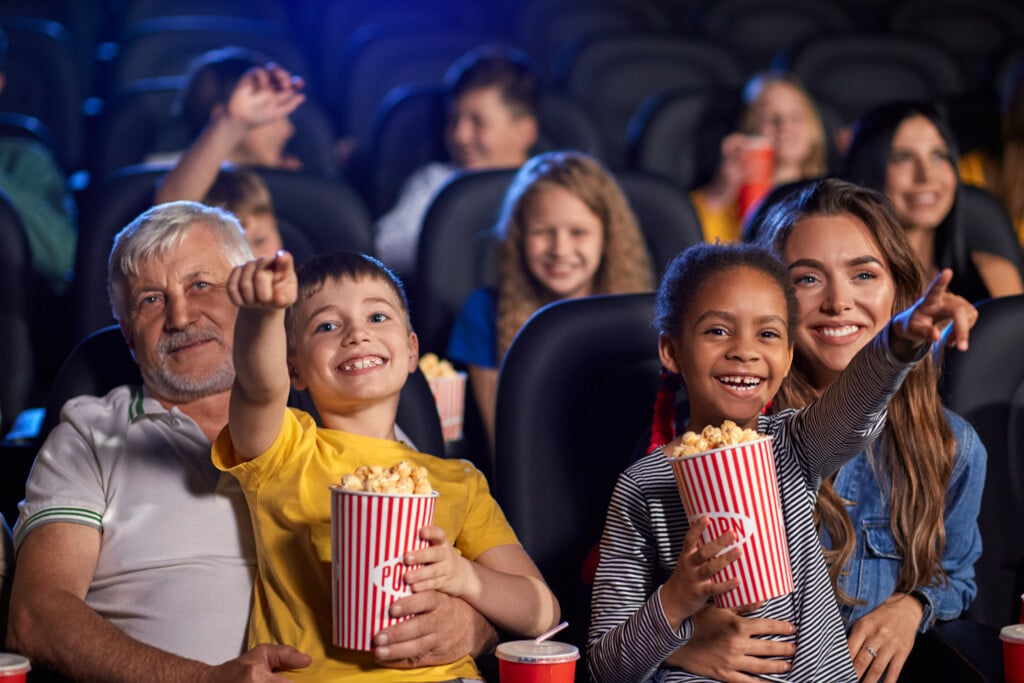 There's nothing like making family memories together in the summer sun. But when you need a break from Oklaoma's sweltering heat, there's nothing quite like kicking back with a bucket of popcorn and some purse snacks we both know you smuggled into the theater. If you love pop culture as much as my family does, here's your summer popcorn bucket list:
1. Catch a matinee.
We've all been there. It's the dead heat of summer, your kids are climbing the walls, and you've been through every trick in the playbook – bubbles, finger paint, the whole nine yards. Fortunately, several local movie theaters offer matinees just for kids so you can enjoy a couple of hours of relative calm in the cool air conditioning of a dark theater. And it won't cost you a pretty penny, which is good because goodness knows the kids are eating you out of house and home.
Cinemark Broken Arrow is offering their Summer Movie Clubhouse on Wednesdays from June 19 through August 10. Movies start at 9:30 a.m. and cost $1.50 per ticket. Expect to see kid-friendly animations like Minions: The Rise of Gru and DC League of Superpets. Theaters like AMC, Regal, and Circle Cinema will also typically offer cheap summer kids' flicks, so be sure to check their offerings regularly.
2. Visit the drive-in – both of them.
Thirteen years ago, Tulsans' hearts broke as our beloved local landmark the Admiral Twin – famous for its appearance in The Outsiders – burned. We were so sad that we all banned together and helped get it rebuilt, and these days, it's back better than ever. In fact, drive-in theaters are seeing something of a renaissance in Tulsa, and we now have two to choose from!
For our family, catching a double feature at the drive-in is a summer must. We go all in with inflatable air mattresses and pillows, transforming our little parking spot into a full-fledged mobile TV lounge. There's just nothing quite like kicking back under the stars, cool summer breeze wafting by, frosty cola in your hand. It's a memory many of us have from our own childhood, and one our kids will hopefully pass on to the next generation.
Admiral Twin in Tulsa features two screens with two different double features on them. Gates open about an hour before the first showtime, usually just after dark. It's $9 for adults and $5 for kids ages 3 through 11 to get in.
The Tee Pee Drive In in Sapulpa was also recently renovated and looks amazing. They have one screen for their double features, and it costs $8 for adults and $4 for kids ages 4 through 12.
3. Grab some cheap seats.
Taking the whole family to the movies can be a drain on the wallet. That's why my family loves the discount movie theater. You can hop over to Groupon and pick up a sweet deal on tickets for Eton Square 6, where they offer first-run movies in a theater without all the bells and whistles. It costs us less than $30 to take our family of five, and they have tables in front of every row of seats so you can throw down a bunch of crowd-pleasing snacks.
4. Watch a movie outdoors.
There are a few great places to watch a movie outdoors during the summer. Here are a few:
Philbrook offers films on the lawn on Friday nights throughout the summer at movie theater prices ($12 for adults, $6 for teens, and $3 for younger kids). You can even reserve a group area and plan to hang out with your whole crew. Their movie lineup for 2023 includes Mean Girls, Clue, and The Sandlot, just to name a few.
Guthrie Green will be playing free movies in the park once a month all summer long. First up is the critically-acclaimed black comedy horror Parasite on May 18th – it's definitely not appropriate for younger kids, but my teenagers loved it.
5. Turn your backyard into a theater.
If you're like me, sometimes you want the experience of an evening out with all the comforts of home. All you need is a friend with a projector, a white shower curtain, and a few blankets to transform your backyard into a DIY drive-in theater.
6. Host a living room marathon.
I'm a firm believer that kids should have a complete pop culture education. And watching all the movies and shows you love again with your kids is a blast. Make a watch list at the beginning of the summer and then try to check everything off your list. Bust out the blankets and pillows and turn your entire living room floor into the world's chillest crash pad, then dive into the entire Hunger Games or Lord of the Rings series.
7. Find out what the kids are watching.
As the mom of three teens, I'm forever shocked at how often I hear people say they can't relate to their kids' culture and interests. The truth is, kids of all ages love a chance to share what they love with the adults in their lives!
I carve out time every few days to let my kids show us their favorite new content creators, which is how I've gotten subscribed to Daily Dose Internet and Film Theory while staying apprised of cultural phenomena, trends, and memes. While you're at it, be sure to add Tulsans Pamacake and ZOhMyCats to your watch list!
8. Get in on Studio Ghibli Fest 2023.
This summer, all of Hayao Miyazaki's Studio Ghibli films will be playing in theaters across the country. If you're not familiar with these gorgeous, meditative Japanese films, they're inspired by nature and Shinto, appropriate and interesting enough for young kids, and beloved by teens and adults alike. From their sweet, soulful scores to memorable characters like Ponyo and Totoro, Studio Ghibli films need to be on every family's summer watch list.
Summer Movie Watch List
2023 is already shaping up to be a fantastic summer for movie lovers. Here are a few of my favorite family-friendly first-run picks:
May:
Guardians of the Galaxy Volume 3

–

Chris Pratt, alien superheroes, and a great playlist. Need I say more?
June:
Transformers: Rise of the Beasts

– Pitting the Transformers against the machine-beasts the Maximals.

The Flash

–

Get your superfast superhero fix.

Elemental

– The latest Pixar flick featuring a city populated by elements like fire, air, and water.

Indiana Jones and the Dial of Destiny

– A perfect reason to marathon the first four with your kids.
July:
Barbie

– Don't forget to dress in pink for this one.

Haunted Mansion

– A reboot of the franchise based on the cherished Disney ride.
August:
The Meg 2: The Trench

–

If your crew is a little older and loves a good monster flick, this might be for you.

Blue Beetle

– The latest DC film featuring alien tech and a Latinx superhero.
Hope to see you at the movies!
---