Stay Gold, Ponyboy
Circle Cinema to receive plaque for its role in "The Outsiders"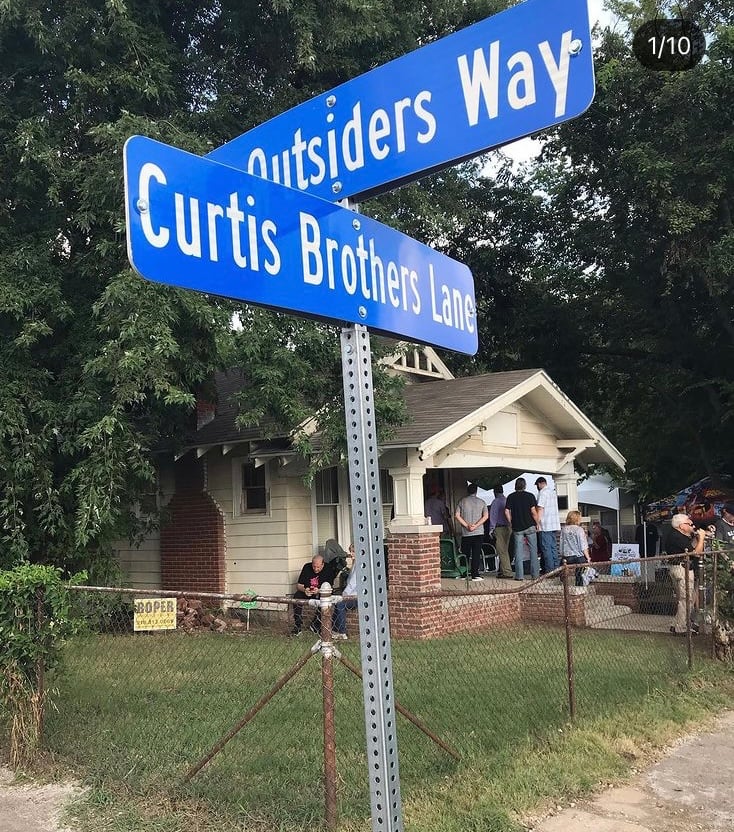 If you live in Tulsa and don't know what people are talking about when they say "Stay Gold," please run, don't walk, to your nearest bookstore and buy S.E. Hinton's, "The Outsiders." The book is written in the setting of 1965 Tulsa, Oklahoma. It was made into a movie in 1983, directed by the great Francis Ford Coppola. The story involves fighting (and love) between rival gangs between the haves and have-nots or rather, "Socs and Greasers." The movie cast includes, even to this day, a stunning array of A-level star power.
Just please, read the book and/or watch the movie. And join me Sunday at noon at Circle Cinema (Admiral & Lewis) to talk more about it and watch Mayor GT Bynum present a plaque to Circle Cinema, which has a great scene in the movie. The movie is releasing a newly restored 4K version and will be shown. As of Friday afternoon, the Sunday show is sold out. However, the encore presentation Wednesday still has tickets available.
Different editions of "The Outsiders," as seen at The Outsiders House Museum
This week's article is going to be about that movie and how it relates to my upbringing.
I remember watching that scene for the first time, getting chills down my spine and arms. And my hair tingling on my head. It's a line spoken by "Dally," played by a very young Matt Dillion. I always hated him because every girlfriend I had in Jr. High and High School seemed to rather want to be with him than me. Lol. However, after "Something About Mary," that all changed. I thought he was super hilarious in that movie.
I relate to "The Outsiders" and that line in the movie because it's something I would've said when running around with my crazy greaser friends in Jr. High School. We stuck together through thick and thin and keep in touch 50 years later. Four of my best friends flew into Tulsa from all corners of the country for my wedding, which was a testament to our strong bond. And that's after all these years being apart, so you can imagine how close we were 50 years ago. We were far from being "Socs." We were "hoods." As Two-bit says to Ponyboy while hitchhiking down the road: "He's so greasy, he glides when he walks."
That was us. Skipping school, drinking beer, and worse. And that was just Jr. High! Skip to 50 years later, all my greaser friends turned out great. Very respectable in their communities and great dads.
And yes, I even found a girl that I fell in love with who was a "Soc," just like Cherry Vallance in the movie. And we stayed together for a long time. Her parents (usually) loved me, and my parents certainly loved her. I thought I'd found the love of my life. Then I got into radio in college, and it all went to hell. But that too I wouldn't change for the world.
See the movie "The Outsiders" either at Circle Cinema or Admiral Twin Drive-In. They too have a great scene in the movie. And visit The Outsider House at 731 N. Saint Louis. Only then can you call yourself a true Tulsan.
Newspaper as seen at The Outsiders House Museum
This weekend is busy!! Please follow me on social media for videos from all that events!
Tomorrow, Harvest Fest in Broken Arrow at Waters Edge Winery. It's a FREE concert with some classic rock royalty, Derek St. Holmes (from Ted Nugent's band), John Waite from the Baby's and Bad English and Rick Derringer, Rock and Roll Hoochie Koo!
Sunday at noon I'll be at Circle Cinema for Mayor GT Bynum's plaque presentation, then I'm off to the FREE concert called Play Tulsa Music at Guthrie Green.