Spreading Hope Back-to-School Bash Celebrates 10th Anniversary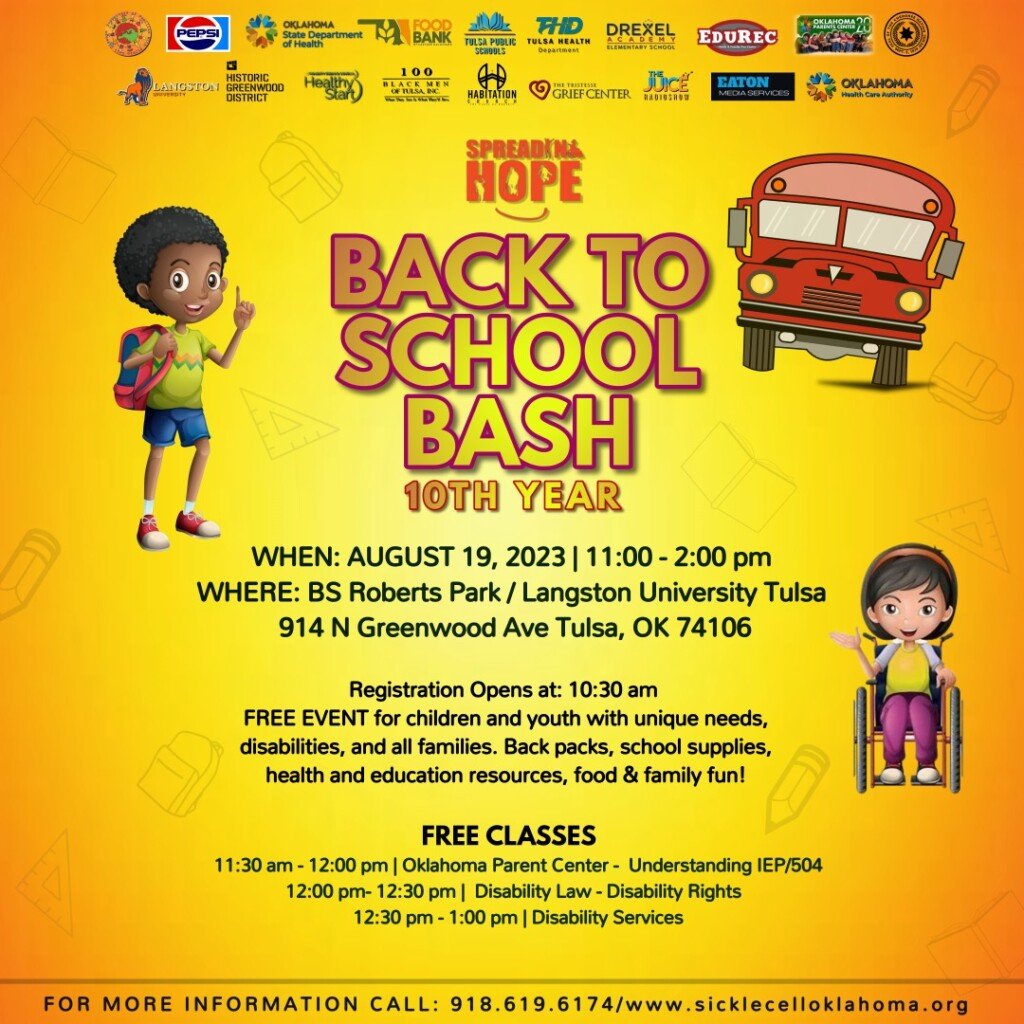 "People remember how you treated them, what you provided, and that you gave them hope," said Velvet Brown-Watts, executive director of Supporters of Families with Sickle Cell Disease and organizer of the Spreading Hope Back-to-School Bash. "We want people to leave hopeful that they have one more thing, one more resource in their toolbelt."
Now in its 10th year, the Spreading Hope Back-to-School Bash is set for Sat., Aug. 19, 11 a.m. – 2 p.m. at BS Roberts Park, 914 N. Greenwood Ave. Registration opens at 10:30 a.m. Targeted at families who have children with unique needs or disabilities, Spreading Hope will have classes for parents presented by the Oklahoma Parents Center, Disability Services, and OK Disability Law Center. Over 45 agencies, organizations, health-care providers and more will be available to provide information. The Caring Van will be available for immunizations, the Food Bank of Eastern Oklahoma will be giving out boxes of food, and there will be 1,000 backpacks with school supplies to give away. Children can also get vision and other screenings, as well as mental health information. Kids can enjoy arts and crafts and other activities.
Over the years, Velvet said, she has reached out to bring organizations together for a one-stop shop for families.
While the focus is on children with unique needs or disabilities, everyone is welcome. "It's not exclusive," Velvet said. "We service the whole family."
Velvet is no stranger to the need for resources – and for hope. Her son, now 18, has sickle cell disease and has been on kidney dialysis since age 16. He is in need of a kidney, but currently is not on the list to get one in Oklahoma. Velvet has been to three surrounding states and is hopeful that her son may get on an "active list" elsewhere, meaning he will be on the list to receive a kidney.
"It's very challenging keeping him as healthy as possible," she said, "trying to coordinate services and get the ball rolling. He had to put off going to college. Everything is on hold. It's a bit overwhelming."
When her son was a child, Velvet recognized that many back-to-school events didn't consider children with unique needs or disabilities.
"We wanted an event where these children could come with their families and feel included," she said. "Over the years, we began to ask other partners if they would consider coming to our event, to collectively work together to do one event for the whole community. We had about 11 partners that came together."
Recognizing that parents who have children with developmental or physical disabilities or needs have challenging schedules, Velvet wanted to provide as much information and help as possible at a single event.
"We found that parents are very, very busy," she said. "If you don't have one appointment a day, you have three. One parent said that her child's appointments take away other things that she could be doing such as cooking dinner or helping a sibling with homework. My son was seeing five doctors. I understand how tiring it can be, so we wanted to make it easier for parents to find resources. Sometimes you can get the services right there [at the event]."
Spreading Hope also provides access to a community that may not have resources easily available. Velvet encourages families to come to the Back-to-School Bash with questions. The Oklahoma Parents Center will be helping parents understand IEPs (Individualized Education Plans) and what the law says about providing services in public school. Parents may have questions regarding disability law or services for their loved one with a disability. They can attend the classes and ask those questions to professionals. Parents of children on the autism spectrum, those with ADD/ADHD, Down syndrome, sickle cell disease or a physical disability are encouraged to come to Spreading Hope Back-to-School Bash to gather information that will help them navigate an often difficult and confusing path.
Velvet wants to spread hope. "We know that parents say, 'We don't go to that' because they can't bring their child, or they're too overwhelmed," Velvet said. "We tell them to come, bring their child, meet other parents and other families. You'll meet other children. We're all extraordinary – whether it's visible or invisible. We want parents to go away empowered."
Registration for Spreading Hope Back-to-School Bash begins at 10:30; classes begin at 11:30; the event is free, and all are welcome. For more information, call 918.619.9164. Visit sicklecelloklahoma.org.