Spotlight Children's Theatre and Record Store Day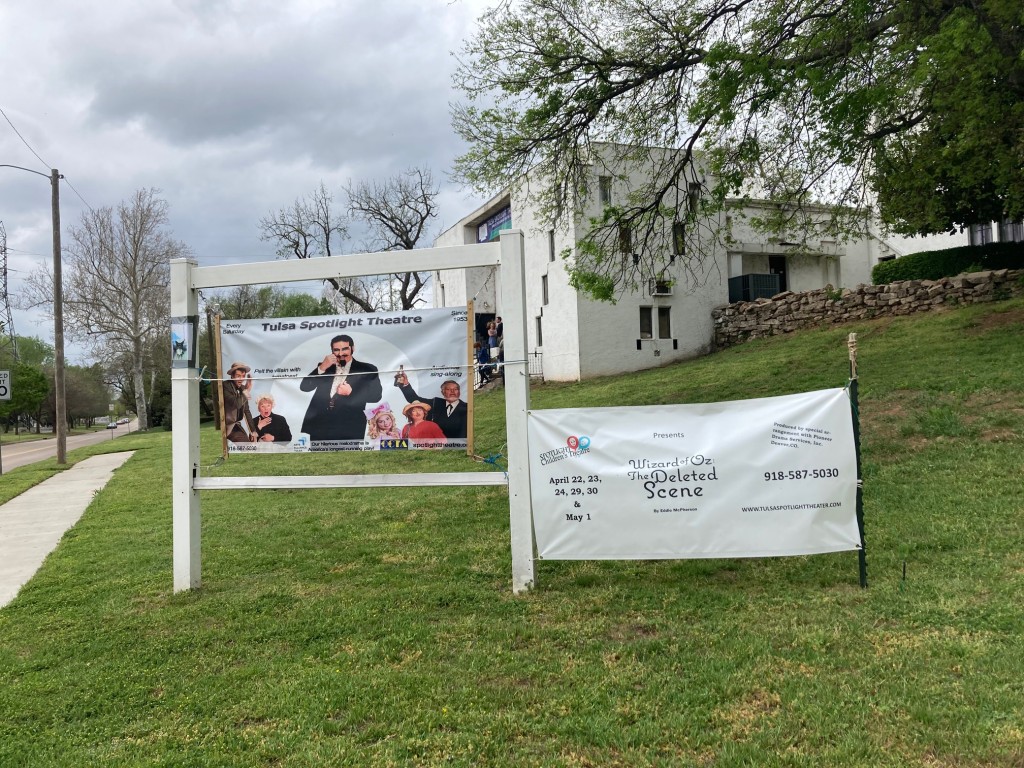 Joss and I had a busy weekend! Well, busy-ish. Sunday was pretty calm, to make up for a fun Saturday. Our only set-in-stone plan was to watch "The Wizard of Oz: The Deleted Scene," performed by Spotlight Children's Theatre. Before heading there, however, we decided to celebrate Record Store Day – and do a little shopping just for fun.
Meadow Gold District
I only heard about Record Store Day a couple weeks ago. It's basically a day to support indie record stores, with the option of purchasing special Record Store Day merch. No, we don't have a record player. My dad, however, is an avid collector, so we wanted to celebrate on his behalf. We started out at Josey Records on 11th Street. It was packed! And slightly overwhelming, so we ducked out after a few minutes and headed next door to Decopolis. If you haven't been there in awhile, they have a new velociraptor and fenced-in front area, complete with dino-themed games and picnic tables. It really is the most fun store!
On the way back to the car, we stopped by The Market at Pearl Thrift Shop. The shop is sponsored by Hillcrest and benefits local children's services. I was especially impressed by the clothing selection! It's not a large selection, but most of the items were high-quality – think Talbots, etc. Joss found a game for a dollar. I'd never heard of it – it's a Canadian game from the '90s. But we've played about four times now, so definitely worth the price!
Studio Records
Since we hadn't purchased any records and still had a little time to kill, we headed to Studio Records. This is my dad's favorite local record store. It's located next to the newly restored Church Studio, so if you're a music-lover, definitely make "Studio Row" a destination. It's a much smaller space than Josey, but they pack a lot in, and are very helpful. Both record stores have a nice mix of used and new records. We browsed for a bit – Joss had a nice conversation with the employee behind the counter – and ended up purchasing a used album as well as the latest Jesse Aycock album, which was playing while we shopped. Success!
Spotlight Children's Theatre
Finally, it was time to head to Spotlight Theatre! TulsaKids is a T-shirt sponsor for their current season, so they were kind enough to offer Joss and I free tickets. We'd never been inside Spotlight Theatre before, if you can believe it! So – a nice bucket-list item checked off.
We had enough time before the show to stop by the concession stand, where you can purchase chips, candy and drinks for $1 each. They also had some take-home goodie bags for $5. I got one for Joss containing stickers, temporary tattoos and other fun items.
You can also purchase "Bravo cups" to give to your favorite performers after the show. These were also $5, and contained candy, etc., in a cute plastic cup. The idea is that if you wanted to give flowers but forgot, you could give one of these fun cups instead. All the performers line up in front of the large round window after the show, which is a nice chance to tell them how great they did!
Joss did well sitting through the performance. When I asked him his favorite part afterwards, he said, "All the parts." But then he amended that to say, "And the part where they moved in slow-motion." We enjoyed a short intermission between the two halves, and there are bathrooms close to the theater, so it's nice and convenient.
Anyway, the cast – and director Erin Herring – did do a great job. There was a wide range of ages, from younger children who basically just had to walk on stage holding up signs, to high schoolers with major speaking roles. TulsaKids Editor Betty Casey has good memories of her kids participating in Spotlight Children's Theatre. And I can see it being a great chance for kids to get to know and work with kids of other ages. While of course benefiting from other aspects of theater, like line memorization, getting comfortable on stage, etc. I'll definitely consider having Joss audition someday, when our evenings aren't full of swimming lessons and tae kwon do.
"The Wizard of Oz: The Deleted Scene" + Upcoming Productions
It's not too late to see "The Wizard of Oz: The Deleted Scene." The remaining performances are this weekend, Friday at 7:30 p.m., Saturday-Sunday at 2 p.m. The play lasts about an hour and a half. The plot is, essentially, Dorothy finds herself pulled in different directions by Glinda and the Wicked Witch of the West. Glinda wants her to follow the yellow brick road so Dorothy's story goes as planned, ensuring Glinda lasting fame. The Wicked Witch of the West, of course, would love to avoid some of the plot points of the original story, so encourages Dorothy to bypass the yellow brick road and take a shortcut. Which will Dorothy choose?!
If you miss it, the upcoming show is an original, "And Then What Happened?" (The second day of auditions is actually tonight, April 26, at 6:30 p.m. Go to facebook.com/events/381016703920326 for more info about auditioning.) The synopsis of the show is:
"In the opening scene of And Then What Happened, the actors fondly remember the fairytales their teachers told them as elementary students. However, they also share their questions about the holes in the popular plots. The title question, of course, being the central theme. What follows is a retelling of 'The Frog Prince', 'Goldilocks and the Three Bears', and 'The Princess and the Pea' along with 'sequels' for each."
Performances will take place June 17-26. Follow @spotlightchildrenstheater on Facebook for updates!
---