Soup for Supper: Four kid friendly recipes for chowder, soups and stew
Green Chili Pork Stew, Lentil, Tomato and Rice Soup, Cheddar Corn Chowder and Mac and Cheese Soup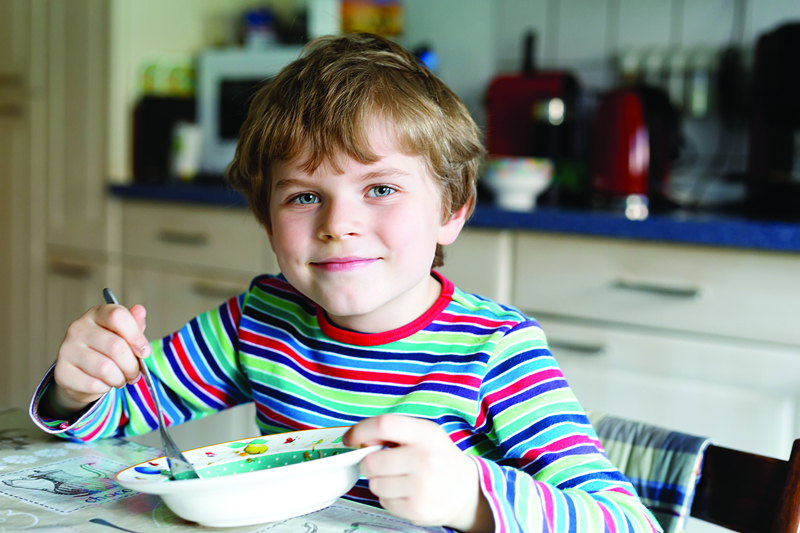 Soup itself is delicious. But soup has more levels to it than just taste. Soup making is an art. There's the chopping, adding the vegetables at just the right time, creating levels of flavor through herbs and spices. Some soups are thickened with a roux, or you can thicken with a puree of roasted vegetables for great flavor.
Then there's the art of eating the soup. Soup served in mugs is what you want for a casual dinner, savored by the fireplace or even with your feet up on the couch watching television. If your kids are used to only eating dinner at the table, they will be thrilled with the idea of eating (or drinking) their dinner out of mugs in the living room. If you're eating at the kitchen table, serve your soup in big, shallow soup bowls and fill the center of the table with toppings, like cheese, chives, crumbled bacon or hot sauce.
Warm bread is the perfect match for soup. Depending on the soup you're making, you could make cornbread, French bread, rolls or just toast some sandwich bread.
At my house, if it's a soup night, the kids know that means dessert will follow. With heavy meals, we sometimes skip dessert for a piece of fruit or yogurt. But if soup's on the menu, we're likely to have something like brownies, warm cookies or cake.
Even if your kids are resistant to soup, you may find one of these recipes that appeals to them. The Mac and Cheese Soup is definitely kid-approved and a good one even for toddlers.
If your kids don't like spicy foods, cut the amount of green chiles by half. And if they don't love soup, you can simply pull out some of the cooked pork and beans and serve with rice or fold up in a tortilla.
Green Chile Pork Stew
Serves 16
1 (16-ounce) package dried pinto beans, soaked overnight
1 bone-in pork loin roast (about 3 pounds), trimmed
4 to 5 cloves garlic, minced
2 tablespoons chili powder
1 to 1 1/2 teaspoons ground cumin
1 teaspoon dried oregano
2 cans (4 ounces each) chopped green chiles
5 medium carrots, sliced
1 (14 1/2-ounce) can diced tomatoes
3 small zucchini, sliced
In a large bowl or stockpot, cover beans with water and soak overnight. The next day, drain and rinse beans.
In a stockpot, combine beans, pork roast, garlic, chili powder, cumin, oregano and green chiles. Cover with water, and bring to a boil. Reduce the heat, and simmer, covered, 3 to 4 hours or until the meat and beans are tender.
Remove the pork to a cutting board. Stir the carrots and tomatoes into beans mixture, then return to a boil. Reduce heat and simmer, covered, until vegetables are tender. Add the zucchini, and cook for 8 to 10 minutes longer.
Remove pork from bone, cutting into bite-size pieces. Return pork to broth, and heat through. This is great served with warm tortillas.
---
We love this recipe from "The Mom 100 Cookbook." You can easily make this one vegetarian by skipping the bacon and using olive oil in place of the bacon fat. And vegetable broth can always be subbed for chicken broth.
Lentil, Tomato and Rice Soup
Serves 6 to 8
4 to 6 slices bacon, cut into ½-inch pieces
2 teaspoons olive oil
1 cup chopped onion
3/4 cup peeled and chopped carrots
1/2 cup rice (Arborio is especially good in this soup)
1 1/2 teaspoons minced garlic
1 teaspoon dried thyme
Splash of red wine (optional)
1 (28-ounce) can crushed tomatoes
5 cups low-sodium chicken broth
3/4 cup dried lentils, rinsed and picked through
Kosher salt and fresh ground pepper
Freshly grated Parmesan cheese or feta cheese, for serving
Heat a large pot over medium-high heat. Add the bacon and cook, stirring occasionally, until crisp, 4 to 5 minutes. Using a slotted spoon, transfer the bacon to paper towels to drain. Pour off all but 2 teaspoons of the bacon fat from the pot, add the olive oil, onion and carrots. Cook over medium-high heat, stirring, until the vegetables soften, about 5 minutes.
Add the rice, garlic and thyme and cook, stirring until well combined, about 3 minutes. Add the wine, if using, and stir until it's almost evaporated, about 1 minute
Add the tomatoes, chicken broth, lentils and half of the bacon, and stir to combine. Season with salt and pepper to taste.
Let the lentil mixture simmer, uncovered, over medium-low heat, stirring occasionally, until the lentils and the rice are tender, 20 to 30 minutes. Feel free to add more liquid if you like a thinner soup. Serve the soup in bowls with the rest of the bacon and a sprinkling of Parmesan or feta cheese on top, if desired.
---
Mugs or bowls of this creamy soup are just what you want after a long day of work or school. If you make it a day ahead, you may want to add a bit more broth to keep it soupy when warming through. It can also be packed in a thermos for lunch.
Cheddar Corn Chowder
Serves 8
1 medium onion, chopped
1 red bell pepper, diced
2 tablespoons butter
1/4 cup all-purpose flour
2 cups chicken or vegetable broth
2 large potatoes, diced
1 1/2 cups frozen corn
1/4 teaspoon ground mustard
1/2 teaspoon paprika
1/4 teaspoon salt
1/4 teaspoon crushed red pepper flakes
1/8 teaspoon ground pepper
2 cups milk
1 1/2 cups shredded cheddar cheese
Green onions or chives for garnish
In a large saucepan, saute onion and bell pepper in butter until tender. Stir in flour until blended, gradually adding broth. Bring to a boil, then cook and stir for 1 minute or until thickened.
Add the potatoes, corn, mustard, paprika, salt, red pepper flakes and pepper; return to a boil. Reduce heat, cover and simmer for 15 to 20 minutes or until potatoes are tender.
Add milk, cook and stir until soup comes to a boil. Remove from heat, then stir in cheese until melted. Sprinkle with green onions or chives.
---
Here's a great recipe for kids who aren't big soup fans. This slurpable mac and cheese is yummy matched with a grilled turkey sandwich. You'll want to serve it the day you make it. Over time, the pasta will absorb the liquid and the soup will be no more.
Mac and Cheese Soup
Serves 6
1 (32 ounce) container reduced-sodium chicken broth
2 cups dried elbow macaroni or small shell pasta
1 (16-ounce) bag frozen broccoli, cauliflower and carrot blend
1 1/2 cups low-fat milk
2 tablespoons all-purpose flour
1 1/2 cups shredded cheddar cheese
In a large saucepan, bring broth to a boil over high heat. Add pasta. Return to a boil. Reduce heat and let simmer, uncovered, for 5 minutes. Add vegetables. Cook until pasta and vegetables are tender, about 5 minutes more.
Combine milk and flour in a small bowl, whisking until it is smooth with no lumps. Stir in to pasta mixture. Cook and stir until thickened and bubbly. Gradually add the cheese, stirring until cheese melts.
Natalie Mikles is a mom of three. She writes about food, sharing recipes for busy families and picky eaters. She has been recognized for her food columns as well as features on families and issues affecting local children. She loves pizza and movie nights with her family.
---