"Weather or Not":
Shoveling Snow and Supporting John 3:16 Mission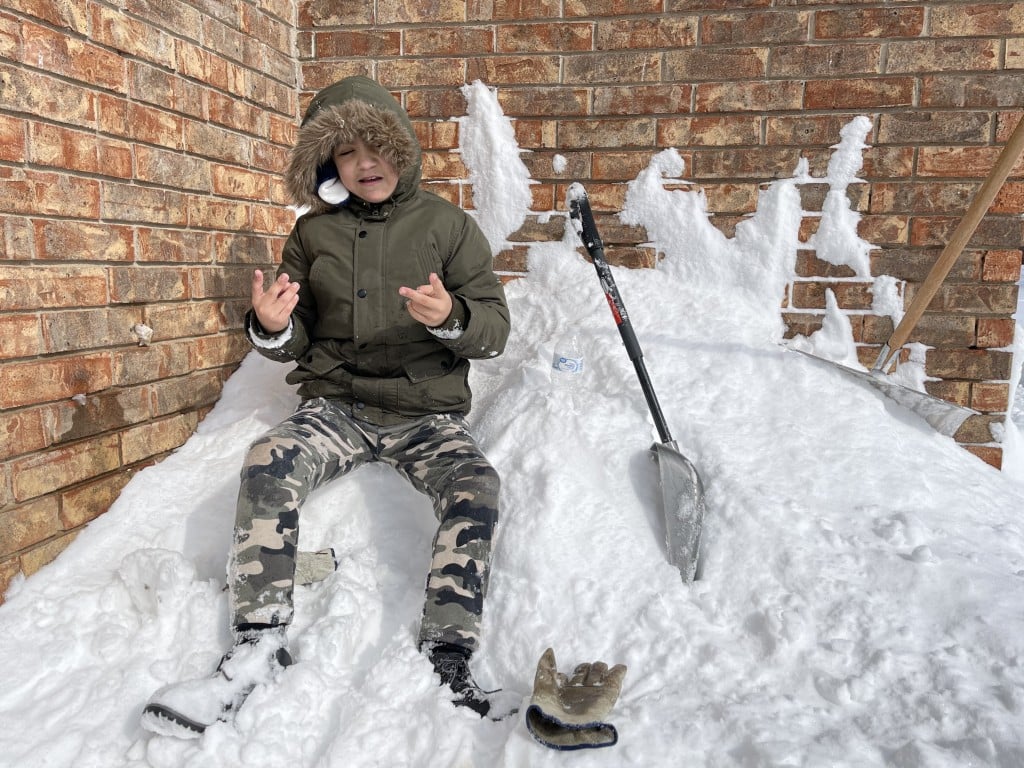 "Weather" or not, that is the question. I hadn't planned on going anywhere for a while because of the winter storm we are in. I had stocked up on supplies, so I didn't NEED to shovel the driveway, but I did. And I am glad. Even in this extremely cold weather and a weather alert till Thursday morning, I wanted to get out in front of it since we're supposed to be hit with a second wave of snow tomorrow (Wednesday). Which is why my non-profit that I have chosen this week is John 3:16 Mission but more on that at the end of this blog.
As a dad with an eleven-year-old boy at home, I felt it necessary to encourage him to help me shovel the driveway. My seven-year-old daughter was not with us this weekend, but she would no doubt gleefully grab a shovel and say: "Lets go, Dad-o!" If you're a parent with a child (or even a spouse) that l.o.v.e.s. video games, you may feel your anxiety increase as you approach them to help with chores. I know I do. But I also know what must be done, and like my parents, I won't hesitate to sound the alarm when duty calls. I attempt to make things as fun as possible by playing music on Alexa. I'll let them request their own favorite songs. I may even do some funky "chores dance" to get the blood going. However, I brace myself for what I know is inevitable: "But DAD!!!"
You've been there too, I'm sure.
However, as parents, we charge ahead and make the best of it, right? When I found out 12 years ago that I was having a child, I was pretty scared. I was not married, in fact still quite the bachelor. I was living my dream of being a rock radio DJ in still a relatively new city for me. Still learning the area and getting Mingo and Garnett mixed up all the time. My twin sister Lynda was in Austin, my mom & dad were going back and forth from Ohio to Texas with occasional stops in Tulsa, and my older brother Roy had just passed away of cancer.
I had a few friends and co-workers who were great sources for advice, but I also read a handful of books and signed up for numerous parenting classes. I highly recommend that for any new (and old!) parents. Perhaps you're a grandparent and want a refresher on how to get a reluctant child to do their chores. I've read many times that being "demanding" or the "spare the rod, spoil the child" approach should not be used. I've also read in other books that say the complete opposite; that you should wait till a child is in a complete state of Zen before they are to do their chores. So, in other words if they don't want to do chores, don't force them and wait till THEY want to do chores. I was like… Huh???? Like with anything I read, regardless of the source, I try to use all the information and form the best solution.
I am proud to announce that when I told my son it was time to shovel the driveway, he was eager to do it. He was ready for some fresh air, so we got all layered up and got to it. I was happy to show him some shoveling hacks, since I picked up many from having grown up in northwestern Ohio. We had fun along the way, with the irresistible shovel of snow being thrown at each other when not looking.
My 55-year-old, out-of-shape body did pretty good, I must say. And my son Atticus was rockin' that shovel!
When we were about halfway done, my next-door neighbor had to get to work, so we started on a path for her. She was very grateful and told Atticus how much she loved his help. I think he blushed. Then our other next-door neighbor began on their driveway, so we helped them, too. They don't speak much English, but I understand what a smile and "muchas gracias" means. We finally got back to ours and finished two-and-a-half hours after we began. With great pride and relief, we were finally done. My son made himself a "chair" in the snow-pile, complete with a cup holder for his bottle of water. He sat in it and started catching his breath. Completely exhausted and dripping with freezing-cold sweat, we just sort of looked over all we had accomplished and without saying anything, reveled in it.
Then, I looked at our neighbors directly across the street from us. There are two women who live there. I noticed they had a car on one side of their two-car driveway. It appeared they would also be attempting to make the journey to work. I looked over at my son and asked: "What do ya say? Got one more in ya?" I nodded to our neighbor's driveway across the street. He didn't say: "But Dad!" He just sort of lifted himself out of his frozen thrown, like his old man getting off the couch after binging WWII documentaries and said: "Sure".
An ice cube tear rolled down my proud face.
John 3:16 Tulsa Mission
Afterwards we were finally able to go inside and warm up with some hot coffee and cocoa. A hot shower for me and video games for him, so life was good. But can you imagine someone who cannot escape this deadly, record-breaking extreme cold? I can't. I know there are around 1,000 homeless at any given time in the Tulsa area. For whatever the reason, I can't sit back and do nothing. So, this week my non-profit I have chosen to support is John 3:16 Tulsa Mission. You're aware of them, I'm sure. They have been around since 1952 helping the homeless find food, shelter and other resources. For $2.11 you can provide a meal and safe shelter for a homeless person. For less than a Tall Café Latte at Starbucks you can do this for someone. Donate, volunteer or simply share their link on your social media page, it helps a lot.
As always please follow, like and share my social media pages above and reach out to me if you have a charity or an idea on how we can support each other.