Shell-Shocked on Sanibel Island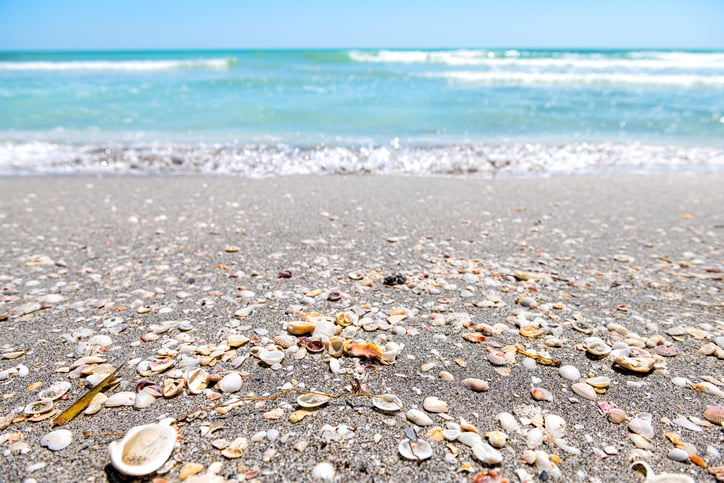 On a recent trip to Sanibel Island off the Gulf Coast of Southern Florida, the reality exceeded my wildest expectations.
Hearing about the shell-studded shores of the island, my mother, sister and I, all regular beach-goers and shell collectors, eagerly embarked on this journey, hoping to uncover a mass collection of Mother Nature's delicate creations. But there was no way to accurately anticipate the plethora of variety and quantity awaiting our arrival.
Once on shore, we were instantly "shell-shocked" by the sheer number of gifts lying at the water's edge. There were whelks, mussels, scallops and cockles. Conches, starfish, kitten paws and sand dollars — just to name a few. We examined some shells as tiny as an uncooked grain of rice and others as large as a loaf of bread. It was as if we'd won the seashell lottery!
The Sanibel Stoop
The island is laced with shells because it is geographically positioned to catch their flow and, given its shape and lateral position at sea, it acts as a virtual net for species of all kinds.
We spent hours doing what the locals call "The Sanibel Stoop," bending and crouching to admire the shells and to decide which ones were worthy of a place in our overflowing pails. Some serious shell collectors found the best spots at the most opportune time by watching the tide clock and, in the wee hours of the morning, even hunted the beaches with flashlights to find treasures.
People do The Sanibel Stoop over and over and over again because, with each exploration, they discover something new among the hundreds of shell varieties at their feet.
A Natural Masterpiece
All right, you might not be as enthusiastic about shell collecting as I am, but don't worry. There are other ways to enjoy nature on Sanibel. The powdered sandy beaches and the water are beautiful for relaxation and swimming, the restaurants are quaint and plentiful and the overall placid nature of the island with its waving palm trees and tropical flowers and shrubs invites relaxation. Plus, the tight zoning restrictions give it a feeling of yesteryear, with the exclusion of high-rise buildings and commercial development. Only 12 miles long, the island is neatly laid out with two main drags, Periwinkle and Gulf Drives. Bike paths stretch for miles and weave in and around much of the island's beaches and wildlife habitats.
According to the Sanibel & Captiva Islands Chamber of Commerce, "Sanibel is a barrier island sanctuary where over 67% of the lands on the island are protected…." It's a place where hospitality extends to not only the human population but the land, bird and sea creatures that call Sanibel home.
Dragging ourselves away from shell-seeking, we took jaunts around the island, spending one afternoon at the J.N. "Ding" Darling National Wildlife Sanctuary. Since the tram ride wait was long, we drove our car slowly through the refuge to admire flocks of white pelicans, to stare at an endangered roseate spoonbill, and to witness a blue heron leap through a thicket on the fringe of the mangroves. It was a peaceful place where the only sounds heard were chatting seabirds, rippling waters and blowing offshore breezes. Kayak and canoe tours as well as sunset cruises are offered with advance reservations.

Another side trek involved a dolphin sea cruise where these native sea gymnasts came to greet us. And, once they met up with the boat's wake, they gracefully jumped out of the water and seemed to literally wave at us with their flippers and wink at us on their way back down. Several different dolphin pods played this "hide and seek" game during the afternoon ride.
Culinary Callings
Working up an appetite was easy and finding great dining was effortless. The waterfront Thistle Lodge, built in 1889 and carefully restored in recent years, was our favorite for upscale cuisine. With its tall, white beams and high vaulted ceiling fans blowing, the environment and feast were fit for a king.
We also checked out a casual dockside restaurant called Gramma Dot's Seafood Saloon, which served some of the best clam chowder and seafood ever. Here, we sat at a small table on the screened-in porch and watched the yachts sail along the marina.
Seaside Lodging
We planted ourselves at a small economical resort lodge, The Holiday Inn Sanibel Island Beach Resort (sanibelbeachresort.com). The pool was small but the beach was deep and wide. Beach pails were provided and the pool was adequate. The onsite restaurant served a lovely breakfast deal for a mere $5. Dolphin sightings were frequent.
For my next visit, I'll take the kids to the Casa Ybel Resort (casaybelresort.com), which offers all kinds of wonderful amenities, including a kids' club in a secluded atmosphere. (Travel + Leisure magazine listed Casa Ybel among the Top 20 Family Resorts in 2002 and the 500 Greatest Hotels in the World in 2003 and Top 500 Places To Stay In The World, 2006)
Condominium rentals are available as another option when taking the whole family.
Getting There
Sanibel Island is a 45-minute drive from Fort Myers, FL airport. As you cross the causeway, you will begin to feel relaxed and ready to enjoy the unique surroundings that make Sanibel a must see!