Serena Siddiqui: Shape Your Future Recipe Contest Winner
Plus, Serena's Salmon Tacos Recipe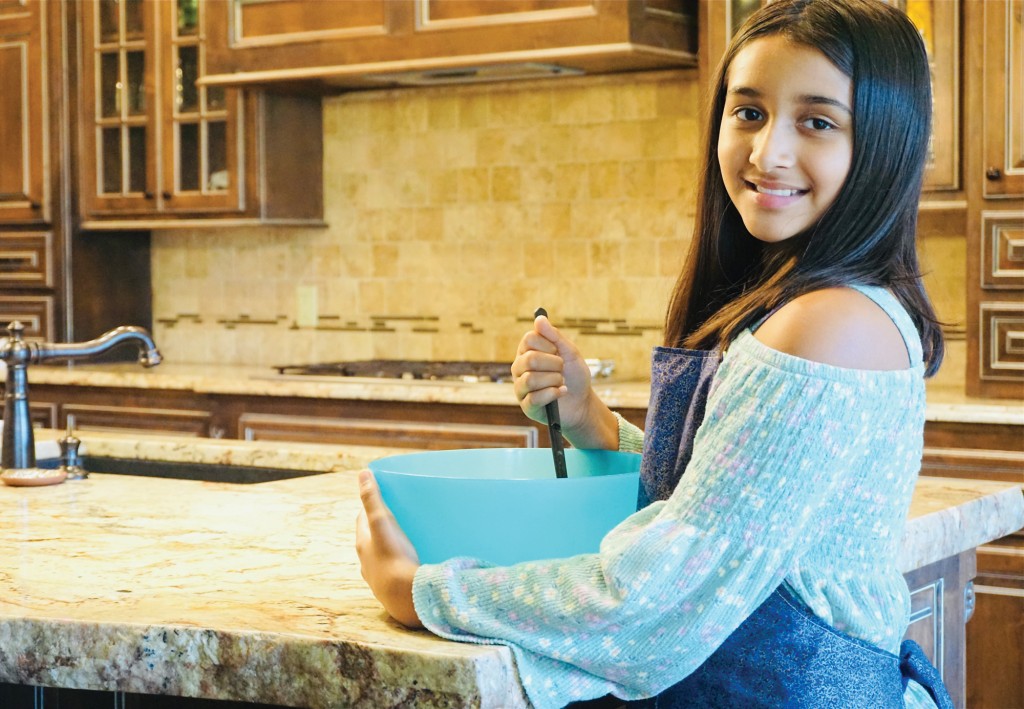 As part of their mission to educate Oklahomans to make healthy choices, Shape Your Future (shapeyourfutureok.com) partnered with TulsaKids for a contest to seek out a young chef who could create a healthy, delicious recipe packed with fruits or vegetables. Shape Your Future encourages everyone to fill half their plate with fruits and vegetables at each meal, and 9-year-old Serena Siddiqui's creation hit the mark. Her recipe for Salmon Tacos is a winning combination of lean protein, whole grains and colorful veggies that is delicious, healthy and visually appealing.
Young people like Serena can lead the way in creating a bright future for Oklahoma. The state is ranked 47th nationally for health and has some of the highest child and adult obesity rates in the U.S. Shape Your Future wants to change that statistic by educating all Oklahomans about making healthy choices. They want families to know that besides eating fresh fruits and veggies and drinking plenty of water, kids need 60 minutes of physical activity per day, and adults need 30 minutes per day. And, of course, staying tobacco-free is always the best choice for a healthy lifestyle.
Serena took her passion for healthy eating to create this year's winning recipe. Her unique twist on tacos combines omega-3 packed salmon with tasty spices and colorful veggies to make it a dish worthy of family dinner nights!
TK: How did you come up with your award-winning recipe?
Serena: I thought about healthy options that we eat on a daily basis. I drew pictures of different foods and ingredients I like: avocados, salmon, sweet potatoes, and salad. With my mom's help, I created a recipe that not only tastes good but also is healthy and easy to make.
TK: What did you learn from this experience?
Serena: I learned that healthy food can be better than junk food. Almond flour tortillas are healthier than regular tortillas and they taste exactly the same!
TK: How did you develop an interest in cooking?
Serena: I watch my mom cook all the time, and I like to help around the kitchen. And, in my mind, I thought I wanted to cook dinner for my family one day.
TK: What is your favorite thing to cook?
Serena: Homemade pizza with my aunt.
TK: What advice do you have for other kids who want to cook and eat healthy foods?
Serena: Not to eat out a lot. Have a vegetable and fruit with every meal. If you're going to try something new, try it at least six or seven times until you make up your mind about liking it or not.
TK: What are some things you and your family do to eat healthy meals?
Serena: My mom and I go to the grocery store, and she lets my sister and I pick out the protein and vegetables we are going to cook for dinner that night. Our family doesn't usually eat dessert — only on special occasions.
TK: Where are your favorite places to eat in Tulsa?
Serena: My favorite place to eat in Tulsa is Olive Garden. I love their salad and breadsticks. I also like sushi from Sushi Hana and Sprouts. One of my other favorite restaurants is Amazing Thai.
TK: Besides cooking, what hobbies do you have?
Serena: I like to draw in my sketchbook. I also love to read and do science experiments. My favorite experiment is creating slime and trying new recipes to make different consistencies of slime.
TK: What do you want to do in the future?
Serena: When I grow up, I would like to be an astronomer because I think outer space is amazing, and there is no gravity there!
TK: Who inspires you?
Serena: I read biographies about Ellen Ochoa and Harriet Tubman. They inspired me because they were both women who changed the world.
TK: What is a fun fact about you?
Serena: This year, I went to Hawaii over Spring Break and went surfing with my uncle. I loved it because I like to try new things even if it is not what I want to do. I ended up liking it and can't wait to do it again!
Serena's Salmon Tacos
2 avocados
1 big tomato (chopped)
1 lime
¼ onion (chopped)
Chopped cilantro
½ tsp cumin
½ tsp garlic powder
½ tsp paprika
Salt and pepper to taste
1 lb salmon
2 TBLS olive oil
1 lemon
Almond flour or whole wheat tortillas
Cut up the avocados and put in bowl. Add chopped tomato, cilantro and chopped onion. Stir in cumin, garlic powder, paprika, salt and pepper. Squeeze lime juice and mix in for more flavor.
Preheat oven to 350 degrees F. Put salmon on foil, add olive oil, lemon juice, salt and pepper. Cook the salmon 20 minutes or so until it flakes with fork. You can also wrap the tortillas in foil and heat in oven.
Remove salmon from oven and cut, shred or break into pieces. Put some of the salmon in a tortilla, add some avocado salad over the top and enjoy!
---