Seeing "Encanto"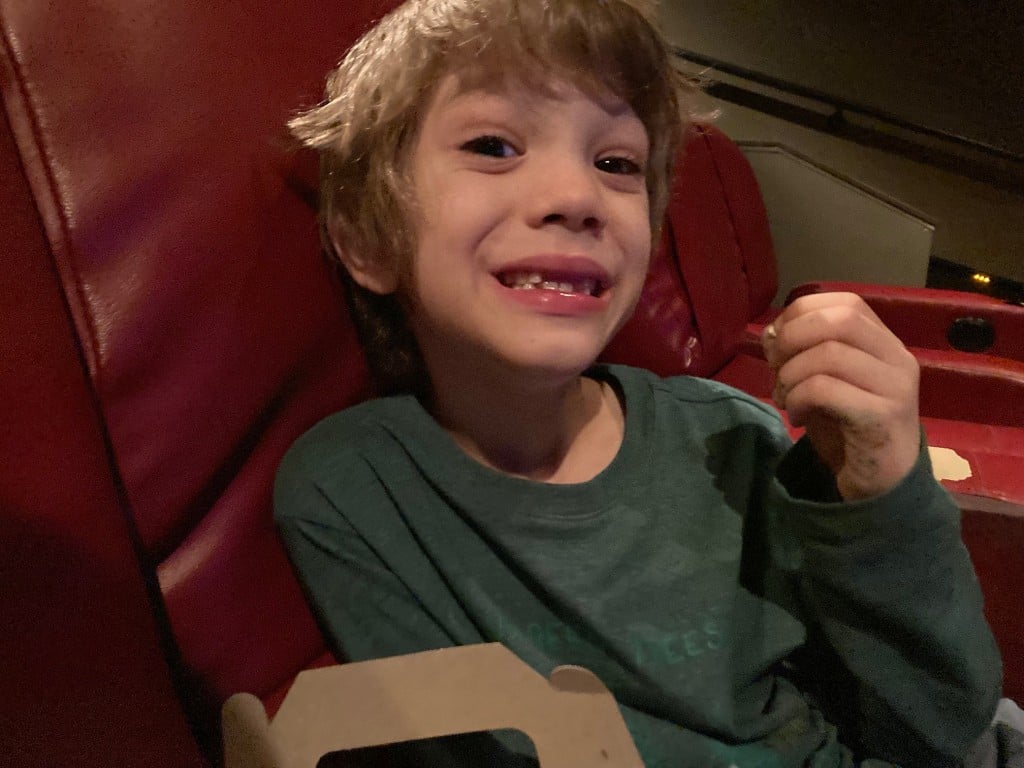 It finally happened! Joss and I watched our first movie in a theater since the pandemic shutdowns of 2020 – "Encanto." The last movie I saw in theaters prior to this was "Emma." at Circle Cinema. Managed to squeeze that in about a week before everything shut down – although we didn't realize at the time what the coming months were going to bring!
We don't go to the movies a lot anyway, but it's always a fun outing (as long as the movie is good!). And we both loved "Encanto." I figured I'd better blog about it because I've been listening to the soundtrack on repeat all morning. And Joss has been singing his favorites at home.
The Plot
If you're unfamiliar, Disney's "Encanto" tells the story of a magical, Colombian family who lives together in a magical house. At a certain age, each family member goes through a ceremony to get a new room in the house as well as a gift. For example, super strength, healing powers, etc. They are expected to use their gifts to serve their community as an expression of gratitude for the miracle that brought them the house in the first place.
However, protagonist Mirabel, played by Stephanie Beatriz, did not receive a gift on her ceremony day. As a result, she is driven to prove her worth to her family, who love but tend to overlook her. But although the family appears perfect and happy, you soon realize that there are "cracks in the foundation" – both literally and figuratively. The plot of the movie centers around Mirabel trying to find a solution that will keep her family together and save their magical way of life.
The Themes
The most obvious theme, based on the plot, might be learning to trust your own worth. Even when those around you seem far more gifted and valuable.
*Spoilers* As Mirabel speaks with various family members, however, about how to save the family, she learns that there is more to them than meets the eye. Her strong sister Luisa is stressed out by carrying everyone else's burdens. Her "perfect" sister is also putting aside her needs for the good of the family and community, being who she thinks she needs to be instead of who she really is.
So there's also a lesson here about not assuming you know what people are going through. And, more importantly, how vital it is to rest when you need to and how it's okay to ask for help. Mirabel's family dedicates their lives to serving their community. But in the end, they need their community's support just as much.
The Music
Even if you haven't already heard, if you listen to the music you may recognize the influence of Lin Manuel-Miranda. Well, he didn't just influence the soundtrack, he composed it all! My favorite song is Luisa's "Under Pressure"…although "We Don't Talk About Bruno" is a close second. And "Welcome to the Family Madrigal" is incredibly catchy!
I think Manuel-Miranda fits so many lyrics into his melodies, it might not be a bad idea to listen to the soundtrack a time or two before heading to the theater. I definitely didn't catch everything!
This NPR article interviews Lin Manuel-Miranda about traveling to Colombia to research for the film. Interviewer Mandalit del Barco says, "On the soundtrack are touches of reggaeton and salsa, cumbia and mapale. In the Colombian folk music style, Miranda also wrote a vallenato inspired by Carlos Vives."
I know I couldn't identify all those different types of music! So that would be an interesting follow-up conversation with your kids. You could look up those different types of music and listen to various examples.
More Follow-Up Activities
The interview also mentions introducing Miranda and "Encanto"'s directors to "citrusy lulo fruit, ajiaco soup and arepas, stuffed corn patties." I tried to look up Colombian food in Tulsa because it sounds delicious! And Mirabel's mama heals people through her food, so that was certainly an important element of the show. If you know of a Colombian restaurant in Tulsa, please let me know! My Google search led me to Manos Peruanas Restaurant.
Manos Peruanas serves mainly Peruvian food. But one item on their menu, Bandeja Paisa, comes from Colombia. The menu says, "The main characteristic of this dish is the generous amount and variety of food in a traditional bandeja paisa; canary beans cooked with pork, white rice, fried pork, fried egg, plantain, chorizo, arepa, avocado, black pudding (Morcilla), and lemon." The restaurant is located at 6703 E 81st St South Suite "D," near 81st and Sheridan.
I also found a blog, mycolombianrecipes.com, if you're interested in making your own Colombian recipes. Or, one of my tried-and-true blogs, Minimalist Baker, shares a recipe for 3-ingredient arepas.
This article from National Geographic Kids shares some more information about the history and culture of Colombia: https://kids.nationalgeographic.com/geography/countries/article/colombia.
And here are a couple more articles about the film that go more in-depth into the research behind it:
https://www.latimes.com/entertainment-arts/movies/story/2021-11-29/encanto-explained-disney-colombia-consultants
Coming to Disney+
If you're not ready to head to the theaters, don't worry. It sounds like "Encanto" is coming to Disney+ December 24. Just in time for Christmas Eve viewing!
Have you seen "Encanto"? What was your favorite part or song?
---