Riding Tulsa's Aero BRT:
Tulsa's new rapid transit bus line is FREE to ride through December 19!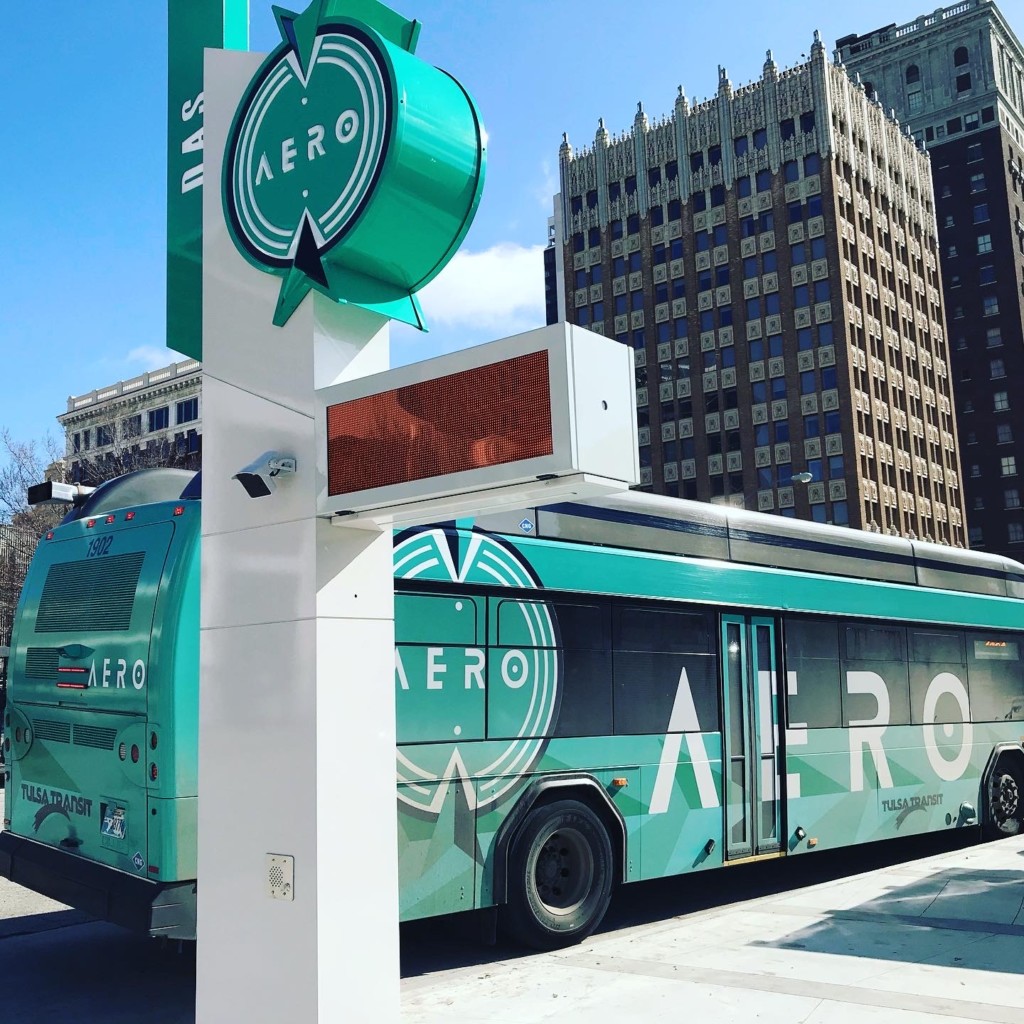 If you've traveled along Peoria in the past few months, no doubt you've noticed the installation of the new Aero BRT stops–and, as of November 17, the presence of the Aero buses! The turquoise color of the new stops and buses alone made me want to give them a try, and since Tulsa Transit is waiving the fare on all aero rides through December 19, I decided to take Joss for a bus ride.
Where does Aero take you?
The Aero bus line runs along Peoria from 54th St. N down to 81st St. South, with detours to three downtown stops. According to the website, this route was chosen because "one in 7 of the city's residents and 20 percent of jobs are within a 10-minute walk of the corridor." Key destinations along the Peoria corridor include Brookside, ORU, the Pearl District, Tulsa Tech's Peoria Campus, etc. And, of course, downtown. The Denver stop is just a block or so away from the BOK Center and Central Library. Fabulous!
What makes Aero different?
I have to admit that I've never taken Tulsa Transit before, so I can't speak from direct experience. But the idea behind the rapid transit is that the bus will only stop at specific stops, and only if someone requests a stop or is waiting to get on the bus. There are also more frequent buses, so the most you should ever have to wait is 30 minutes because the buses run every 30 minutes on Sunday.
Monday through Friday buses run every 15-20 minutes, and Saturday buses run every 20 minutes.
On the Bus
We live about a mile from Peoria, and I decided that the north-bound stop at 21st and Peoria, just off of Woodward Park, would be our best bet. I thought about parking at the park but didn't love the idea of abandoning my car. And driving to take the bus seemed a little strange. So…we walked. Thankfully, it was a beautiful day–but it did add to the stress because we had to cross a couple of busy-ish streets.
Note: My rainbow Converse matched the bus seats perfectly, but were NOT ideal for walking two+ miles in!
We didn't have long to wait once we arrived at the stop, and were soon on our way! Joss didn't take to bus-riding as happy as I assumed he would. I think the problem is that I took seats close to the front, where the windows were too high for him to see out of. Later, we moved to the back of the bus, which is raised up, so he could watch the city roll by. This was definitely an improvement for him!
Much happier on the back of the bus!
We stayed on the bus through downtown, up to its northernmost stop. We waited several minutes at that stop before turning around and heading back downtown, where I spontaneously decided to disembark so that we could check out Arvest Winterfest and swing by Central Library for some Starbucks sustenance. (It was well past lunch time at this point, oops!)
Downtown Detour
A side note: We were downtown on the first day of Arvest Winterfest, so they were still setting up the ice rink. However, there is a little train that runs loops around the BOK Center (not all the way around, but part of it), so we took advantage of the fact that there were no lines and boarded the train. This was probably Joss's favorite part of the day.
Back on Board
My original plan had been to ride the bus all the way down South (it ends at Wal-Mart), but Joss was restless, and I was eager enough to get back home. Plus, the driver at this point was taking the "rapid transit" part of BRT pretty literally, and it felt like we were really zooming along! Maybe a little speedier than I wanted. So we ended up getting off at 36th and Peoria, crossing the street to reach the northbound 36th and Peoria stop, then heading back to our original stop at Woodward Park.
This is how Joss was feeling at this point in the day…
Of course, we had to play in the park before heading home.
Final Thoughts
Overall, the Aero was certainly easy to use–especially during the free period! Once the free period is over, fares will be $1.75, which is the standard Tulsa Transit fare price. Bus passes can be purchased online here, or at Denver Avenue Station, Memorial Midtown Station, participating QuikTrips or, if you have cash, when you board the bus.
A friend of ours, Susan Jarvi Doyle, rode the Aero from 16th and Peoria to downtown Tulsa with her two daughters. They visited Central Library as well, and she said, "It was fun and easy, and the best part was interesting conversations with strangers!" She went on to comment, "It was heartwarming to hear people helping each other out with simple bits of helpful information. And humbling to hear the conversations about what they would be able to get for thanksgiving with a limited income, or a specific amount of food stamps. It seems the poorest people who have the least to give end up giving the most, because they know what it's like to struggle. No one was reserved, everyone was talkative, nice, and dishing up super-helpful advice about a variety of things. A simple bus ride just might restore your faith in humanity."
Their only issue was that the 16th and Peoria stop was still under construction, so the bus didn't stop there and they ended up walking to the next stop. But hopefully that will be taken care of soon, if it hasn't been already!
By all means, if you have the time, try out the Aero bus while it's still free–and then consider it an ongoing option if you live or work near the route. I saw people posting about how convenient it is to take it from downtown to Brookside if you're headed there for lunch.
Have you already tried the new buses? What did you think?
---