Reviewing Owl Crate Jr.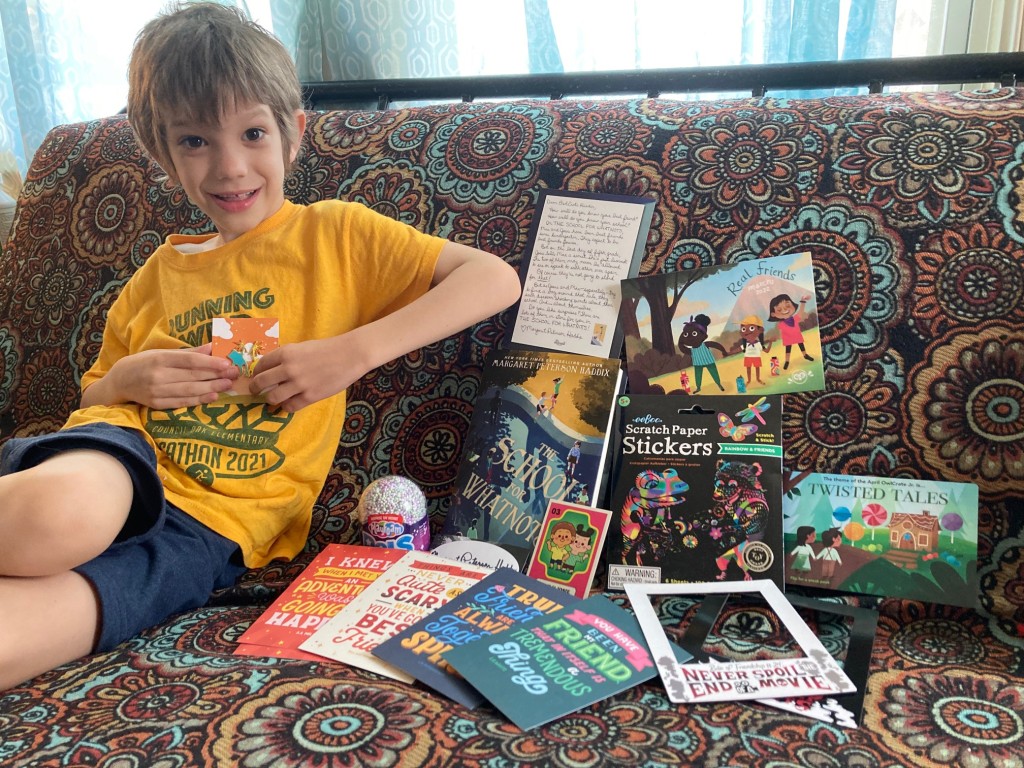 When a representative offered to send me a sample Owl Crate Jr. box, I jumped at the chance. Books + unboxing surprise? Yes, please! I mean, the surprise was more for Joss, but I was excited, too. It happened to arrive the same day as he got to shop the book fair at school, so that was a good day of new literature for him!
First Impressions
The box itself was really cute. I did make Joss let me take a photo before he could tear into it.
One of the panels said, "Caution: May Contain Magic." Joss cut this off and has requested that I tape it to his door.
All in all, very inviting…but what's inside?!
Unboxing
Each month's box has a theme; our box's theme was "Real Friends." The centerpiece is a book, and then each contains some fun crafts and activities as well.
Our Owl Crate Jr. box contained the book, "The School for Whatnots" by Margaret Peterson Haddix, along with a signed sticker and note from the author. I've yet to read the book, but it sounds fun! From what I can tell, it takes place in a world where wealthy kids grow up with robotic friends rather than real friends. The protagonist's best friend is one of these "Whatnots," but he doesn't know she's not a real person…or is she? Her disappearance causes him to go searching for answers.
In addition to the book, we got an array of friendship-themed items. These included – our favorite – Jake the Dog and Finn the Human exploding high-five pins.
Sweet postcards bearing friendship quotes.
Scratch paper stickers, magnetic photo frames, and playfoam pals. Thankfully, the latter wasn't too messy. I didn't know what playfoam was so was imagining something sticky, like slime. That would not have been appreciated!
All in all, Joss was very excited about the Owl Crate Jr. box. His only complaint was that the scratch paper stickers were stickers and not sheets of scratch paper. But I told him it was just a different way of making scratch art. 🙂
The Details
Owl Crate Jr. is a subscription box aimed at kids ages 8-12. They aim to "engage reluctant readers" – while also entertaining seasoned readers – through screen-free fun. Each box is $29.99 (plus shipping); however, if you pre-pay for 3 or 6 months at a time, it is $28.99 or $27.99, respectively. Shipping is $8.99 per box, so that puts each box at about $35.
Is it worth it? I can't judge for others. I buy enough books throughout the month that I would have a hard time committing to this. However, obviously part of the value is in providing kids with a fun surprise each month, and some extra activities they can enjoy. It might be a good gift for grandparents to give. Even if you live away from grandparents/grandkids, you could Zoom the unboxing and have fun doing that together.
What do you think? Have you ever purchased a subscription box for your kids? Which would you recommend?
---