"Rembrandt to Monet" Opens at Philbrook Museum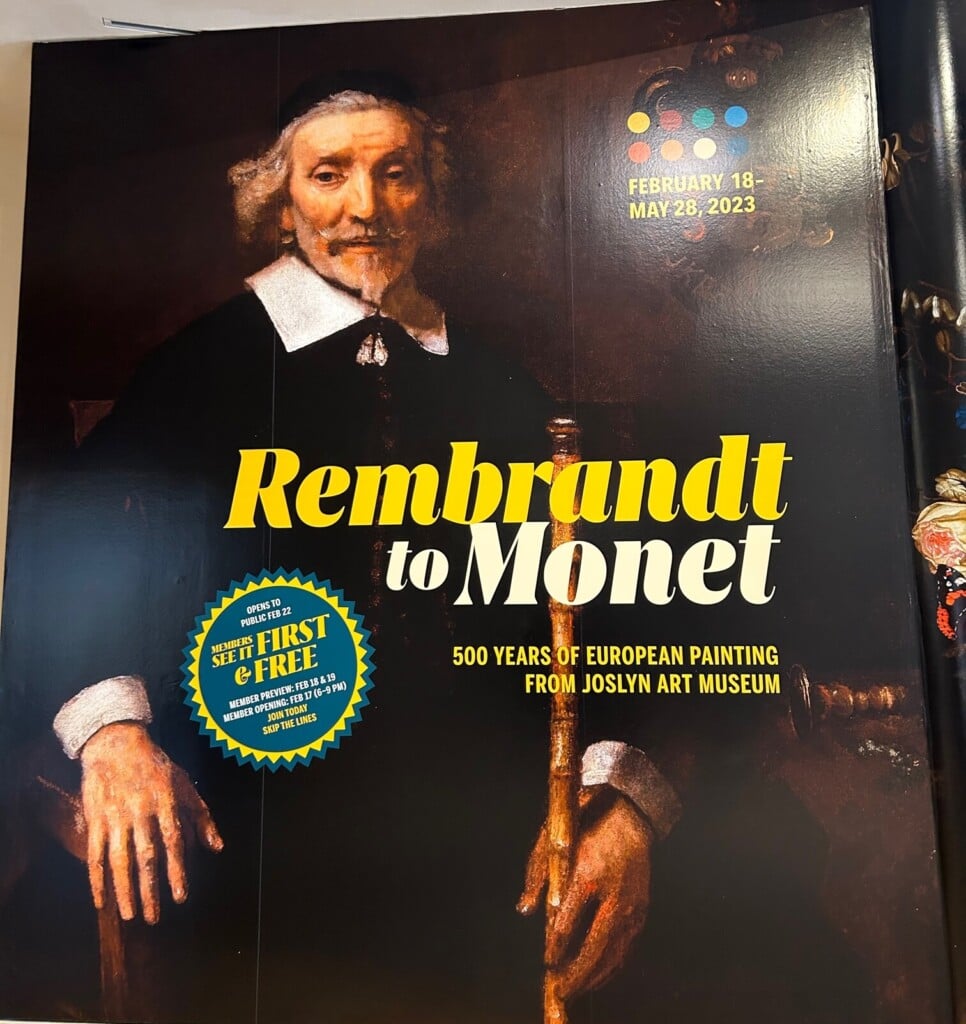 On the morning of Feb. 16, I had the pleasure of attending the press preview for Philbrook Museum's newest exhibition. "Rembrandt to Monet: 500 Years of European Painting from Joslyn Art Museum" opens to members Feb. 18, 2023, and to the general public Feb. 22. The exhibition gives viewers a succinct overview of some important segments of art history. These include the Italian Renaissance, Dutch Realism, the Romantic period and Impressionism. (There may be some I'm forgetting, too.)
Philbrook set the exhibition up to give the viewers plenty of space to get up close to and contemplate the paintings. As curator Susan Green said, this is a unique opportunity. Paintings by masters such as Rembrandt and Monet may often be in large museums, where there's simply not enough time to see everything. This means guests typically focus on the highlights. Here, not only to guests get to see works by well-known artists, they may also see some equally moving paintings by more obscure artists.
One of these, for example, depicted a stormy sky and sea, windblown smugglers and foreboding castle. I don't remember who painted this work, but Green said how much she liked it, despite not being familiar with the artist prior to this exhibition.
Joslyn Art Museum (Omaha, Nebraska) is currently undergoing renovations. Hence why Philbrook is able to display some of their important pieces. I took the photo captions for the artwork from their website. Browse their entire European art collection at joslyn.org/collections-and-exhibitions/permanent-collections/european/
Visiting with Kids
I've probably mentioned before that, although Philbrook is one of my absolute favorite places to go now, I didn't always appreciate museums as a child. So I love that Philbrook always thinks about guests young and old when installing new exhibitions. Green said they would have scavenger hunt cards so that kids can search paintings for animals and other interesting things.
Be sure to find the Dutch still life of flowers and shells, painted by a female artist. (Green explained that, although women were not allowed to do all the training that male artists of the time did, some still found ways to study painting. And that a lot of times they ended up focusing on still lifes. Weightier subjects like religious stories, etc., weren't considered appropriate for them to paint.) At first glance, you see a vase of flowers. On closer look, you'll see several different insects hidden throughout the petals. So that would be fun for kids to get a closer look at.
There's also a wonderful cat.
In addition to the scavenger hunts, there's a table where guests can write a story inspired by a collection of artifacts on a bookshelf. There is also a separate shelf of children's books inspired by the artists. So if your young ones are getting antsy, grab a book and take a storytime break.
And of course, there's a fantastic selfie station where you can become part of a Monet painting.
In the spring, the Garden flowers will complement the paintings indoors, so be sure to look out for that!
Antoinette Cafe
If the kids are feeling peckish, grab a sandwich or treat at the pop-up Antoinette cafe. They will serve sandwiches, macarons, croissants and beverages. On Fridays from 5-9 p.m., you can come for pie night! Philbrook Director Scott Stulen said the staff is very excited about pie night. As am I.
Special Events
In addition to Pie Night, Philbrook will host many kid-friendly events in the upcoming months. These include:
Storytimes on Thursdays at 10 a.m.
Family Nature Walks and Activities Fridays at 10 a.m.
Little Garden Explorers for kids 0-5 on Wednesdays, 9:30-11:30 a.m. (starts March 15)
Saturday Open Studios
Monthly Teen Hang-outs
Monthly Art Babies sessions for pre-walking babies
I'm especially excited about the Women's Living History Museum on March 26, in partnership with B'nai Emunah Preschool and the Khalid Jabara Foundation. Here's the event description:
Meet some of Tulsa's most influential female leaders as well as some of history's most famous and iconic women. Learn about the work that they did to create lasting changes for our world and the role of women in our global society.

Join us at 1:00pm for a live musical performance and storytelling from a very special guest before meeting these empowering heroines of history located throughout the museum and gardens.
Check out Philbrook's calendar for a complete list of upcoming events.
Conclusion
I hope you have a chance to see this wonderful exhibition. I never feel like I have a trained eye for appreciating art, but it is truly moving to see pieces you've grown up with, so to speak, in person. The girls at the piano especially was incredible to see first-hand.
Feel free to comment below if you go to the exhibition, and let me know which work of art was your favorite!
---