Red, White and Blue Treats for the Fourth of July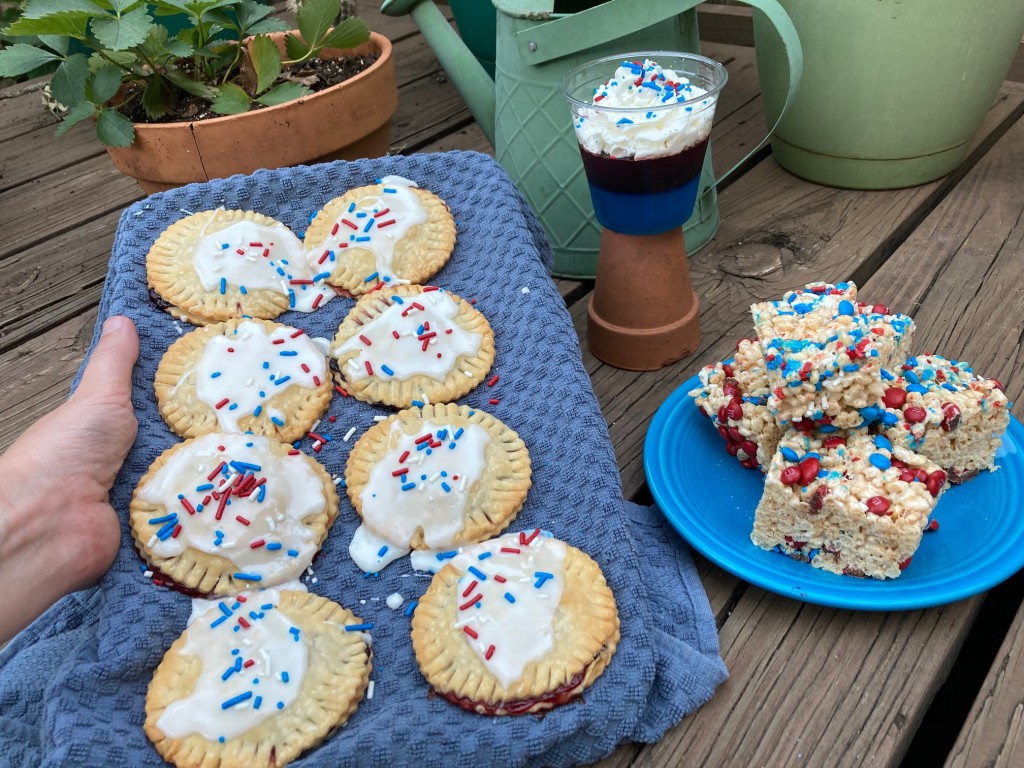 I'm heading into the 4th of July weekend on a sugar high because I wanted to blog about some fun treats! Here are three, couldn't-be-easier treats to make with your kids for Fourth of July.
Red, White and Blue Krispies
Thanks to one of the moms at Joss's tae kwon do studio for this idea! Simply whip up your favorite Rice Krispies Treats recipe. Then, let it sit for a few minutes to cool slightly before adding red, white and blue sprinkles and M&Ms. I couldn't find any red, white and blue M&Ms so just grabbed a bag of minis and separated out the red and blue ones. It worked, although I should have made Joss do this part 🙂
If you don't have a favorite Rice Krispies Treats recipe, I tried this one for Caramelized Brown Butter Rice Krispies Treats from the New York Times: cooking.nytimes.com/recipes/11587-caramelized-brown-butter-rice-krispies-treats. It sounds fancy, but basically you just have to prolong the butter-melting stage. And it really does add a nice depth of flavor.
Melt 4 Tablespoons of butter in a large saucepan. Let brown, if doing the brown butter version. Basically, cook it until it becomes a nice, light brown color (not too dark!). Stir frequently.
Add a 10 oz. bag of mini marshmallows. Stir until melted. If using unsalted butter, the NYT recipe recommends adding a pinch of salt here.
Remove from heat and stir in 6 oz. of rice krispies cereal until coated evenly.
Let the mixture sit a few minutes so it's not so hot that it melts the chocolate. Once slightly cooled, stir in about 1 cup of red and blue M&Ms, plus a good amount of red, white and blue sprinkles. (I did not measure this.)
Press the mixture into an 8×8 or 9×9 pan lined with parchment paper. Let sit for at least an hour, then cut and serve!
Red, White and Blue Jello Cups
Of course, I found several recipes for Red, White and Blue jello shots when googling fourth of July treats. But this is a kid-friendly version. Simply layer red and blue jello in a clear glass, and top with whipped cream! Follow the directions on the box, and let each layer set before adding the next. I think it would be fun to try adding blueberries or chopped strawberries into the mix, but I kept it simple this time. Add sprinkles for extra flair.
Red, White and Blue Pop Tarts
Joss was inspired to make homemade pop tarts after his first summer camp this year. The first time, we made homemade crust, which was delicious. But it's definitely quicker to use a pre-made crust, and the Pillsbury crusts are yummy and flaky. (Not on par with homemade, but I enjoy eating it.)
Ingredients
2 Pillsbury Pie Crusts
Blueberry Jam and a Red Berry Jam (mixed berry, strawberry, cherry, raspberry…)
1 c. powdered sugar
A splash of milk
Red, White and Blue sprinkles
Preheat oven to 400 degrees F. Roll out your pie crusts, and cut into an even number of circles or squares.
Top half of the crust cut-outs with about a Tablespoon of either blueberry or a red berry jam. Leave space around the edges.
Add the top crusts, and use a fork to seal them.
Bake until golden-brown. Start with 13 minutes if your pop tarts are on the smaller side, or 18 minutes if they're more of a standard size.
Let cool for several minutes. While cooling, whip up your icing: Mix 1 c. powdered sugar with a splash of milk. You want the mixture to be a little thick, not too runny.
Spoon icing onto each pop tart, and sprinkle on the sprinkles!
Alright, that's it! We may try making some red, white and blue fruit skewers and red, white and blue Caprese salad again this year. See how to make these at tulsakids.com/a-red-white-and-blue-fourth-of-july-feast. Caprese salad is one of my favorites, and the addition of blueberries makes it extra special.
What are you making for your holiday gatherings?
---