Recipes to Try with Girl Scout Cookies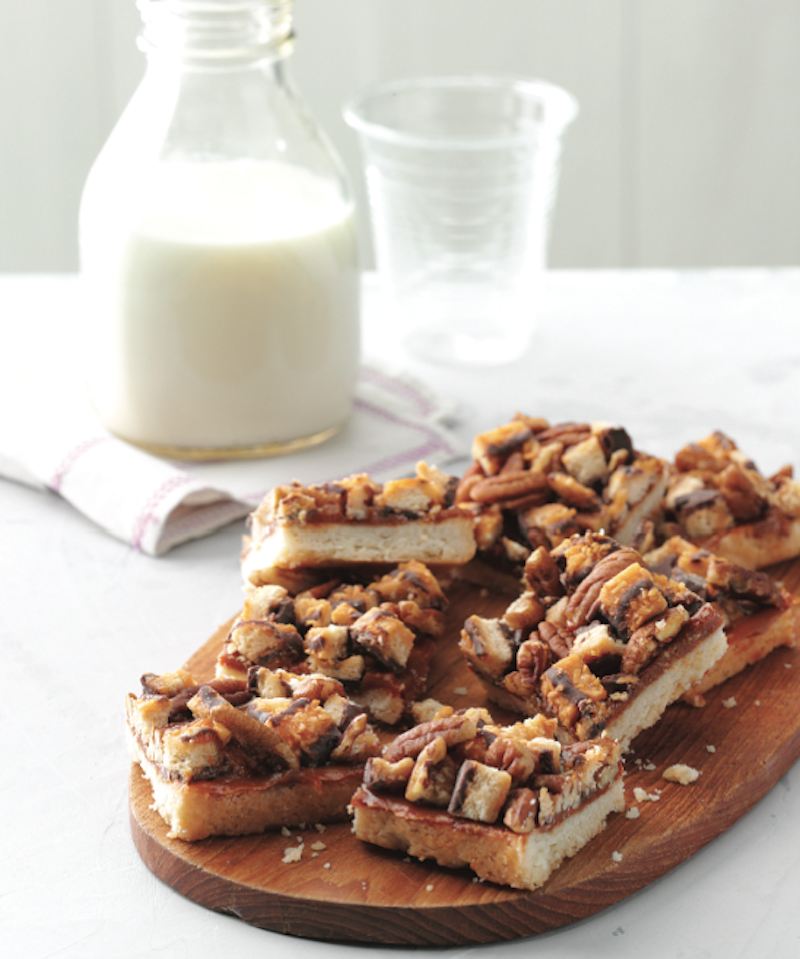 I can't resist Girl Scout cookies.
Sure, I have a weakness is for Thin Mints and Trefoils, but more than that, it's for the girls (and their parents) who work countless hours during sales season.
Sales happen because Girl Scouts pound the pavement, spend chilly afternoons at folding tables outside grocery stores and call all their relatives asking if they would like a box – or 10.
I made my first purchase of the year from my cousin's sweet daughter, Maisie, who is in the Girl Scouts of Eastern Oklahoma Troop 438. I've also bought from friends' and neighbors' kids. And not one box will go to waste, especially knowing the proceeds provide amazing leadership experiences for girls around Tulsa.
When I sold Girl Scout cookies as a kid, I remember my mom setting aside a few boxes not for eating, but for cooking. She used them in desserts that seemed to taste even better knowing they had Girl Scout cookies in them.
Now I do the same. I stash a few boxes in the freezer to use for crusts, parfaits and cakes. Here are some of my favorite ways to transform those cookies into a second sweet life.
---
This great recipe was a Girl Scout recipe contest winner in Taste of Home magazine. It's my hands-down favorite way to use extra shortbread cookies.
Toffee and Chocolate Bark with Toasted Almonds
1 package Girl Scout Trefoils Shortbread Cookies
3/4 cup butter
3/4 cup packed light brown sugar
1 (12-ounce) package semisweet chocolate chips
1/2 cup sliced almonds, toasted and coarsely chopped
Preheat oven to 350 degrees. Line a greased 15-by-10-inch rimmed baking pan with parchment paper coated with cooking spray. Arrange cookies in pan.
Microwave butter until melted; whisk in brown sugar. Microwave 2 minutes, stirring every 30 seconds, until mixture is a thick caramel sauce. Pour sauce over cookies, covering each completely.
Bake until puffed up and bubby, about 10 minutes. Do not allow to burn. Cool on a wire rack. Sprinkle chocolate chips evenly over hot caramel. Let stand for 5 minutes; spread chocolate over the caramel. Top with almonds.
Refrigerate baking pan until chocolate and caramel have hardened, about 1 hour. Break or cut bark.
---
Thin Mints Cookies and Cream Brownies
1/2 cup butter, softened
1 cup sugar
4 eggs
1 1/2 cups chocolate syrup
1 cup all-purpose flour
6 Thin Mints cookies, chopped
Ingredients for Mint Cream:
1/2 cup butter, softened
2 cups powdered sugar
1 tablespoon 2 percent milk
1/4 teaspoon mint extract
2 drops green food coloring
Additional Thin Mints, crushed
In a large bowl, cream butter and sugar until light and fluffy. Add eggs, one at a time, beating well after each addition.
Beat in chocolate syrup, then flour, just until blended. Fold in the chopped cookies.
Pour into a greased 9-by-13-inch baking pan. Bake at 350 degrees for 25-30 minutes or until a toothpick inserted near the center comes out clean. (Do not overbake.) Cool completely on a wire rack.
For mint cream, in a small bowl, cream butter and powdered sugar until light and fluffy. Beat in the milk, extract and food coloring.
Frost brownies; sprinkle with crushed Thin Mints.
---
Do-si-dos Candy Bars
3/4 teaspoon vanilla extract
1/2 teaspoon baking soda
3/4 cup plus 3 tablespoons sugar
3/4 cup corn syrup
2 tablespoons water
1 1/2 cups natural peanut butter
1 package chopped Girl Scout Do-si-dos Peanut Butter Sandwich cookies, divided
3/4 cup plus 2 tablespoons bittersweet chocolate baking chips, divided
Line a 9-by-13-inch pan with parchment paper. Combine vanilla and baking soda.
In a large saucepan over high heat, stir together sugar, corn syrup and water until sugar is dissolved. Reduce heat to medium-high; cook until a thermometer reads 285 degrees. Immediately add vanilla mixture.
Meanwhile, microwave peanut butter and all but 1/2 cup chopped Do-si-dos until hot, about 2 minutes, stirring once. Quickly pour caramel into peanut butter mixture and stir just to combine. Immediately pour into prepared pan; spread evenly (candy sets quickly).
Top with 3/4 cup baking chips, reserving 2 tablespoons; spread to cover. Sprinkle with remaining chopped Do-si-dos. Melt reserved baking chips; drizzle over top. When cool, cut into bars.
---
Dulce Samoas
1/2 cup butter, softened
1/4 cup sugar
1 cup all-purpose flour
1/4 teaspoon salt
10 Girl Scout Samoas
1/2 cup coarsely chopped pecans
1/2 cup dulce de leche
Preheat oven to 350 degrees. Cream butter and sugar; beat in flour and salt until well mixed (dough will be crumbly). Press evenly onto bottom of an ungreased 8-by-8-inch pan. Bake until edges are golden brown and top is lightly browned, 12-15 minutes. Cool 15 minutes.
Chop Samoas into 1/4-inch pieces; combine with pecans.
Microwave dulce de leche on high until spreadable, 15-20 seconds. Spread dulce de leche over cooled crust. Sprinkle chopped Samoas and pecans evenly over dulce de leche, pressing down firmly. Cool completely, about one hour, before cutting into squares.
This article was originally published is March 2017.
Natalie Mikles is a mom of three. She writes about food, sharing recipes for busy families and picky eaters. She has been recognized for her food columns as well as features on families and issues affecting local children. She loves pizza and movie nights with her family.