Reflections from Last Summer: Porto by Foot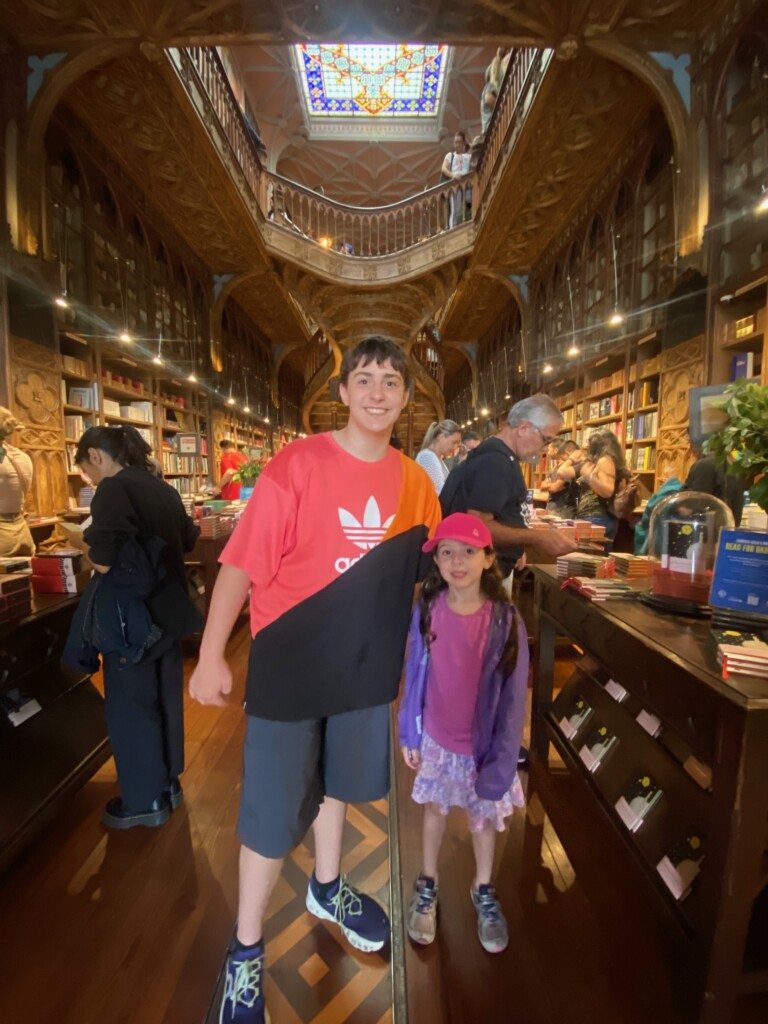 In this third and final post about our time overseas last summer, I'll reflect on the time we spent with family in Porto, Portugal, which was a great opportunity for the kids to experience another culture. There is so much to do in the area, but I'll write about the things we experienced walking in downtown Porto. It is a great place to walk not only because of the sights, but also because of how friendly the people are there. You don't ever really feel like an outsider. If you get turned around, you could simply ask for directions.
I'll talk about three things our family experienced during our time in Portugal and end by providing tips for your summer whether you are staying close to home or traveling far away.
The cuisine
The Portugal trip opened the kids up to new ideas about food. Portuguese food has a very Mediterranean feel. Garlic and onion are commonly used as spices, and main courses include meat and a wide variety of seafood. Cooking is done with olive oil, which takes the flavor to the max. Restaurants offer fresh bread before meals, which for someone on a gluten-free diet, like myself, is tormenting.
I would also be silly to not mention that Port wine comes from Porto. Many of the tourists come for that one reason. Aside from this, fresh fruit and salad is abundant, making it easy to eat healthy…until you realize that pastry shops are everywhere.
I have no clue how many coffee and pastry shops we strolled by in downtown Porto. We visited at least five over the course of a few days. The treat Portugal is most known for became the kids' obsession — pastel de nata. This custard tart puffed pastry looked beautiful, and I sincerely wanted to try it, but I did find plenty of gluten-free friendly options such as gelato. I've been told any imitation of pastel de nata in the United States is a joke compared to the real deal.
The kids were willing to try new food in Portugal and also got a glimpse of how food culture is different. Most notably, people aren't in such a hurry to eat and run there. Even business people were engaged in relaxing conversations at indoor or outdoor eateries on bustling streets. It allowed us to talk about cultural differences between the United States and other countries.
We specifically pointed out the differences in the pace of life. The kids also learned that mealtimes are not the same across countries. In Portugal, for example, it is common for dinner to take place between 9 p.m. and 10 p.m. We allowed them to come to their own conclusions regarding which parts of which culture they preferred.
The architecture
The architecture of historic downtown Porto can be described best as Baroque, Gothic, and Romanesque. It's a blend of styles that reflect the blend of people you find navigating the spaces. The kids were enchanted by the colorful tiles on the building and discussed which colors and designs were their favorites. Blue and white "azulejo" tiles are the classic and most common. The uniqueness of each building is something we all wished we could have back home.
Aside from the ornate buildings, some with tiles, in downtown, one of the most famous architectural features of the city is Ponte de Dom Luis I, which was built in 1877 by Teófilo Seyrig. This is the bridge that spans the Douro River. The lower deck can be crossed by foot or car, whereas the upper deck can be crossed by foot or via the Porto metro. This unique bridge provided an opportunity to talk about how bridges can look different but still be strong enough to support massive amounts of weight. For a kid interested in engineering, bridges are great conversation starters. Bridges are also a great way to get kids interested in engineering fundamentals.
Livraria Lello
There is a bookstore in Porto called Livraria Lello, which has been around since 1906. It was the inspiration for some of the Hogwarts scenery in Harry Potter. JK Rowling frequently visited the bookshop when she was an English teacher in Porto during the 1990s. The store's neo-gothic design with wooden walls, stained glass window on the ceiling, and crimson red staircase are reasons it is often considered one of the world's most beautiful bookstores. Of course, we had to stop in.
We weren't too surprised at the long line to enter Livraria Lello. It felt like waiting for a ride at Disney World. An employee advised us to reserve a time online and then come back, which we did, and it was certainly worth the wait. Isabelle particularly loves to read, and I think visiting Livraria Lello brought books to life in a different way that day. Bookstores and their history say so much about a place and are the perfect place to grab a souvenir.
Three tips for wherever summer takes you
Summer is a great time for learning and trying out new things, especially when traveling. Here are a few tips to make the journey memorable for your kids.
Is there a type of food the area is known for or a certain local restaurant? Try it out instead of relying on usual favorites.

Look for architectural features that are different than they are at home. You could even make a game out of it. There is such interesting and diverse architecture right here in Oklahoma!

Find a local bookstore to drop by. A great way to soak up culture whether near to Tulsa or far from it is by visiting a bookstore.
---