Planning for Tokyo, OK 2024 With Teens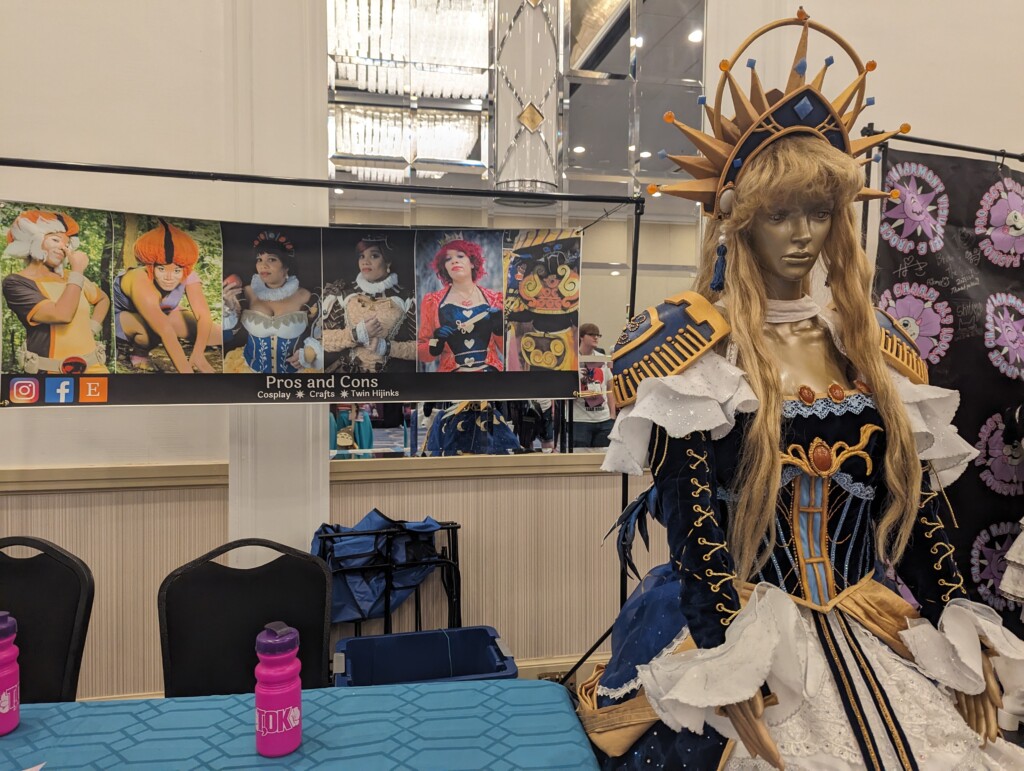 This year marked our family's fifth trip to Tokyo, OK (formerly Tokyo in Tulsa). Each year, we look forward to checking out all of the amazing cosplays and everything else this outstanding convention has to offer. As the parent of neurodivergent anime-loving kids, it's like watching my kids find their people each year. In a world where teens are struggling more than ever to reach out and connect with other young people, anime and more broadly pop culture conventions can provide a place for them to share their interests with others, come out of their shells, and even make a friend or two.
What is Tokyo, OK?
Tokyo, OK is a massive anime and pop culture convention, a type of event where fans come together to share their interests and dress up as their favorite characters. According to Tokyo, OK's website, the event is "Oklahoma's largest anime, Japanese and pop culture convention."
It's a gathering of pop culture fans, many in cosplay, getting together to celebrate their fandoms and meet up with others who share the same interests. What that looks like is two hotel lobbies and a convention center overflowing with enthusiastic, colorfully costumed fans getting together for the time of their life. And with four days of programming and three venues, there's plenty to do. Here's a breakdown of every reason I love bringing my teens to Tokyo, OK.
The Creativity
Fandom culture is one of the most creative communities young people can get involved in. When you see all of the other cosplays in all their splendor, it's easy to get caught up in the excitement and start thinking about how you could put together your own costume. But cosplay isn't the only way to express yourself. Not all folks have the time, energy, or will to create or wear a cosplay (and let's face it, cosplay is hot in Oklahoma's summer heat). Even so, they're often some of the most creative dressers, donning looks inspired by kawaii, scene, or Japanese pop culture aesthetics.
Fandom culture is also all about fan art. It's a community where fan fiction is often treated with the same value as canon storytelling, a community where artists express their enthusiasm for a fandom by creating everything from handmade figurines to perfumes and jewelry inspired by their favorite characters or TV shows.
The Positivity
Like every community, anime and cosplay culture isn't perfect. But one thing I love to see is how many folks, especially young people, enjoy lifting each other up and supporting each other. For every meticulously crafted, hand-sewn expert-level cosplay, there are dozens of beginner-level cosplayers, and it's very common to see folks with professional cosplays giving props to the younger folks who have clearly scrapped together what they could on their meager allowance, putting their cosplay together after school or between jobs.
The Opportunity to Support Artists
Globalization has played a role in helping to bring fandom culture into the mainstream. But unfortunately, it has also helped proliferate the availability of cheap, mass-produced merchandise. Supporting individual artists is good for the economy, better for the environment, and good for the consumer because you end up with something unique and lovingly made rather than some more mass-produced junk — and there are loads of talented artists sharing their wares at Tokyo, OK.
Planning Ahead for Tokyo, OK Next Year
If you've got a kid who wants to go to Tokyo, OK, the time to start planning ahead is now. The dates for next year are already set for July 12-14, 2024. How much time you (or your teen) plans to spend there might be affected by your schedule and budget, but there's plenty to do if you're thinking about going all weekend.
If you register now for Early Bird tickets, you can get entry to next year's convention for only $55. Even better, each adult pass includes free entry for a child 12 or under.
The Super Awesome Option
If you want to treat your teen to a next-level experience and budget isn't an issue, consider investing in the Sakura badge. A Sakura Club membership is $225 for the weekend and comes with loads of perks:
Exclusive Sakura Club events

A complimentary goodie bag just for Sakura members

Special snacks just for Sakura Club

Sakura folks skip to the front of the line

Early access to the vendor room
To keep things exclusive, there are only 100 Sakura passes offered each year, and everyone I've spoken to through the years insists it was well worth the investment.
Tokyo, OK Activities
If you're wondering if you could spend the whole weekend at Tokyo, OK and still be entertained, it really depends on the attendee's personality and interests. Our family usually goes for two days, and while it's true that much of that is spent taking press pics and chatting up cosplayers, we never have enough time for everything we want to do. The convention is pretty tightly scheduled with events running from Thursday through Sunday, and if you're there long enough, you're likely to end up with serious FOMO over something everyone else is buzzing about that you missed.
To help attendees keep up with everything, Tokyo, OK offers a digital schedule available in several places including the downloadable app Fan Guru, which allows you to plan your weekend and get reminders.
These are just some of the cool offerings you'll want to make time for:
Tokyo, OK now has a Discord server that gives fans a place to connect with their favorite fandoms weeks or even months before the event. Many of these fandoms have meetups during the convention. It can be a lot of fun to see a group of folks cosplaying characters from the same show getting together for a group photo and hangout.
In the past, there have been themed dance parties, karaoke parties, pajama parties, storytime…you name it.
One of the best parts of conventions is getting to check out panels. You'll see panels offered from artists, guests, and various presenters on a range of topics from creation workshops to cosplay horror stories. This year, our crew attended a panel with voice actor Barry Yandell, who served up tips on voice acting auditions and hosted a mock audition for attendees to participate in. This was incredibly helpful for Lucy, who has been doing some voice acting work with other aspiring animators in her Discord group and hopes to become an animator-voice actor like Tara Strong ("My Little Pony: Friendship is Magic") or Rebecca Sugar ("Steven Universe") someday.
You'll see cosplayers all weekend long, but some of the most committed will participate in the cosplay competition on Saturday night. This is a can't-miss event. Divided by levels of skill and experience, these cosplayers get a chance to show off all the work they put into their characters for the event — and there are prizes. Showcasing the detail and artisanship that goes into each cosplay and the level of theatrical performance involved, it's a good reminder that cosplay is so much more than simply putting on a fun costume — it's an art.
Depending on your shopping goals and budget, you might set aside between one and three hours to browse the vendor and artists' areas. We usually spend about two hours total because we enjoy really checking out the art and talking to the artists.
The convention's gaming room runs games throughout the weekend, something Tara and Joss covered in Spaghetti on the Wall. Here, you can get into a D&D campaign, participate in a Pokemon tournament, or enter a competitive Street Fighter championship.
Budgeting for Your Convention Spending
Let's say you've decided to pick up tickets for your A student, her bestie, and yourself because let's face it, you know you secretly want to tag along. Now it's time to start thinking about how much cash you want to stash aside for the big event.
Here are some things to consider stashing back cash for:
The artists' alley and vendor hall serve up a veritable jackpot of goodies. If you've got a pop culture fan to shop for come holiday season, it would be well worth it to pick up some holiday shopping early and hang onto it. Even if you don't, your teen will find loads of cool clothing, accessories, and bedroom decor to splurge on. If you're on a tight budget, consider at least setting aside $20 so they can pick up a poster or a cool bracelet — many vendors are cognizant of their younger attendees' budget constraints and are happy to offer a few cheaper alternative items for these guys. My kiddos were gifted $20 each from a dear friend, and they were both able to come home with some pretty sweet goodies.
If you're spending the whole weekend at the convention, you'll need to eat. You're allowed to bring food and drinks into certain areas of the convention. In practice, I would assume that means a granola bar for emergencies in your mom purse isn't likely to get you kicked out, but they're not likely to let you into the cosplay competition or gaming area rocking a Bueno box.
You'll find some food available at the convention center, but the options are limited, so you might budget for some downtown eating. Don't worry about your kiddos staying hydrated because the convention offers water stations all over the place.
The convention's featured guests — mostly voice actors, artists, and cosplayers — will be offering autographed photos for fans to purchase.
Important Things to Know
Whether you're planning to attend Tokyo, OK with your teen or you've got an older teen who plans to attend with their friends, here are some things you should keep in mind:
1. Phone chargers
There are tons of opportunities to drain your phone battery at TOK between texting friends, snapping pics, and checking out the schedule app. Make sure anyone attending has a good charger and possibly a backup battery on hand. These days, it's generally safer to plug directly into the wall rather than a public charging port, but I was able to find free outlets all over the convention while we were there.
2. Shuttles
The convention venues are not easily walkable, but they will be running a couple of shuttle buses between the venues. Don't let the long line fool you — the shuttles tend to get between venues pretty quickly. We left the convention center at 5:50 and had plenty of time before we needed to be in line at 6:20 to cover the cosplay competition.
3. Downtown safety
Over the past few years, I've run into a lot of teens who were clearly out on their own for their first big event and badly unprepared. A couple of years ago, I was very concerned when I ran into a pair of kids walking many blocks between venues with completely dead phones and had become lost. I still worry about them to this day. Tulsa is a small city, but it's still a city. If you're sending teens out on their own, no matter how much you trust them, make sure you've talked to them about downtown safety, check-ins, keeping their phones charged, and keeping their money stashed in a fanny pack or some other secure location.
For extra security, I also give my kids personal body alarms for when they're out of my line of sight. These things are super affordable, incredibly loud, and would be enough to alert anyone within a block or two that there's a problem and likely scare away any sketchy types.
4. Hydration
It's hot in July, and it's going to be even hotter if your teen is in cosplay. Send them with some kind of a portable Hydro Flask or Yeti and remind them they will need even more water than usual in the summer heat.
5. Backup clothing
It's way better to pull a wig off in defeat than to get heat exhaustion. If your teen is going to be cosplaying, encourage them to carry a backup outfit in their vehicle or backpack just in case they get too hot. Alternatively, they can always leave the convention, change, and return later on.
6. Expectations
Take some time to go over the convention's policies before purchasing your teen's pass. Talk about any restrictions on what they can bring in, cosplay, and any other concerns.
7. Cosplay is not consent
Wearing cosplay doesn't automatically mean an invitation to snap pics. ALWAYS ask, and teach your teens to do the same. So I'll be honest and admit that although I take hundreds of pics at each convention, one of my kiddos is a little shy and needed some help figuring out how to ask. If your kid is like mine, here's what I taught her to say: "I absolutely LOVE your cosplay. Would it be okay if I snap a pic?" I've never had anyone say no, but I would respect it if they did — you never know who has a safety situation where having their pic posted online could alert someone to their location, seriously.
Most of the time, you'll find that telling someone how much you love their cosplay sparks up a friendly conversation, and some cosplayers even bring little treats to give folks who ask — Lucy has ended up with little toys, candy, and even a cosplayer's art in the past, I imagine in part because so many of the older kids and young adults know what it's like to be that younger teen looking up to them and how much it means to feel validated when they're shown a little kindness by someone that seems so cool.
A note on harassment
Along the same lines, please teach your young people to be respectful in how they speak to cosplayers. Sadly, it is not unheard of for young women in any cosplay environment to be sexually harassed, openly objectified, or had folks using double entendres and suggestive language with them. I have even heard some cosplayers say this is why they don't cosplay female characters (despite themselves identifying as female). In many cases, their costumes involved full-clothing coverage — not that that should even matter.
As Tokyo, OK's rules outline, clothing isn't consent, and NO ONE should feel so worried about sexual harassment that they don't feel comfortable simply dressing as a female character. Worse, many of the cosplayers at the convention are minors – in some cases, as young as 13 or 14.
Even if you think to yourself, "Okay, but my kids know better," it's probably best not to assume…even if you model a certain standard at home, you just can't account for everything your kids are hearing online, in their animes, and in school from other students.
Conversely, it's also important to talk to your teen about what they can do if they feel uncomfortable or objectified. I noticed several moms in the comments section of a Facebook thread on the subject of cosplay and harassment suggest finding a mom-type, and I don't think that's a bad idea if you can't find a TOK volunteer. But let them know it's never rude to leave a situation they aren't comfortable in, and TOK volunteers will have their backs.
See You There!
With a little planning, Tokyo, OK could be an amazing experience for your teen or family. Let me know if you attended this year and if so, what your favorite part was. Thanks for reading, and have an awesome week in your little nebula!
---