Philbrook's Frida Kahlo Exhibition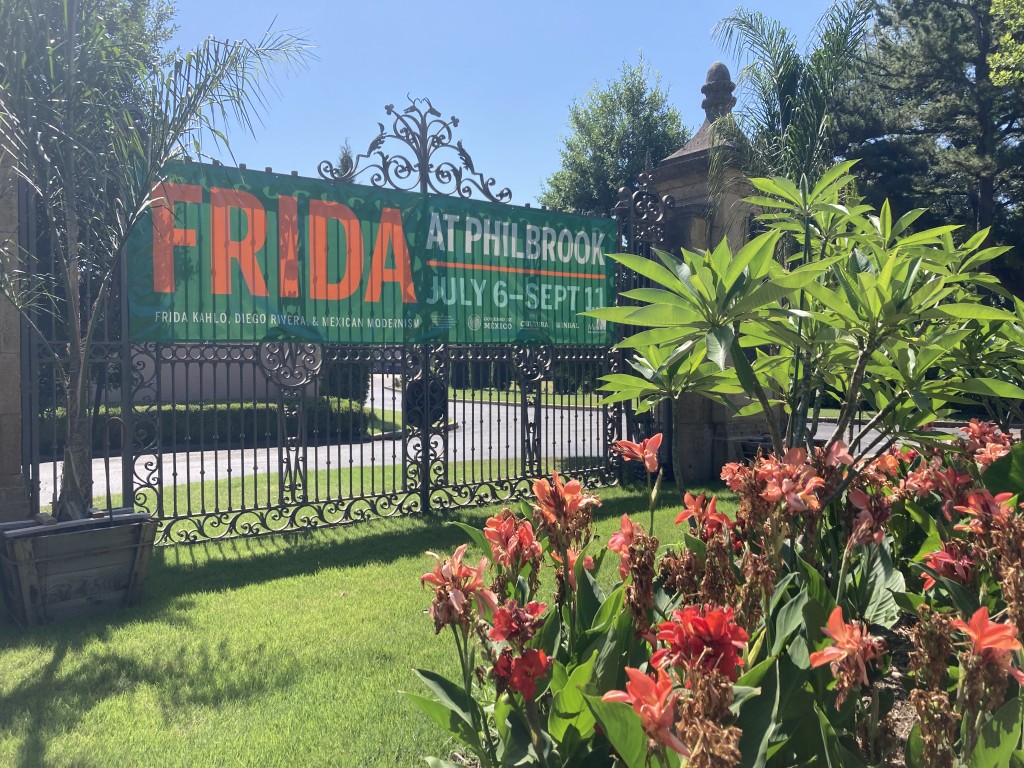 Philbrook's Frida Kahlo, Diego Rivera and Mexican Modernism exhibition opens July 6! This vibrant exhibition includes seven of Kahlo's iconic self-portraits, intimate photographs of Kahlo and Rivera's daily life, dresses inspired by Kahlo's own wardrobe, and more. It will be on display July 6-September 11, 2022.
About the Exhibition
Because the exhibition opened to members ahead of July 6, Joss and I got to preview it last week. However, he was so excited about exploring the gardens, we did not do justice to the actual exhibition. So I was glad I got to attend the press preview Tuesday morning, not only because they had Pancho Anaya pastries and coffee! Yum.
Philbrook Director Scott Stulen and others spoke about the exhibition at the press preview. Stulen expressed his hope that this exhibition will draw in people from all over, and inspire them to view Philbrook as a weekly destination. Not just a place you go every ten years or so. Joss and I go to Philbrook regularly for burger nights, playing in the garden, etc. There's always a great reason to bring the kids to Philbrook!
Another speaker, Ernesto Barajas Jimenez, Director of Documentation at the Consulate of Mexico in Little Rock, talked about how this exhibition should inspire curiosity and interest in learning more about Mexico and where Frida and Rivera came from.
A running theme was how relevant the exhibition is to viewers today. It captures the complex nature of love, finding beauty and joy in the midst of pain, the importance of activism, etc.
Viewing the Frida Kahlo Exhibition with Kids
I should have planned ahead better before taking Joss to see the exhibition. He literally ran through the hall in about a minute. But the main exhibition is so colorful and eye-catching, I do think most kids would enjoy it. In particular, they may enjoy the outfits inspired by Frida's wardrobe. You could have them look for symbols embroidered onto the dresses. Or talk about clothing as an important aspect of culture, and how modern clothing reflects our culture, for example.
Furthermore, a lot of Rivera's portraits feature children. He apparently liked to paint children because he realized their importance to the future, that they were the future of Mexico. You could talk with your kids about these paintings, and to imagine how the lives of the children featured there may be the same or differ from their own lives. Also, talk about Kahlo and Rivera's work as activists, and what causes are important to your children, and how they might be able to contribute. What was important to Kahlo and Rivera, and how does their work reflect that?
One thing I found interesting was that Kahlo's work was a more introspective and personal, while Rivera's work involved more scenes from his community. So you could certainly talk about what inspires their own artwork. What do your kids like to draw, and why.
Another interesting talking point might be the idea of self-portraits. What would your child's self-portrait look like? What colors would they use, which symbols etc.? And then relate this to Kahlo's self-portraits.
Hopefully that helps. I'm not an art historian, these are just some things I think might be interesting to talk about.
Frida Kahlo Exhibition: In the Gardens
Native plants were very important to Kahlo and Rivera, and Philbrook has made a point to reflect that in the Gardens.
"…the exhibition also extends to the 25-acres Philbrook Gardens, giving visitors a taste of what it was like to be in the garden at Frida Kahlo's Mexico City home, La Casa Azul (The Blue House). Both Frida and Diego connected to the land through their love of gardens, an inspiration seen in many of their works that prominently feature calla lilies, cacti, sunflowers, and other plants native to the region." (Philbrook press release.)
The Philbrook gardens truly look beautiful! And what's more, they've created a structure based on La Casa Azul. Inside, you'll find a succulent garden, lime tree and other plants.
Later in the summer, visitors will be able to make their way through a sunflower maze! It's almost ready, but the larger sunflowers have yet to bloom. But I'm sure that will be gorgeous, and a lot of fun for kids as well.
Frida Kahlo Exhibition: Special Events
As always, Philbrook will host several fun events to complement their latest exhibition. This is in addition to all the fun activities you can do every week at Philbrook. These include storytimes, nature walks, burger night, Sprinkler Saturdays, etc. Go to philbrook.org/calendar for the full line-up!
Upcoming events include:
There are also additional tours, flower arranging workshops and more.
Hopefully this helps get you excited to see this exhibition! Don't forget to visit the second floor for more photographs of Frida, and a side exhibition on "Fridamania." This includes photos of Frida's bedroom once it was opened to visitors decades after her death. And of course, the gift shop is stocked with a lot of fun items related to the exhibition.
Kids 17 and under always get in free to Philbrook (with the exception of certain special events, like movies on the lawn.) General admission is $12. Seniors, Veterans and Healthcare Providers get in for $10. SNAP EBT, WIC, TANF EBT and SoonerCare cardholders can visit for $1. And college students (attending participating local universities), members and active duty military get in free. Find more details at philbrook.org/visit/plan-your-visit. Also, admission is just $5 on Fridays after 5 p.m.
Philbrook is open Wednesdays through Sundays, 9 a.m.-5 p.m., and is open till 9 p.m. on Fridays. The museum is located at 2727 S. Rockford Rd. in Tulsa.
---