Out to Sea at Wonders of Wildlife:
The tale of my first shark dive!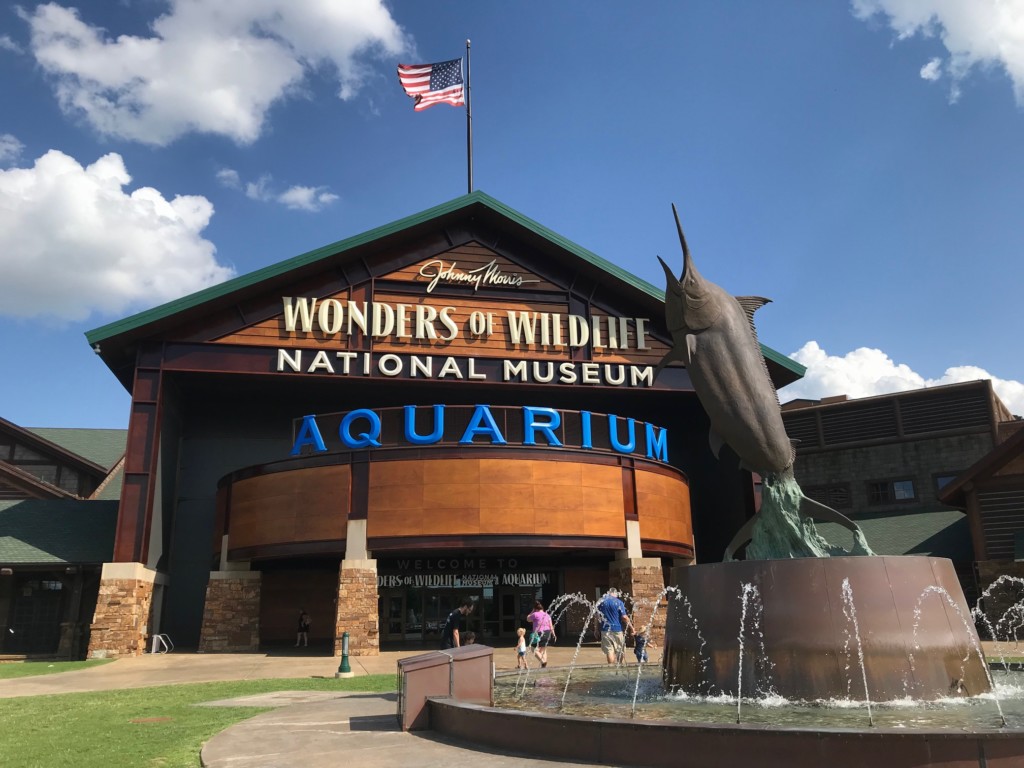 Several weeks ago, two representatives from Wonders of Wildlife National Museum & Aquarium brought a hedgehog and a hawk to visit the TulsaKids office! I loved learning about Wonders of Wildlife–which, somehow I had never heard of, although it was voted America's Best New Attraction of 2017, the same honor claimed by Gathering Place in 2018. And of course, there's nothing better than having a hedgehog visit you at work!
So when I was invited to experience Wonders of Wildlife's Out to Sea Shark Dive, a new attraction as of June 2018, I couldn't say no. (Despite the fact that to this day, I still have irrational anxieties about undiscovered sharks swimming in the deep end of large swimming pools.) Shark Week 2019 begins July 28, so our visit and this blog post are intended to help bring awareness of this fabulous shark-related activity–the only Shark Dive experience in the Midwest!
This blog post will focus on Out to Sea Shark Dive itself, but I may blog about the rest of the museum in the future. There's just too much to say (and too many photos to show) to do it all justice in a single post!
Out to Sea Shark Dive
The Basics (Who Can Participate and What to Bring)
Out to Sea Shark Dive is an opportunity for anyone age 10 or older who meets certain health requirements. You do not have to be scuba-certified.
On the day of your dive, all you need to bring is a swimming suit and any toiletry items you'd like to use for showering after your dive. I would add to this that you may also want to bring a ziploc or grocery bag for storing your wet swimming suit when finished with the dive!
Wonders of Wildlife supplies wetsuits, a GoPro for taking photos underwater, and a "bucket helmet"–which weighs 72 pounds out of water (they lower it on and off your head with a hook-pulley system!), but feels like 15 pounds under the water–heavy enough to keep you weighted to the floor of the cage, so you won't float away or anything! Also, this helmet really was pretty heavy, so keep that in mind if you have a younger child interested in the dive.
Me "pretending" to be scared…
The Experience
Our Shark Dive tickets were waiting for us at Guest Services inside the Wonders of Wildlife Aquarium entrance. If we'd purchased tickets online, I don't know if we would have received electronic tickets or not. But once you have your tickets, you check in at a kiosk located next to an elevator, right next to the Fish Tails Cafe and Guest Services. There are a lot of Wonders of Wildlife employees around to help you get your bearings! This check-in service is basically you signing a waiver and providing emergency contact information.
My shark dive experience was at 12:30. Our instruction sheet recommended arriving 30 minutes early, although when we were there, a staff member said that 15 minutes early would be fine. However, if you're exploring the Aquarium first, I'd recommend shooting for 30 minutes early because the Aquarium is so large, it's probably a good idea to overestimate the amount of time you need to find the exit!
At 12:30, a dive instructor came to collect our group of four (Each dive is limited to four people, plus a safety diver). She led us back to the Shark Dive Experience, where we were measured for wetsuits and changed into them, using a pair of private locker rooms. You can store your purses, backpacks, etc. in the locker rooms.
Another young woman and I got changed first, so enjoyed talking to the diving instructor while we waited for the other two. She explained that sometimes the smaller fish get in the cage with you, and one variety likes to try nibbling at toes or your wetsuit zipper, so not to be worried if we feel a sudden tug! Useful information, since I was pretty jumpy as it was!
When everyone was ready, she led us to a bench where we watched a five-minute safety video, instructing us in hand signals, how to equalize the pressure in our ears if necessary, and how to use the bucket helmets. Basically, they go over your head and are open at the bottom, but as long as you keep your head up (not tilted down), the water level stays about chin-level.
There's a ramp leading down to the water, with two larger steps once you're ready to enter the cage. Once inside the cage, you walk over to your designated spot–the safety diver helps–kneel (kneeling gets you more eye-level with the sharks), grab your GoPro and start snapping photos and enjoying the experience! In addition to the GoPro, the cage is equipped with laminated cards in case you want to do some species identification as well as a small magnadoodle, in case you need to communicate with anyone that way.
The front of the aquarium is gorgeous–lots of colorful coral and some bright fish as well. To the sides and back of the cage, things are a lot darker, and there was one very gnarly shark hanging out on my left side most of the time! It was pretty eerie–I finally got up the courage to try taking photos that direction, but for the most part I just kept my eyes straight ahead, lowering it every now and then when a shark swam under the cage!
I know that we were in a secure cage and in no danger whatsoever, but it was still pretty thrilling (ok maybe a bit terrifying) to be that close to sharks, especially when you didn't always know where they all were! There are five sharks altogether, three smaller brown sharks and two larger sand tiger sharks with a LOT of teeth, that just swam sloooowly through the water, looking like nightmares. Eeks!
I was the first one in the shark cage and the last one out–if you're a bit of a wimp like me when it comes to sharks, I would recommend trying to be in one of the middle positions, so you don't have additional open water space on your right- or left-hand side, and you don't have to wait to be the last one out.
In addition to the two types of sharks, the aquarium is also home to several HUGE groupers (I asked the diving instructor how they keep the sharks from eating the other fish, and she said the groupers are the aggressive ones you have to watch out for–because they'll try to eat anything, including sharks!) as well as a barracuda.
My dive was at 12:30, and the sharks really did keep their distance; but Daniel went right after ours, at 2, and they were a lot more up-close-and-personal for him! He loved it though. He thinks he drew them in because he was right up on the cage bars getting as close as possible. I was trying to stay back! So you don't know if you'll have a shark six feet from you, or six inches. Oh boy!
Hello, gorgeous! Photo by Daniel Rittler
Out to Sea–Then Out of the Water
When your 15-20 minutes of dive time are over, the safety diver leads you out of the water, and a photographer is waiting to take your photo, both with the helmet on and once you've removed it. On the bench next to the dive area is a commemorative T-shirt!
Helmet removal
You are led back to the locker rooms, where you can shower and change, then down to the main Aquarium lobby, where you pick up your photos–both printed copies of the ones taken by the photographer and a flash drive containing whatever photos or videos you took underwater.
Out to Sea Shark Dive tickets include same-day admission to Wonders of Wildlife, so definitely take advantage of seeing everything else the museum has to offer!
Pricing
Shark Dive tickets are $95+ for non-members and $55+ for members (again, this includes admission to the rest of the museum). There are Feeding Frenzy dives on select days for an additional cost. Regular Wonders of Wildlife admission is $45.95 for adults and $17.95 for children 4-11 (this is the online, summer and weekend pricing; adult weekday admission is a little lower from April 8-May 24. See details on website.)
Shark Dive Day Trip
I'm not a huge road-tripper…bit of a nervous traveler…but the drive from Tulsa to Springfield felt pretty easy! We left around 7:30 in the morning and got home around 7:30 at night. Because we did two separate dives (someone had to watch Joss, after all!), this meant that we didn't have quite as much time to explore Wonders of Wildlife as we would have liked.
We zipped through the aquarium and wildlife galleries because I didn't want to get home too late and be exhausted the next day, which was still very enjoyable, but it would have been nice to have had time to just sit and watch the animals, or to read some of the explanatory text around the exhibits, etc. You could easily spend an entire day at Wonders of Wildlife, from the time they open at 10 a.m. to the time they close in the evening. So if you have time and funds, it could be nice to make a weekend trip of it rather than try to fit it into a single day. Still, we were very happy with our trip from start to finish.
Have you tried Wonders of Wildlife's Out to Sea Shark Dive–or otherwise visited Wonders of Wildlife? What did you think about the dive? What did your family enjoy most about the museum?
---