Oklahoma Warriors Honor Flight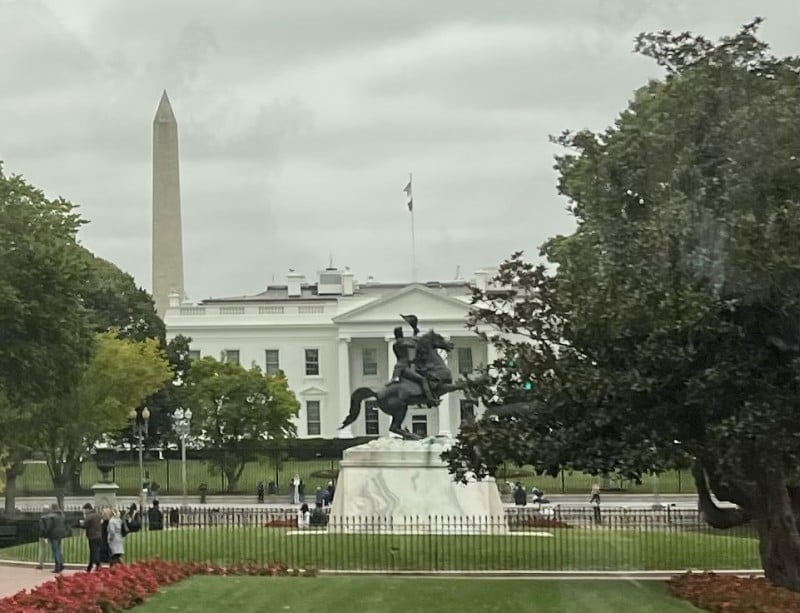 On October 4, I had the honor to fly from Tulsa to Washington, D.C. as a guest of Oklahoma Warriors. It was a trip called Honor Flight. Close to 70 military veterans from Oklahoma got the chance to make the trip to our nation's capital to see some of the war memorials that have been erected in their honor. Many of these veterans have never been before, and most say they would not have been able to afford it. Oklahoma Warriors provided the entire trip free of charge.
04:00 BUS CALL
The veterans spent the night at Hard Rock Hotel and Casino the night before, where they attended a reception dinner and a wonderful presentation honoring their heroics, with speeches and a musical performance from area high school students. Junior ROTC were there to provide a military entrance for the veterans. Hard Rock had a massive display of various military uniforms and artifacts from our nation's wars.
I myself had never been to the war memorials in Washington, D.C. either, so for me it was an honor and a thrill of a lifetime. I am quite the World War II history buff, so it was very exciting for me personally. I am 57 years old and have never served in the military and none of my immediate family has, either. However, I do have extended family members that are veterans and have known friends that have served, so I thought of them often throughout the day.
The evening of Monday, October 3, I was invited to join a colleague of mine from Cox Media, Skyler Cooper. He was broadcasting his KRMG evening news radio show live from the Hard Rock. Skyler and I have been friends for many years but had never worked together in such a capacity, so that in itself was a big thrill for me.
The next morning we met back at the Hard Rock for a very early 4:00 a.m. Bus Call. We all boarded three chartered buses to head to Tulsa International complete with a full police escort. Traffic was stopped for us at every intersection and was even stopped from for us from coming onto all the highways that we traveled on from the Hard Rock to the TUL. I heard many of the veterans comments about how special that made them feel.
One comment I heard was: "Everybody stand back for the old fart express!"
Upon arriving at the airport, we departed the buses and walked easily straight through security with little-to-no security check. That is how thorough the Oklahoma Warriors were in their peroration for the whole event. They wanted these warriors to only focus about the experience they will have once getting to the war memorials. Traffic and travel hassles were not going to be a part of these brave warriors' day.
As we passed through Tulsa International, the Oklahoma Warriors had arranged a military presentation of several troops standing by as we walk through the airport. When I first saw them, I was surprised because I had never seen a mannequin with facial hair before. They were standing so incredibly "at attention" that I did not realize until we were almost right in front of them that they were actual soldiers! Their obvious respect for the uniform and the veterans they were their to honor made the hair on my arms stand straight up. It was one of many times that day that I teared up.
06:55 WHEELS UP
A veteran sitting in my row on the plane was Vietnam Army veteran, SFC (sergeant first class) Joe Saucedo. I may get this wrong, but I believe he said his base camp was in Dung Ha. Sergeant Saucedo was from Mexico before joining the army. He told me back in 1965 there was no border patrol, so he could easily come to the United States to work and then go back home. After coming here, he fell in love with this country and decided his duty was to join the US Army.
He said it was very difficult because he was not yet a US citizen. However, he had the will to join and found a way. After his deployment was over, he got stuck coming back home without proper citizenship papers so instead, he was transferred to Hawaii. There he was able to become a U.S. citizen, then return home to the mainland. He said of his 25 year military service in the army, "I lived the American dream".
There were many patriotic stories like that throughout the day. On the Honor Flight there were Oklahoma Veterans from WWII, the Korean War, and Vietnam War.
I encourage you to talk with our veterans about their experience. I promise you you will leave with a greater love of your country. One caution though is that some veterans are not comfortable talking specifically about what happened while serving. One veteran told me during our stop at one of the war memorials that he was overcome with emotion because for most of his life, he had not spoken much about the war. He didn't talk much about his experiences in war with his friends or family, so for him to be at such a memorial was a way for him to finally release his emotions.
We made stops at the Lincoln Memorial Korean Memorial, Vietnam Memorial, the Marine Memorial, including the flag planted at Iwo Jima. We also visited the Arlington National Cemetery where we watched the changing of the guard at the Tomb of the Unknown Soldier. It was one of the most somber experiences of my life, so I can only imagine how it affected those veterans in our group who lost a friend in battle, which many, if not all, did.
We also of course visited the World War II Memorial, which for me was so incredible that my colleague Skyler could sense my amazement and asked how I was feeling. My response was:
"The word awesome is such a menial word."
22:07 WHEELS DOWN
It was a very long day.
Below is a photo and video montage of that day. If it is not on your bucket list, please include visiting these memorials. It is something every American patriot should experience.
Each veteran had with them a "Guardian," which is a volunteer that stays with them throughout the day to help them navigate through the events.
The cost of such a trip is extremely expensive, and the Oklahoma Warriors would like to continue doing this for our military veterans.
You can help them by either donating your time or money.
Text VET to the number 70123 or go to