Oddities Expo Recap 2023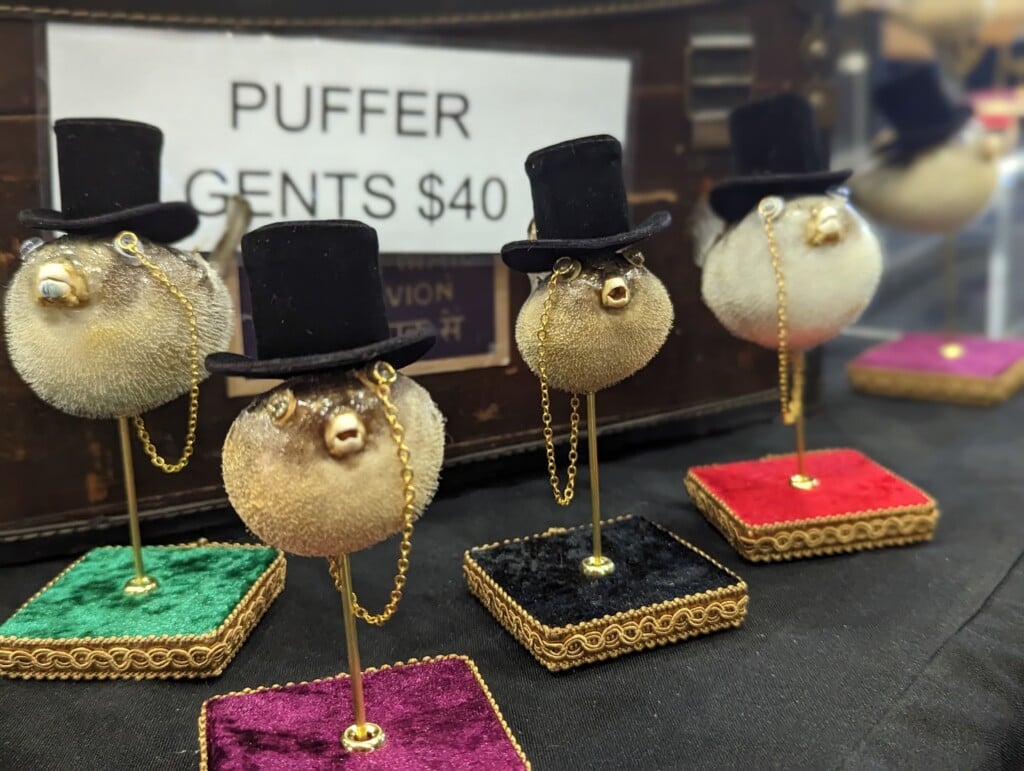 I've been listening to my friends gush about the Oddities & Curiosities Expo for years, but for whatever reason, we've never actually made it out. This year, we finally got to check it out, and it was everything we hoped it would be.
Described as an event for "lovers of the strange, unusual, and bizarre," the Oddities Expo is a showcase for artists and vendors that reside in a space where dark, gothy, kitchen witchy, fandom-infused, and vaguely Victorian aesthetics tend to intermingle. When a friend offered to treat us to tickets, I grabbed my two weirdest children and giddily hopped aboard the freak train. We knew it was going to be our kind of party as we were walking in and Sara said, "I hope it's not all taxidermy again this year."
Of course, Lucy had come dressed in fox ears and a tail, so she was very excited to find she was among her people. If you love people watching and enjoy a creative, strange, or alternative aesthetic, the Oddities Expo is really the place to be. If we get to make it out next year, I hope to take pics of some of the coolest looking folks we bump into.
Here's a breakdown of some of our favorite things from the Oddities Expo:
1. The Clown Museum
Each year, attendees can pay a few extra bucks to walk through a themed museum. This year, the theme is "The Cryptic Collection of a Mad Clown." The exhibit includes some taxidermy and preserved specimens, so it's not for the weaker stomached or most younger kids. But my horror-loving tween and teen loved it. It's kind of a lo-fi, self-paced walkthrough experience with a story to it, and it's an entertaining add-on for anyone in your crew who gets super into lore.
2. The Artists
If you love the kind of original art you would usually find at a genre convention, this place has tons to check out. We especially loved the whimsical horror-inspired ceramics of Rock Johnsen and the colorful paint splatter and brightly colored thread of Sara Bowersock's Point Blank Art & Design canvases.
3. The Wearables
If you feel like your wardrobe has gone just a little too normcore during the pandemic, the Oddities Expo is here to save the day. We saw swoon-worthy vintage costume pieces, clothing for every variant of goth-adjacent aesthetic from Dark Academia to hippie to clowncore, and more adorable accessories than our little brains could handle – like the mushroom headband Lucy picked up.
4. The Downright Quirkiness
My friend's prediction was right – there was definitely a lot of taxidermy at this event. There was even a taxidermy class that I surreptitiously peaked in at – Norman Bates, be still your beating heart. But in general, there was just a general sense of the absurd over the entire event – an aesthetic appreciation for interesting things you might see at Gomez and Morticia's dinner party. Think antique medical instruments, horror movie props, magic wands, and every possible artistic use of thrift store dolls.
With the Muskogee Renaissance Festival and right around the corner, the Oddities Expo was a perfect way to kick off the convention and festival season. If you haven't been, make plans for next year. Tickets are fairly affordable, and it's a good way to get into the genre convention spirit. Thanks for reading, and have an inspired week in your little nebula!
---