Nurturing the Next Generation of Musicians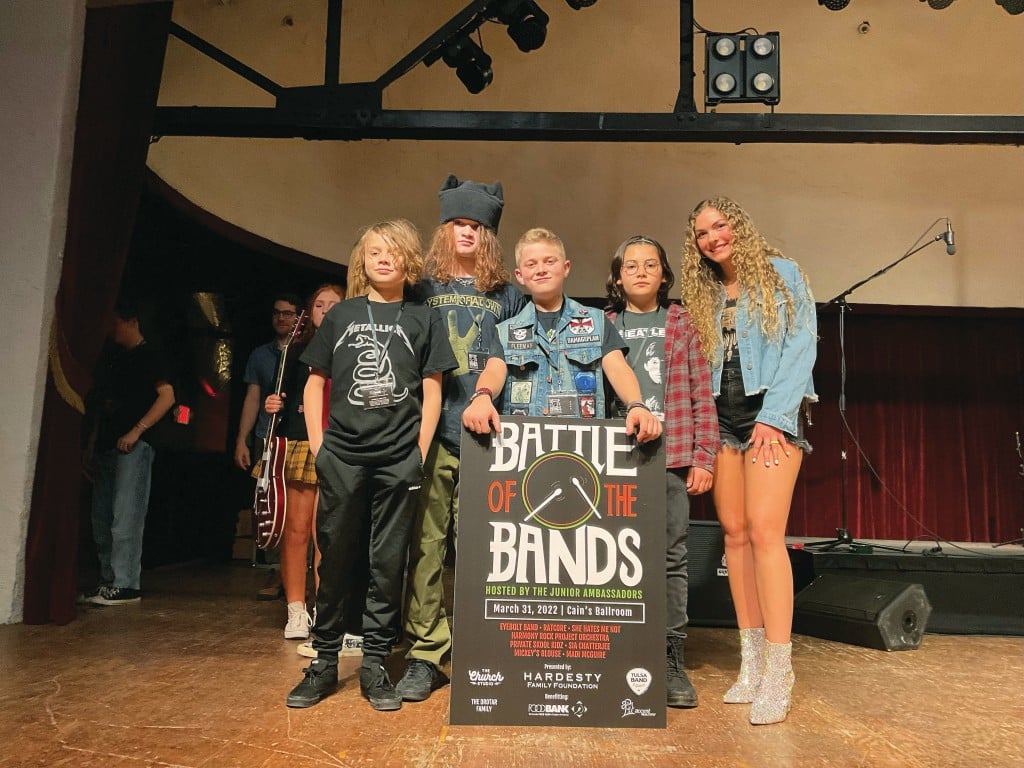 "I don't really care where it takes me," says musician Jett Fleeman. "It's just a matter of I want to do this and want to do it for a living."
After competing last month in the Community Food Bank of Eastern Oklahoma's (CFBEO) annual Battle of the Bands fundraiser, the 13-year-old Victory Christian student may be one step closer to realizing his dream. Not only did he perform on the stage of the legendary Cain's Ballroom, Fleeman and his band, She Hates Me Not, won the Judge's Choice Award in the Band category. In addition to bragging rights, the honor comes with 10 hours of studio time in the state-of-the-art recording facility in the newly renovated Church Studio.
Fleeman, who plays guitar and sings, moved to Tulsa from Benton, Arkansas, a year ago, picking up the guitar shortly after he arrived. He met his bandmates, brothers 14-year-old Machai (drums) and 13-year-old Ryder Burggraf (bass & backup vocals), and 12-year-old Nico Stevens (lead guitar) at Oklahoma Music Academy (OMA).
The group plans to record at least four original songs during their studio time. They're already hard at work crafting the new singles. It's a collaborative process aided by modern technology.
"We all kind of write stuff, then we send it in a group chat," Fleeman explains. "When we practice, we just all play it and then put it together."
In addition to their individual lessons at OMA, the band practices every Sunday at Fleeman's home. Fleeman's parents, Christy and Mike, are happy to support their son's music.
"He has two older siblings, and they both went to college on athletic scholarships," explains Fleeman's father, Mike. "We did everything we could to help them, so it's kind of our mindset that, if this is his deal, then we're going to do everything we can to help him with it."
The Fleemans were both excited and anxious about the competition.
"The last thing I said to him before they left the house was, 'Look. It's fine to go into something wanting to win, but the main thing is just do your best and get the experience.' And then when they announced them as the winners, we just all went to tears," Mike says.
Additional winners included Madi McGuire in the Judge's Choice Singer/Songwriter category, Private Skool Kidz in the People's Choice Band category, and Cia Chatterjee in the People's Choice Singer/Songwriter Category.
The CFBEO's Junior Ambassadors, high school students committed to fighting hunger in Oklahoma, organized the all-ages event, the proceeds from which support CFBEO's mission. CFBEO is one of the largest, private hunger-relief organizations in the state.
Most of the event's volunteer judges work in the music industry, including Deana McCloud, an owner and partner in Museum Collective. It was McCloud's first year to participate in the event, and she was impressed with the performers.
"I was blown away by the incredible talent and energy that the young musicians brought to the stage, as well as their confidence and stage presence," McCloud says. "The future of Tulsa music is safe in these talented hands, and what a joy it was to see them on the iconic Cain's Ballroom stage!"
McCloud stresses the importance of supporting younger Tulsa talent through events like this.
"As a former educator as well as being a music programmer and producer, I consider this my personal and professional passion project," she says. "The future is only as solid as our investment in nurturing and encouraging the next generation. Not only do emerging artists need to be encouraged by our presence and positive feedback; they all need our financial investments in their projects and the development of industry in our area. The future is only as strong as our commitment to supporting young musicians."
If the Battle of the Band winners are any indication, the future of Tulsa's music community looks promising.
"It was such an honor to be part of this event and see this new generation of creatives performing in support of such a worthy cause. If we intend to have Tulsa become a true music city, we need to continue supporting our creatives, providing them the space to explore and simply BE, and connect them with the resources that enable them to focus on their craft," McCloud says. "This is just the beginning, but it requires a community to support and nurture in order to build something incredible."
Julie Wenger Watson is a freelance writer who's worked in all aspects of music promotion. She's also Co-Director of "Live From Cain's," a public radio show pilot.
---