Novelist Ann Patchett Returns to Tulsa for Distinguished Author Events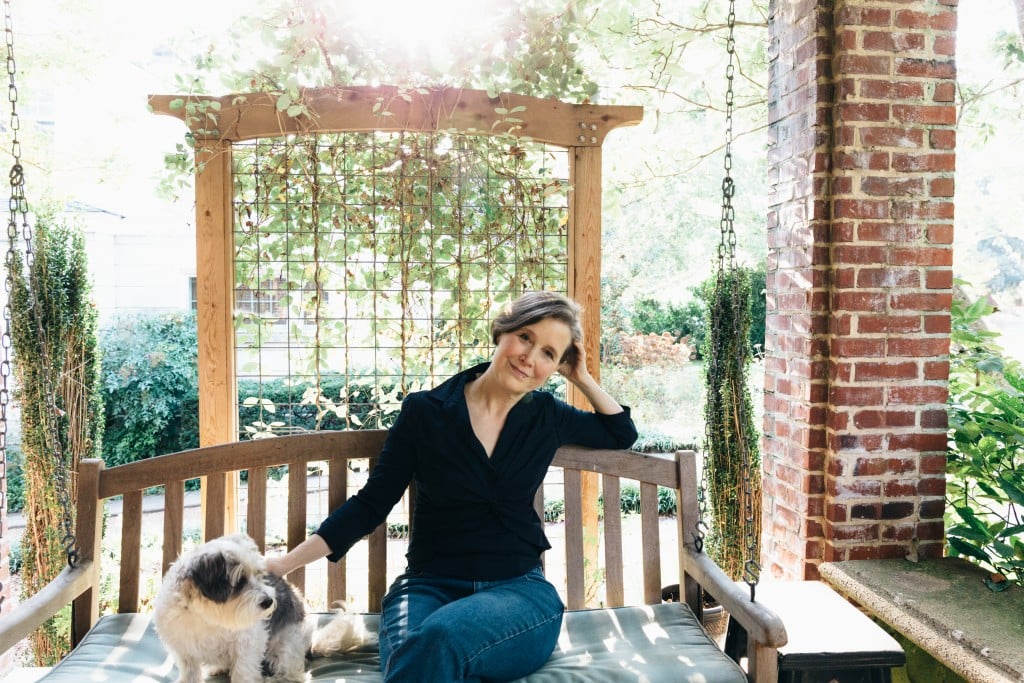 When Ann Patchett was in Tulsa to accept the 2014 Peggy V. Helmerich Distinguished Author Award, she recalled buying a last-minute lipstick and a tube of mascara at Miss Jackson's in Utica Square with gala chair Kristin Bender.
"Kristin was fantastic and so much fun," Patchett said. "I bought her mascara for her, so she sent me a tube of mascara for several years afterwards."
A broken dress zipper, a gala held in a former grocery store and a birthday luncheon hosted by Peggy Helmerich, complete with a birthday cake, were all pieces of Patchett's "weird and funny" memories from Tulsa.
"Of all the galas I've done in my life, I had more fun in Tulsa by a factor of ten," she said. "I had such a good time. Part of it was that I was madly in love with Peggy (Helmerich)."
Patchett will be back in Tulsa in early December to headline this year's event, replacing the previously announced winner, novelist Elizabeth Strout, who had to cancel because of illness. A condition of the award is that the recipient must accept the award in person and speak at a public presentation and a black-tie gala event. Since Strout cannot attend, no award will be presented this year.
Both the black-tie event and the public presentation will be held at the Central Library, Fifth Street and Denver Avenue. The black-tie gala is set for Friday, Dec. 2. The free public presentation, which is usually on Saturday morning after the gala, will be held on Thursday, Dec. 1 at 5:30 p.m. Patchett will speak, answer questions and sign autographs at the public program.
I will have the honor of interviewing Patchett at the public program on Thursday evening. Come prepared for a casual and entertaining conversation.
As a past recipient, Patchett says she is "thrilled to come back." In 2014, the Central Library was under construction, so the gala was held in the former Safeway grocery store on Denver Avenue, then called the Librarium.
"I'm very excited to see the new library," she said.
Patchett describes herself as a novelist who also writes essays and sometimes picture books.
Her books include The Patron Saint of Liars, Taft, the critically acclaimed The Magician's Assistant, Bel Canto, Run, State of Wonder, Commonwealth and her most recent novel, The Dutch House. Her nonfiction works include This Is the Story of a Happy Marriage, What Now?, Truth & Beauty: A Friendship and These Precious Days: Essays. Patchett also is the author of two children's picture books, Lambslide and Escape Goat, both illustrated by Robin Preiss Glaser.
Patchett says she has just finished a novel, which is currently with the copy editor. I asked her what it felt like to finish.
"It's like a separating process," Patchett said. "The novel goes off on a bus like a kid for camp. It's been through many edits, and every time it goes away and comes back, I become a little more detached."
Many of Patchett's fans know that she owns Parnassus Books, an independent bookstore in Nashville, Tennessee. Her business partner, Karen Hayes, recently retired, so Patchett is now the sole owner of the store. While Patchett never planned on becoming a bookstore owner, she now says "there is no exit strategy."
Patchett and I will talk about how she came to have the bookstore, and what it means in the community. Find out what her priorities are for her customers and employees, and her vision for the store. She might share why there's a sign that says "Children must be accompanied by an adult" on the bookstore door.
You can also find out how The Dutch House started out as a completely different book, the first draft ending up in the trash.
And maybe we'll discuss Patchett's childhood, the "Peanuts" cartoon character Snoopy and how he influenced her life as an author, and the novel that is most closely autobiographical.
Talking with Patchett is like visiting with a caring, entertaining friend who is full of interesting stories.
I hope you will join us for a fun discussion about books, literacy, bookstores and writing on Thurs., Dec. 1 at 5:30 p.m. at the Central Library, Fifth St. and Denver Ave.
For more information about the Peggy V. Helmerich Distinguished Author Award and the events, go to www.tulsalibrary.org/helmerichaward
---