New Attractions at Silver Dollar City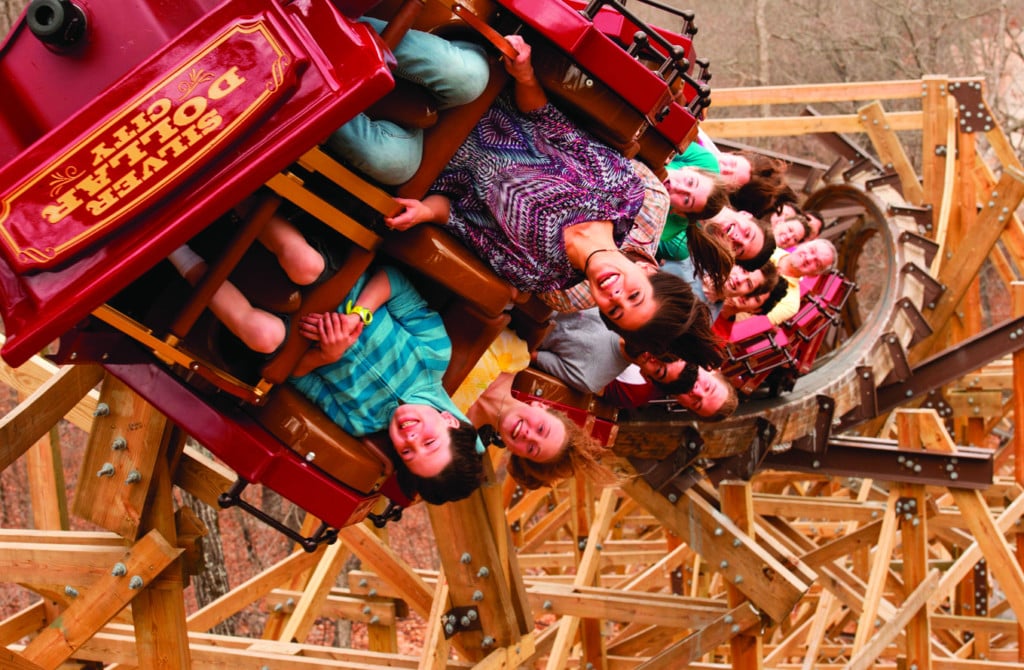 There is exciting news to share with you about Branson, Missouri's Silver Dollar City, the charming, 1880s-themed amusement park, located less than a four-hour drive from Tulsa. If you haven't been there, you are in for a real first-time treat. And, if your past includes a prior visit, these new award-winning goodies are worth a repeat trip.
Outlaw Run, a wooden coaster (featured in the Guinness World Book of Records) and Fireman's Landing, a brand new section of the park, both bring added adrenaline and excitement to the park's attractions. These newbies join the several dozen rides, 12 stages for shows, American heritage craft activities and rotating festivals at this 100-acre picturesque park, set in the heart of the Ozark Mountains. Its canopy of majestic trees adds to the beauty—keeping visitors cool in warmer months while lending an autumnal array of color in the fall.
From above, on the ground and down below, there are thrills and excitement for folks of all ages. And, all the action is punctuated with over-the-top friendly staff, who work hard to ensure your time at the park wins gold in your hearts and minds. The park has been awarded several high honors among critics and visitors alike.
In July 2015, USA Today announced that Silver Dollar City placed in two categories in the publication's 10 Best Readers' Choice Travel Awards. Silver Dollar City's Outlaw Run placed No. 2 in the Top 10 list of Best Roller Coasters, and the park's new Fireman's Landing area placed No. 8 among the Top 10 Best New Amusement Park Attractions.
From On High
For starters, and possibly the most enticing news that lured my family back last month after several already memorable trips to Silver Dollar City, is the aforementioned Outlaw Run, one of the most daring wooden roller coasters around the globe. This $10 million beast is comprised of over a half-mile of track and boasts one of the steepest (nearly vertical) drops of all wooden coasters. At more than 16 stories high, riders can— for a brief moment— get a gorgeous view of the mountains before dropping 81 degrees downward to twists and turns that go on and on.
Outlaw Run features the world's first and only double barrel roll on a wood coaster, a 720-degree (double) barrel roll. The coaster also makes not one, not two, but three complete rotations and takes great pride for being the second fastest wooden rollercoaster worldwide, with a top speed of 68 miles per hour. Trust me  —- you are in for the ride of your life!
Ground-Level Fun
You may want to ride Outlaw Run again and again and that's fine. But, you and the kids won't want to miss the new $8 million Fireman's Landing, which offers six new family-friendly rides and four interactive play stations.
Created to honor the bravery and fierceness of volunteer firefighters and the important role they play in the safety and caring of our communities, Fireman's Landing's theme "salutes the spirit and training activities of community volunteer firefighters" and is "…an attraction with a purpose," says Lisa Rau, director of public relations at Silver Dollar City.  She also stated, "If we're sending home a handful of kids every day who say 'I want to serve; I want to be a firefighter,' we're accomplishing what we set out to do."
The storyline for Fireman's Landing is loosely based on a fire that destroyed the town of Marmaros, a mining town near Marble Cave (open now to Silver Dollar City visitors while on property) in the early 1880s.
Aside from Fireman's Landing, American heritage craftspeople are busy at work blowing glass, making candy, creating pottery and so much more. And family-friendly shows are taking place all around the park.
Underground Marvel
Spelunkers marvel over the beauty of Marvel Cave (originally called Marble Cave), the reason behind the park's ultimate creation and development and a key attribute of Silver Dollar City's amusement today. Admission comes along with your Silver Dollar City park pass and tours run frequently, lasting about an hour and a half.
As one of the largest caves in Missouri and being a Registered Historic Landmark, it is one of the longest running tourist attractions in the Ozarks. Highlights once underground include the awe-inspiring Cathedral Room, one of North America's largest cave entrance rooms. Getting there requires a fun trek down nearly 600 stairs through some interesting crevices that demand some stooping. Special lantern light tours are offered but require reservations so if interested, plan ahead.
For hours of operation and ticket pricing information, check out silverdollarcity.com or call 1-800-831-4386 for details including registration for lantern light tours.