My Day with Read Across Oklahoma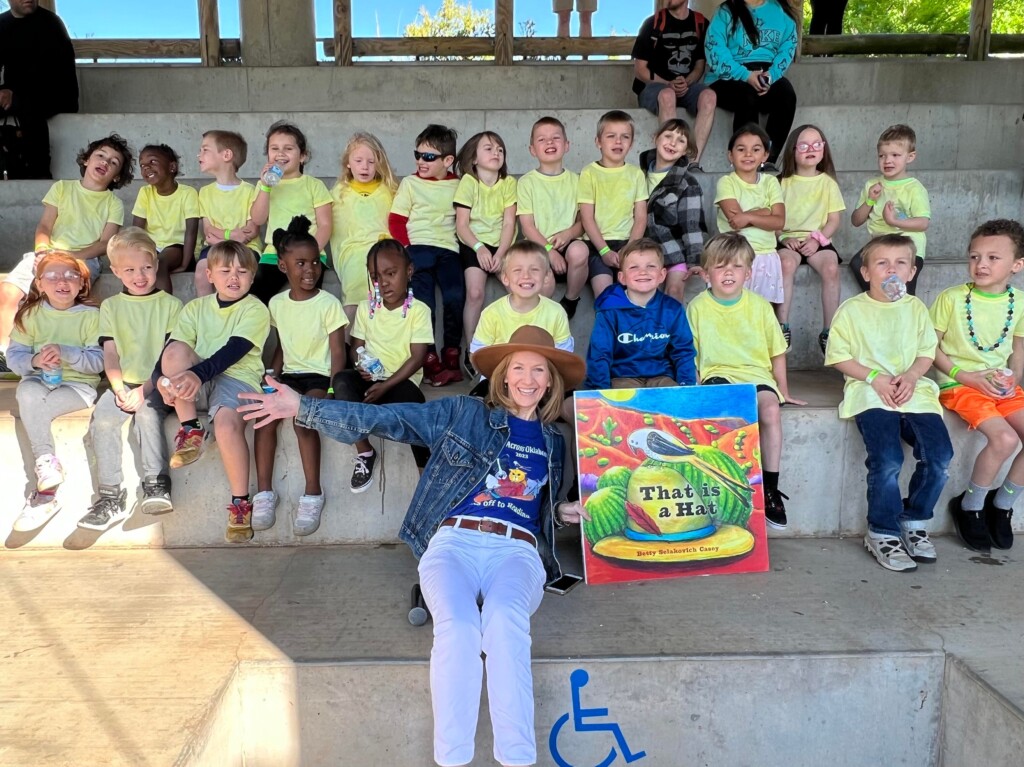 I had the great honor of reading to approximately 1500 (mostly) kindergarteners who were visiting the Oklahoma City Zoo for Read Across Oklahoma Day on April 11. My picture book, THAT IS A HAT (The RoadRunner Press) was chosen as the 2023 Read Across Oklahoma book. It was a perfect day.
Read Across Oklahoma 2023 focused on kindergarteners, so busloads of school kids descended on the OKC Zoo for a free day that included reading-related activities with various volunteers (thanks, Classen High School students), a story time with me and a free lunch.
Prior to their special fieldtrip day, most of the kids were given copies of THAT IS A HAT. Their teachers read it with them, and many also created lesson plans around the book. Ms. Austin and Mrs. Randi's kindergarteners from Okarche Elementary brought me a copy of a book that they had created using ideas from THAT IS A HAT. Another teacher who teaches virtual classes showed me a book that her students had created using computer technology. I could see that the teachers had incorporated writing, art, critical thinking and more into their lessons.
The teachers and the volunteers were wearing T-shirts with one of my illustrations on it, thanks to Capitol Hill Graffix. They did an amazing job.
As the kids streamed into an amphitheater used for zoo programming for the book reading, I wondered how I could keep all those kids entertained. We did six "shows" with probably 200 or so kids at each reading. Volunteers from the Oklahoma Department of Libraries (ODL) helped by holding up the book on each side of me, and another amazing ODL volunteer, Kelley Riha, did the introductions and kept the kids entertained with songs. My worries were unfounded. The kids were great – so attentive and having so much fun.
A zoo staff person warned me that the elephants in the enclosure behind me liked to come up to the fence to see what was happening at the amphitheater. Sure enough, all the elephants, including an adorable baby, trundled up to the fence to check out the noise. The kids in the audience at the first reading started chanting "Elephant, elephant, elephant" as soon as they saw them.
Knowing that I would easily be upstaged by elephants, I incorporated them into story time. I told the kids that the elephants loved to listen to stories, so they would all have to be quiet so the elephants could hear the story. Fortunately, it worked.
Maybe we don't often think of kindergarten as being that important, but of course, we know how important early literacy is to kids' success, not just in school, but in life. It's also important for them to know that they are valued, and to associate reading with fun! I was honored to read to this group, to get their hugs and to hear their laughter. I was also reminded of the important work that teachers do every day. One teacher came up to me and said, "Thank you for doing this. This is the first time my students have gone to the zoo. This is the first time they've owned a book, and the first author they've ever met."
That's why it was a perfect day for me.
The wonderful people at the Oklahoma Department of Libraries should be commended for putting on this tremendous event for children. Public libraries are so important to communities. The major sponsor was Tinker Federal Credit Union (TFCU). Others were the Oklahoma Department of Libraries, the OKC Zoo, the Institute of Museum and Library Services and Target. I also want to thank The RoadRunner Press, a small, traditional publishing house in OKC. Thank you to all who made this possible.
---