Mayor, City Officials, and Tulsa Housing Authority Celebrate the Official Opening of Celebration Park in West Tulsa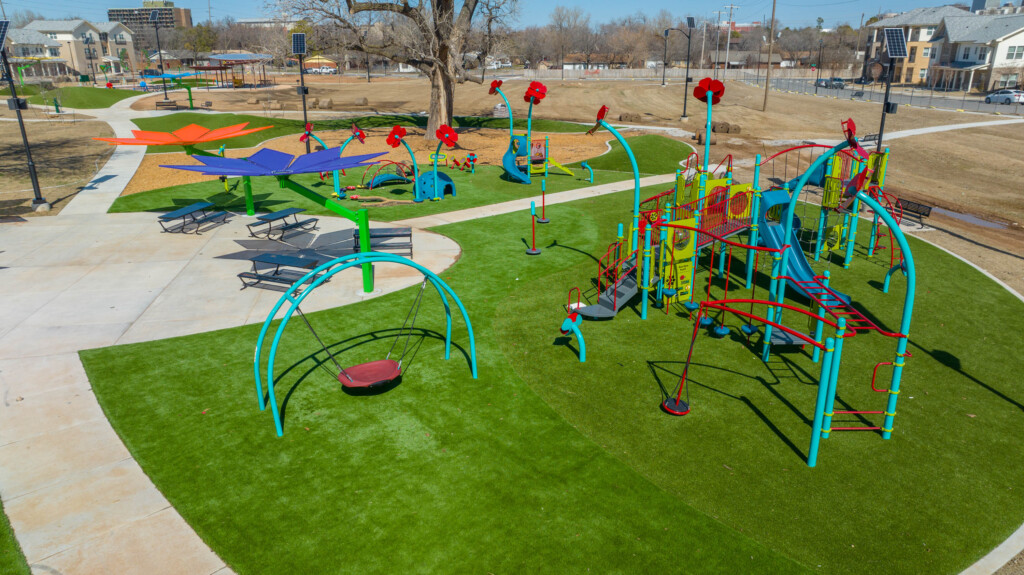 Mayor G.T. Bynum, Chief of Culture and Parks Director Anna America, and the Tulsa Housing Authority (THA) held a ribbon cutting today to officially open the Celebration Park at 1110 W. 20th Street.
With this addition, the five-acre Celebration Park will be a key component of the Eugene Field Small Area Plan and the River West community.
The $2.4 million project is funded in part by a federal Choice Neighborhoods Implementation Grant, and funds from Improve our Tulsa 1 and 2.
Celebration Park features two whimsical, garden-themed playgrounds, a splash pad, a multi-use sports courts, a custom pavilion with picnic tables and BBQ grills, a lighted sports field, open grassy play areas, and earthen and artificial turf berms.
"The redevelopment of the Eugene Field neighborhood is one of the most significant redevelopment efforts that the City and the Tulsa Housing Authority have undertaken. I'd like to thank THA for their continued partnership and effort in creating more housing opportunities for Tulsans," Mayor G.T. Bynum said. "Playgrounds are the heartbeat of any community and create a sense of belonging and togetherness that makes a neighborhood stronger."
The Choice Neighborhoods Tulsa/River West Transformation Plan includes the construction of up to 450 mixed-income apartments, the newly renovated Celebration Park, and extensive public infrastructure and storm water improvements. Project totals are estimated at more than $180 million, representing Tulsa's largest investment in affordable housing to date.
"This park will serve as a cornerstone not only of the River West community but of this area of our city," said Aaron Darden, President, & CEO of Tulsa Housing Authority. "Members of the River West community deserve this level of investment and I'm excited that families will be able to create memories here for years to come."
Students from nearby Eugene Field Elementary School assisted city officials with unveiling the park's name.
"Before the renovation, this park was barren and mostly known as a place for overflow event parking," said Anna America, Chief of Culture and Recreation and Parks Director. "The community chose the name 'Celebration' because of their excitement about what we've built here together. Celebration Park will help continue the revitalization and growth we are witnessing in this area, but more importantly to me, it will be a place for these families and children to come together, to be active, and to just play and have fun."
The six-phase River West Choice Neighborhoods project will be completed in 2024.