Local Moms Share Pros & Cons of Scheduled Toddler Activities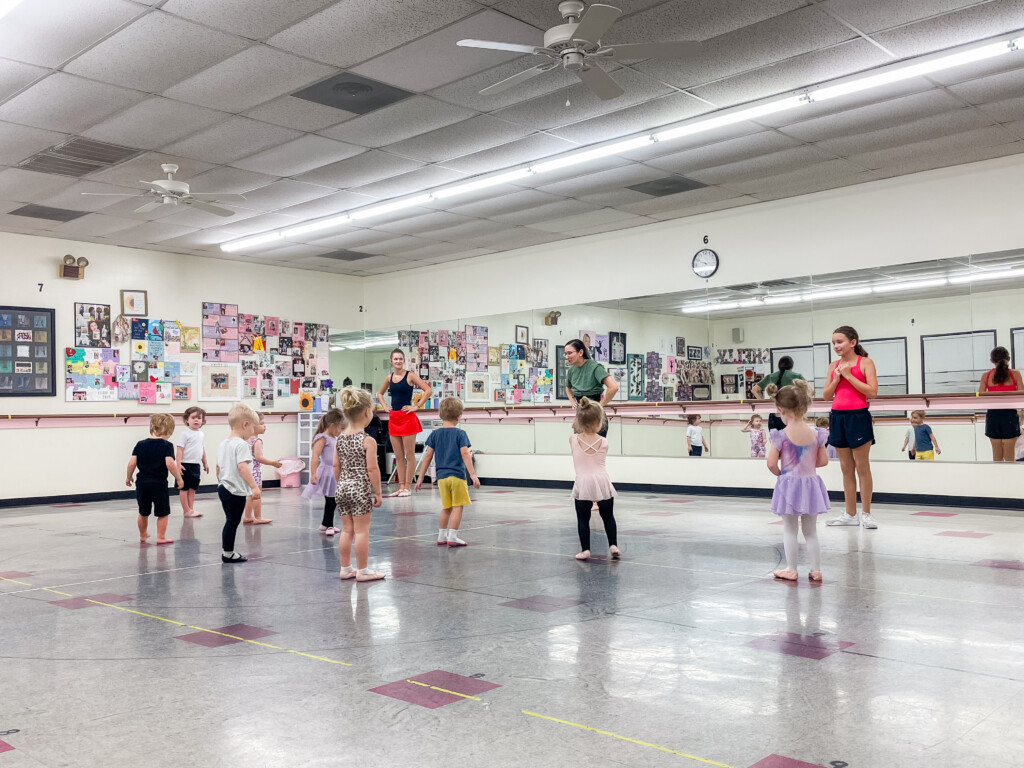 It happens so fast. One day you're holding a teeny newborn baby, supporting their neck and marveling at each wave of their arm. The next thing you know, your little one is running through your home, jumping off your sofa and filling the room with the bottomless energy of a thousand suns. "This kid needs an outlet," you think, scanning your phone as you Google "activities for toddlers" with one hand as you pool noodle sword fight with the other. For each option you read about, you find dozens of opinions. It's easy to feel overwhelmed as you weigh it all. Does your young child need an extracurricular activity? What are the costs and benefits of signing them up for a team, sport or class? Is it worth the effort?
Like so many parents, I found myself torn as my children grew. Would I enroll them in a dance program like the one my mother put me in? Would I let them pick something, risking the inevitable change of opinion two classes in? If I chose not to commit to a class and leave our days unstructured, would my children miss out?
In the end, I opted to enroll my 4-year-old in a small ballet class at a local recreation center. She was with a few friends and seemed to enjoy the gentle pace of the class. Juilliard it was not, but it was inexpensive and allowed her to sample dance without a long-term commitment.
Eventually, she chose to try gymnastics instead. I spent her class time in a hallway, watching discreetly through a one-way glass, while wrangling a 2-year-old. When our tenure there ended, she rejoiced that we had more free time and played gymnastics happily at home with her little sister.
For us, this was enough. We chose free play at home and visiting friends. However, to offer a broader perspective, I asked Tulsa parents about their experiences with extracurriculars for young children.
Pros and Cons of Scheduled Toddler Activities
Swimming Solutions
Anna enrolled her first child in "Mommy and Me" swim lessons, eventually graduating to classes without parents in the pool. Her daughter enjoyed the pool time and learned some minor points of water acclimation, but she disliked the way she changed teachers with each promotion as she learned skills. Each time, the girl would regress due to the absence of her trusted adult. In the end, Anna felt this experience did not suit her child's disposition and created too much stress without the results she had sought.
She enrolled her second child, then a young toddler, in an Infant Swim Rescue class. This meant 10-minute lessons every day of the week for weeks at a time and less gentle acclimation for her toddler. However, her little one quickly picked up survival skills like floating and swimming to the ladder, becoming competent and lowering her likelihood of drowning.
Pleased with these results, Anna enrolled her firstborn in ISR and went through the program with her as well. The expense and the long drive for short lessons was intense but, in the end, her children were safer in the water and remain good swimmers to this day. For Anna, it paid to shop around.
Ongoing Benefits
Melissa eagerly enrolled her children, as they turned 3, in local gymnastics and dance classes. Her children enjoyed the addition to their routine, made friends and learned about the arts and performing on stage, as she had hoped. The only sticky point came as classes interfered with siblings' nap times, but that issue was short lived.
The kids are older now, continuing to perform with those same friends. Overall, she recommends parents consider signing up for a trial class to gauge interest. You may find a fun way to get the wiggles out, if not a lifelong passion.
The Right Rewards
Rebecca enrolled both of her children in a toddler gymnastics program at age 3 and 18 months, hoping they would learn about playing with others, practice following directions and develop some new skills. Her son felt a little daunted and sat out of some classes, but her younger daughter participated happily.
In the end, Rebecca was pleased but disliked the candy given to children at the end of class for obedience, which didn't sit right with her. She did like when all of the children were given stamps. Her takeaway: Always check how instructors handle discipline and rewards before enrolling children in any classes.
Flexibility
Sarah wanted to enroll her son in classes to help him socialize and hopefully find one of those elusive unicorns, the "mom friend." After trying a tumbling program at 16 months, soccer at 2 and swimming at 2 1/2, Sarah has decided that she and her son seem to do just as well with unstructured play and spontaneous outings to the zoo, the park or the library.
In each class, her son eventually lost interest and Sarah encountered things that made her uncomfortable, such as overbearing parents and teachers doing things without consent from children, such as dunking them. She encourages parents to feel okay leaving if things aren't working for you.
Making the Right Choice for Your Family
It all boils down to this: Do you and your child enjoy this activity? Is it fun? Does it enrich your days and generally provide more gain than loss? Or are you attending out of a compulsion to "be like everyone else," overcoming a perceived shortcoming in your abilities to provide for your children in the absence of an expert?
The posture with which you approach extracurricular classes, like any other experiences, will likely inform your child how they should approach it, too. Try to keep your expectations age appropriate. The odds that your toddler will continue that class indefinitely or achieve some level of prodigy in the field are slim. Remember the littleness of your child and the shortness of this time when you feel pressure to raise the next Simone Biles, Russell Westbrook or Michael Phelps. Quality time together is the real prize to be won, and you can find it most anywhere, even without tiny uniforms.
Alicia Kobilnyk is an Early Childhood Educator who works with young toddlers. She finds joy and inspiration to write in their cheeky shenanigans, as well as those of her three daughters.
---