Learning about Other Cultures
Through World in a Box Day and more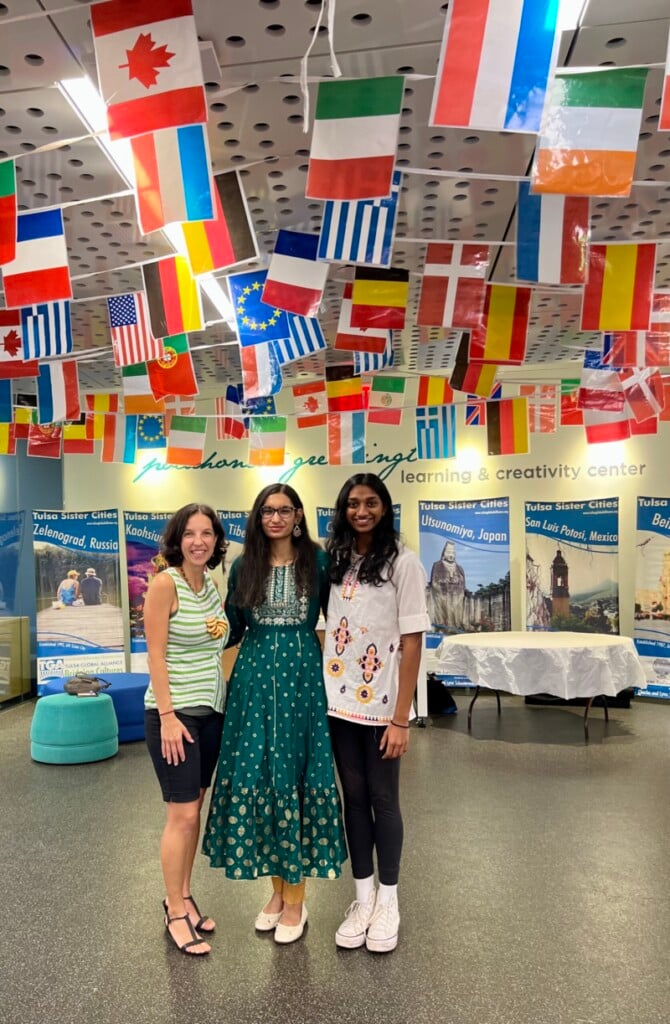 I love how the cultural landscape of Tulsa has changed since I grew up here. I try to seek out opportunities to teach my stepson and daughter about other cultures and traditions whenever possible. There are many different gatherings, fairs, and festivals showcasing unique traditions from around the globe that take place throughout the year right here in our city. One that has made an impression on me is World in a Box Day. It took place before the school year kicked off.
I interviewed Olga Randolph about the event's history, purpose, and her participation in it. Olga is a longtime supporter and board member for the Tulsa Global Alliance. She currently serves as the Vice-Chair for Sister Cities. Olga is an instructor of Russian language at the University of Tulsa, cross-cultural consultant, language tutor, and freelance translator.
What is World in a Box Day?
World in a Box Day (WIABD) is an annual multicultural educational event for families with kids targeting, but not limited to, preschool and elementary school ages, organized by the Tulsa City County Library system and the Tulsa Global Alliance. It aims to acquaint visitors about the richness and diversity of cultures around the world and within US through expo-style country/ culture displays, live performances, and hands-on activities. Kids receive passports that they take around to various booths and get a stamp from each – just like you do when you travel internationally.
The event is also the culmination of the library's summer reading program and a way to inform the public about the Emily Wood collection of "culture boxes." They are containers, kept at Eisenhower International School, that keep a variety of souvenirs, keepsakes and cultural references to a certain country. Anyone can check a culture box out, much like a library item.
I love that anyone can check out a culture box, and I had no idea about that! How many countries were represented this year at World in a Box Day?
We have about 20 countries and/or cultures each year.
I remember the first WIABD in 2017 because I took Kieren to it, and we loved it.

Yes, the first WIABD was held in 2017. It did not happen in 2020 and [was] in an online format in 2021. I guess that adds up to five full-blown events.
What has been your role with World in a Box Day?
I am in charge of the booth representing Russia(n culture) and Tulsa's sister city of Zelenograd. As a Tulsa Global Alliance board member, I end up being involved in many other aspects of planning the event such as spreading the word.
Last year, I put together the costume selfie booth, which houses a growing collection of traditional dress, footwear and accessories that are representative of different cultures. Guests are welcome to try those on and take pics! Also, this year I put together a culture box for Ukraine, since it's becoming a regular booth.
What are the most important lessons you feel that children take away from the event?
That the world is big, beautiful, and diverse in terms of how people live, what they dress like, what they eat, etc. That those different expressions of cultures, of collective identity, are valuable, and moreover – cool. Hopefully, they go away with an interest in traveling and seeing many of the things they previewed again. Also, that very different-looking or sounding people live next to them here in Tulsa, and that's totally normal. Lastly, that the library is one great gateway to the whole world.
---
There are many opportunities to learn about cultures throughout the year, so keep an eye on community calendars. Here is a small sample of cultural events in our area:

There are numerous events celebrating Native American heritage and culture in and around our area as well. When you combine these events with those celebrating individuals, neighborhoods, and remembrance days, it is astonishing how much there is to participate in around Tulsa.
Is there a cultural event you recommend? I would love to hear about it! Message me on Instagram @explorationandeducation
---