Know Your Neighbor: Jenks, America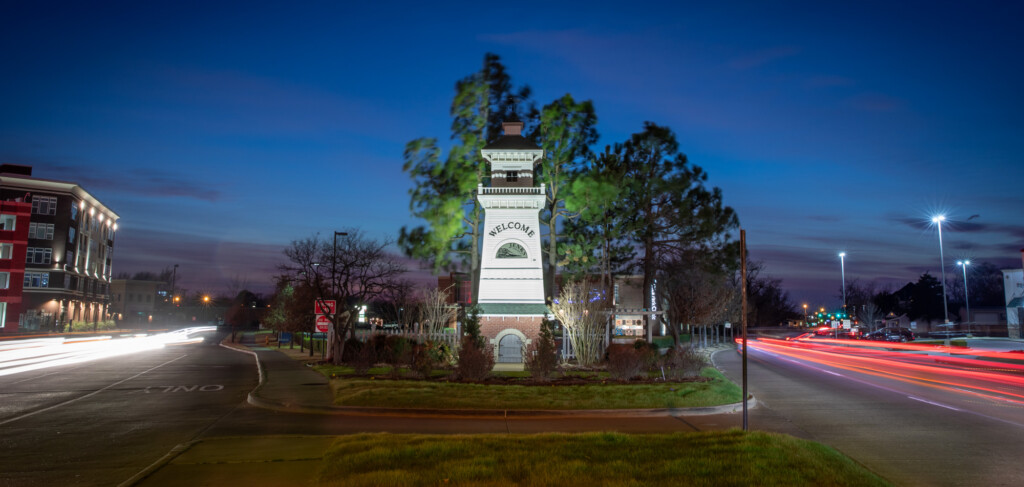 Jenks at a Glance
The city of Jenks was founded in 1905 and is named after railroad official Elmer E. Jenks. Initially a railroad settlement, the Glenn Pool oil field contributed to a population boom in 1906. An interesting fact about Jenks is that it is an Oklahoma Film Friendly Community, an initiative of the Oklahoma Film + Music Office (OF+MO). The designation means that Jenks has participated in a three-step certification process, readying the town for film and television productions as well as promoting the community to the state's growing entertainment industry. In addition, Jenks' downtown is a popular destination for shoppers and was named the "Antique Capital of Oklahoma" by former first lady of Oklahoma Shirley Bellmon.
Jenks now has a brand-new designation: The Ten District. "The Ten" was founded in 2021 and refers to the city's 10-mile distance from Tulsa, Bixby, Sapulpa and Broken Arrow. The Ten District website says, "The Ten is the heartbeat of Jenks and expands exactly 10 blocks west of the Arkansas River until you hit the old Midland Valley railroad tracks," (thetendistrict.com). The Ten is working to strategically use established public-private partnerships, recruit and promote development, including retail and other business in Jenks, build partnerships for art projects as well as beautify the "hard" elements of the town such as benches, streetscaping and more. The Ten is honoring the past and building for the future.
Facts
Population, 2023: 27,766; Jenks is one of the fastest growing cities in Oklahoma.
16th largest city in Oklahoma
Average household income: $115,032
Median age of population: 34.5 years
Rate of home ownership: 76.6%
Associate degree or higher: over 50%
Median household income (2021 census): $91,798
Poverty rate: 8.52%
Unemployment rate: 4.4%
Citizens born in Jenks: 52.61%
Highlights & Activities
Oklahoma Aquarium: See underwater creatures up close, including bull sharks swimming overhead in the shark tunnel. View Oklahoma's freshwater natives like the prehistoric paddlefish or feed the turtles. Vibrant tropical fish float through the Polynesian Reef. Seahorses, jellyfish and black ghost knifefish can be found in Marvels and Mysteries. Sleepovers, S.T.E.M. events and more are always on the calendar.
Riverwalk Crossing: shops, restaurants, entertainment and activities
Antique shopping: Find collectibles and unique antiques at shops such as the River City Trading Post, Bird's Eye Treasures or the Windsor Market Antique mall. There are many, many places to browse and buy.
Jenks Planetarium: Jenks High School Campus. See planets, stars and galaxies up close on a 50-foot, high definition SciDome.
Maggie's Music Box for Live Music
Veterans Park
Festivals & Events
Jenks Herb and Plant Festival: An Oklahoma tradition, Jenks' festival is in April each year and features over 100 booths for gardeners as well as food and entertainment.
Aquarium Run: Half marathon, 10K, 5K and 1-mile; April 6, 2024
Jenks America Food Truck Festival: 2024 TBA, but typically the first Sat. in May. The festival features food, music and fun on Jenks' Main Street
Jenks America Freedom Fest: Downtown on Independence Day. Live music, watermelon, BBQ and children's activities
Boomfest: Jenks' July 4 day-long celebration ending with a huge fireworks display at dusk
Sharklahoma: The Oklahoma Aquarium celebrates all things SHARK during the month of July.
Art on Main: Celebration of Oklahoma art, music and wine. Main Street in October
Jenks Half Marathon and 5K: Sept. 1
Hometown Huddle: Pep rally and community block party event kicks off the Jenks High School Trojan football season in September. jenksfoundation.org
Trick-or-Treat on Main Street: Local businesses and vendors provide candy, games, shopping and family fun in downtown Jenks in late October.
Holiday Open House: Kicks off the Christmas season with, live music, entertainment, a Lights On ceremony and a Kiwanis Club Christmas Parade the following Saturday.
Jenks Families Tell Us Their Favorite Things
The Westfall Family
Courtney Westfall and her husband, Kyle, have lived in Jenks for eight years. They have three children, Liam, 12, Emmie, 7, and Brody, 12, who all attend Jenks Public Schools. Courtney is a kindergarten teacher in her second year at Jenks West, which she says is "the best thing I've ever done. I love it!"
Courtney, who grew up in Tulsa, met Kyle in graduate school in Kentucky, where she informed him that they would be moving back to Tulsa. Courtney's parents had moved back to Oklahoma from Colorado and purchased a house in Jenks. "Their neighbor put their house up for sale, and we ended up moving across the street from my parents," Courtney said.
When they outgrew that house, the Westfalls moved around the corner. "I think there's four of us that our parents also live in the neighborhood," Courtney said. "I love that my kids can be that close to my parents. They'll just walk down to their house."
The neighborhood also has outdoor movie night, breakfast with Santa, a 4th of July parade and other activities. "I love that people want to get to know their neighbors," Courtney said. "They know you. They know your car. It's fun. I like seeing the kids grow, graduate from high school, go to college, and it's also fun to see new families with babies. And it's safer when you know the neighbors around you."
Courtney says she enjoys the small-town feel of Jenks, "especially the parades. They shut down Main Street for the Christmas parade and the Homecoming parade," she says. "We have our own feel and vibe here."
The Ten is an exciting new initiative that Courtney believes will continue to revive and build on what is currently happening in downtown Jenks. She feels that it will make Jenks more of a destination.
As a teacher and a Jenks Public School parent, Courtney has been happy with her kids' education, their teachers and mentors. She also likes that her kids have had the opportunity to go to school with immigrants from Myanmar. Jenks has a large population of people from Myanmar.
Besides school activities, Courtney says Jenks offers everything they need to keep them busy, entertained and healthy. Liam enjoys tae kwon do at Jenks Martial Arts Academy. Brody is in band and was able to take lessons downtown. Emmie took piano lessons at school. The family enjoys going to downtown festivals. "We just went to Sharks in the Park. They had free hotdogs, fire fighters had their hoses out spraying kids. There were food trucks. It just felt so small town."
They also enjoy going to Rustic Gate Creamery for ice cream and browsing in the Trading Post or buying gourmet popcorn and other fun items at Bridges Mercantile on Main, a shop that employs individuals with special needs.
Their health care professionals are all located in Jenks as well. "When I was growing up," Courtney said, "it was a suburb. You had to drive to find the things you needed. It's coming into its own."
The Calmus Family
Amy and Richie Calmus are Jenks "lifers," having been born there and now raising their three children, Jett, a high school senior, Brecken, a sophomore, and Colt, a seventh grader, in the community.
"I like Jenks because it's a town with a great community feel," Amy says. "A lot of people like us leave and come back. Our children are attending school with a lot of our friends' kids. It has a small-town feel, but it's not a small town."
She feels that her children have benefitted from their educational opportunities in Jenks Public Schools. While the high school is large, Amy says, "You can get plugged in very easily" through a variety of activities and sports. Jett plays football and baseball and is vice president of FCA.
"The high school has college and career counselors and an internship program," she says. "They have so many options to prepare them for the future."
She says the school system has grown and the facilities are amazing.
The family also takes advantage of the festivals and events in downtown Jenks.
"People line the streets for the Homecoming Parade," Amy says. "The band enters first, and you can hear them coming. Everything associated with the school can be involved. It's very inclusive."
Some of the other things that they enjoy is sitting outside Rustic Gate Creamery on Main Street, eating ice cream or stopping at Payton's Corner, a family-owned gas station and food shop close to Jenks West Elementary School. When the kids were younger, she said, they liked Veterans Park, which now has a splash pad.
As a lifer, Amy has seen a lot of changes in Jenks over time, and she feels that they are all positive. "There are more opportunities for our family," she says. "We love giving back to Jenks – we prefer going to Jenks' small businesses to shop."
She mentioned The Ten District's investment in the Jenks' community with new retail, housing, restaurants and shops. "They promote Jenks Excellence," she says.
"We love that our kids can be involved in athletics and activities that make them better people," Amy says. "We love Jenks. That is who we are."
From Our Facebook Friends
We asked TulsaKids Facebook friends to tell us what about what they like to do in Jenks. Here's what they said:
"For the family, brunch at Hatch Early Mood Food. Stroll through River City Trading Post for unique finds.
For adults, shop for home decor at LIV'D and Platinum Style Interiors. Drinks and apps on the patio at Sidecar Barley & Wine Bar." – Leah F.H.
"Trick or Treat on Main Street! I know it's seasonal, but we go every year and it's so fun." – Vanessa B.
"We love the Aquarium, Veterans Park for play time and the splash pad. We also love to eat dinner at Campasino's and walk down to Rustic Gate for ice cream or pineapple whip after dinner! The girls also love to stop and take pictures with the animal statues at the garden center on Main! Something else that is random, is I love driving around and seeing all the pastures and open space, and you can also go to the viewing deck at Jones Airport and watch planes land and take off." – Heather C.
"Aquarium, Veterans Park, Josh's snocones, the awesome library, and, strangely, my kids get a big kick out of going through the automatic car wash." – Kristin R.
"Veterans park! Great playground and splash park." – Carey J.P.
"Rustic Gate Creamery is our favorite ice cream spot!" – Megan N.B.
---