Kids in the Kitchen: Great recipes for young cooks
Chewy Granola Bars, Homemade Fruit Leather, Applesauce Cake and Easter Baskets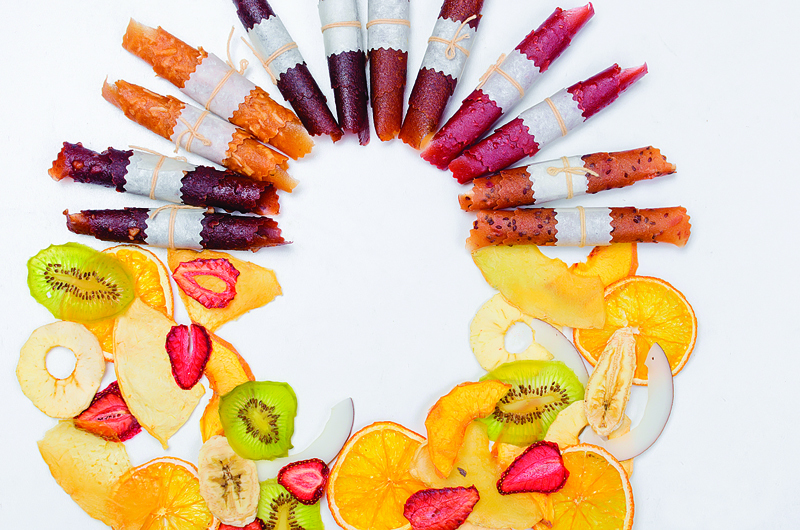 Kids who spend time in the kitchen will often count those times as some of their earliest childhood memories. Licking the batter and sprinkling cinnamon on toast are moments ingrained in kids' brains.
You can't start too early bringing kids into the fold of the warmth, smells and sounds of the kitchen. And once they're old enough, let them be a part of it. Give them wooden spoons for stirring and dull knives for slicing the stems off strawberries. Once a bit older, let them read the directions for a simple quick bread or cake (like the Applesauce Cake in this column), and let them make it themselves.
Find something your kids love, and then let them be part of making it. Kids who hate bananas aren't likely to get excited about making banana bread. Likewise, if you have kids who love fruit roll-ups, ask them for help making homemade fruit leather. It's a fun process, and their eyes will light up when they see the end result.
I've never met a kid who didn't like to stir. So even kids with little interest in cooking can get behind the simple job of stirring. Chewy Granola Bars are a fun and quick beginner's recipe for young cooks.
Another nice advantage of getting kids in the kitchen is enticing kids to try new foods. I've noticed when I have one of my picky eaters help me make dinner, he's much more likely to actually eat it. Kids are rightfully proud of the work they've done to make a meal, and often want to show it off to the family.
Have fun in the kitchen with your kids. It can give meaning to what can sometimes feel like drudgery, and it may just inspire your kids to become more helpful in the kitchen, which is a win for everyone.
---
This is such a fun recipe for kids to make. Even the littlest kids can help by dumping all the ingredients into the bowl. Substitute peanut butter chips or butterscotch chips for the chocolate if you like.
Chewy Granola Bars
1 stick butter, softened
1 cup brown sugar
1/4 cup honey
1/2 teaspoon vanilla
1 egg
1 cup flour
1 tablespoon cinnamon
1/2 teaspoon baking powder
1/4 teaspoon salt
1 cup quick oats
1 ¼ cups Rice Krispies cereal
1 cup chopped pecans or almonds
1 cup raisins
1 cup mini chocolate chips
1. Cream together butter, brown sugar, honey, vanilla and egg.
2. In a large bowl, combine remaining ingredients. Add to butter mixture, mixing well.
3. Press into a 9-by-13-inch baking pan. Bake in a preheated 350-degree oven for 22 to 26 minutes or until mixture is firm and fully cooked. Let cool, then cut into bars.
---
This three-ingredient recipe comes from the "A Mind Full Mom" website. Choose your favorite fruits, like peaches, raspberries, mango or strawberries. Kids will have fun rolling up the strips once baked.
Homemade Fruit Leather
3 cups chopped fruit (a combo of strawberries and blackberries is great)
2 tablespoons maple syrup or honey
1 teaspoon fresh lemon juice
1. Preheat oven to 140 degrees (or as low as your oven will go). Prepare a baking sheet by lining with parchment paper or a silcone baking mat.
2. In a food processor or blender, puree fruit with maple syrup or honey and lemon juice until perfectly smooth.
3. Pour pureed fruit evenly over baking sheet.
4. Place in oven and bake for 4-6 hours, until set and no longer sticky to the touch.
5. Allow to cool, then remove from baking mat or parchment paper. Cut into 1-inch strips and roll up in parchment paper or wax paper and secure with tape or stickers.
---
This spiced snack cake is easy to make. It's egg-free, so keep it in mind for kids with egg allergies.
Applesauce Cake
2 cups brown sugar
1 cup butter, softened
2 1/2 cups applesauce
4 cups all-purpose flour
1/4 teaspoon ground cloves
1 teaspoon ground cinnamon
1 tablespoon baking soda
1. Preheat oven to 350 degrees. Butter or spray a Bundt pan with nonstick cooking spray.
In a large bowl, cream together brown sugar and butter with an electric mixer. Stir in applesauce.
2. In another bowl, sift together flour, cloves, cinnamon and baking soda. Add sifted ingredients a little at a time to applesauce mixture, beating after each addition until just combined.
3. Pour batter into pan. Bake 1 hour or until toothpick inserted in center of cake comes out clean.
---
Easter is a month away, so hang on to this recipe. Kids will enjoy making these sweet little baskets and then filling them with jellybeans.
Easter Baskets
1/2 stick butter
4 cups miniature marshmallows
6 cups Rice Krispies cereal
Jellybeans
1. Melt butter in saucepan or microwave. Add marshmallows, stirring over low heat until melted. Or if using microwave, cook on high heat, stopping every 30 seconds to stir until melted. Add cereal, mixing well.
2. Keep saucepan or bowl warm by setting in very warm water. Form into nests. Place a few jelly beans in each nest.
Natalie Mikles is a mom of three. She writes about food, sharing recipes for busy families and picky eaters. She has been recognized for her food columns as well as features on families and issues affecting local children. She loves pizza and movie nights with her family.
---