Kids and Gardening: Eggshell Seed Pots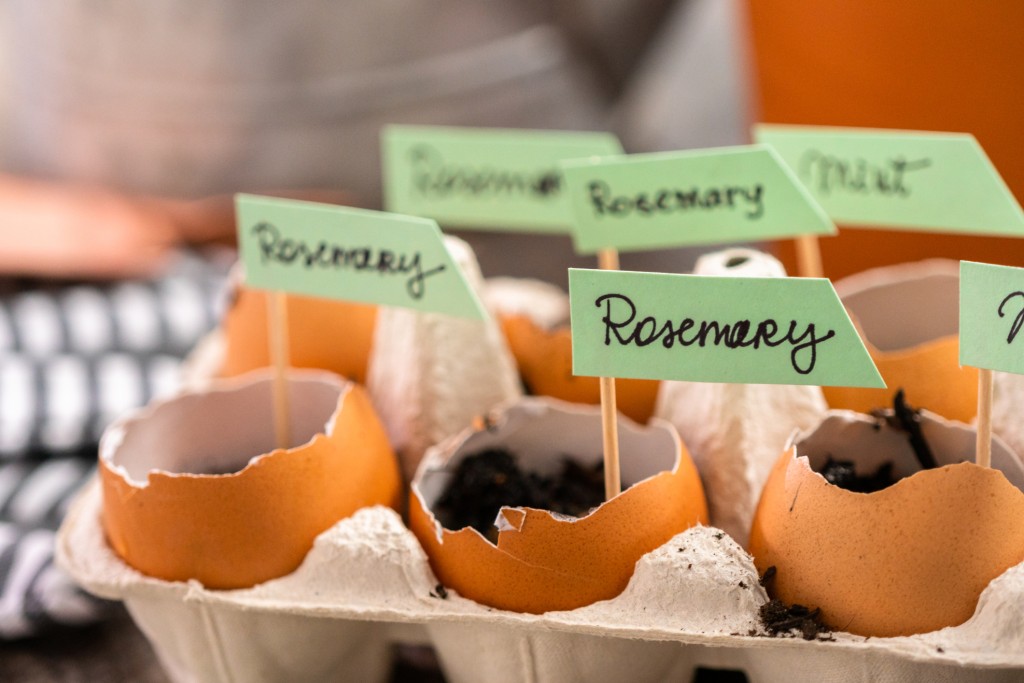 It's getting more spring-like outside, so I've been thinking about planting things. My dad was an avid gardener. I don't mean that he created flowerbeds and landscaping dripping with exotic shrubbery. He had a vegetable garden and a large strawberry patch. He even dug a potato "cellar" in the side of a hill to hold all of the potatoes he harvested.
As a child, I didn't think much of it. Gardening was just something he did after coming home from his professor job at OSU. I would watch him sometimes in the summer when he had a lighter teaching load, giving him more time to make sure the tomato plants were producing. As an adult, I'm impressed with his ability to grow so many edibles out of Stillwater's red clay. My kids loved picking the strawberries. And there was always a terrapin or two in the patch taking bites out of the ripest fruit.
My parents had a big back yard with a gully beyond it where my dad and his friend and nextdoor neighbor, "Champ," planted a large garden. Being around all that gardening and fresh produce influenced my own interest in gardening. I have more flowers than my dad, but I also have a very small vegetable garden with herbs, lettuce, arugula, spinach and tomatoes. I think about him when I'm planting.
If you want to interest your kids in growing things, here's an easy project that incorporates conservation principles. Earth Day is coming up next week, so you might include some lessons about that.
EGGSHELL SEED POTS
Gardening is a fun – and educational – activity to do with your children. This one is simple and works for any type of garden, from raised beds to pots on the patio. This project also teaches children about reducing, reusing and recycling.
DECIDE ON PLANTS: Come up with ideas with your children on what types of vegetables or flowers you want to grow, depending on where you will plant your seedlings and how much space you have. Older kids can do research or read seed packages.
REUSING & RECYCLING: Your kids (and you) have probably seen plants that have been started in plastic containers. If you start your seeds in eggshells, you can use the paper egg carton and the eggshells, so you won't be throwing plastic away.
SAVE YOUR SHELLS: When you use eggs, break them more carefully, so that at least one-half to two-thirds of the shell stays intact. Carefully wash the eggshell in warm, soapy water. Poke a hole in the bottom with a large sewing needle.
SAVE THE CARTONS: Set the eggshell pots in the egg carton. (You can take the lid off and place it underneath to add more stability).
ADD DIRT: Fill the eggshells with potting mix.
PLANT SEEDS: Choose the seeds you want to plant. Herbs such as basil, parsley, dill and thyme are easy to grow. Garden vegetable seeds can be almost anything – squash, beans, cucumber. Even flowers such as marigolds can be started from seeds in your eggshell pots. The seedlings can be transplanted into your garden about a week after they sprout.
TEND YOUR SEEDS: As you watch your seeds sprout, you can talk to your kids about what plants need to grow – soil, water, sunlight. You can use a spray bottle to dampen the soil in the pots so that they don't get too much. Make sure you place them in a sunny spot.
TRANSPLANT: When you're ready to transplant to your garden or to larger pots on your patio, plant them eggshell and all. The eggshell will provide nutrients to the young plant.
ENJOY! Nurture your garden as you watch your plants grow!
---