Kids and Cosplay at Wizard World Comic Con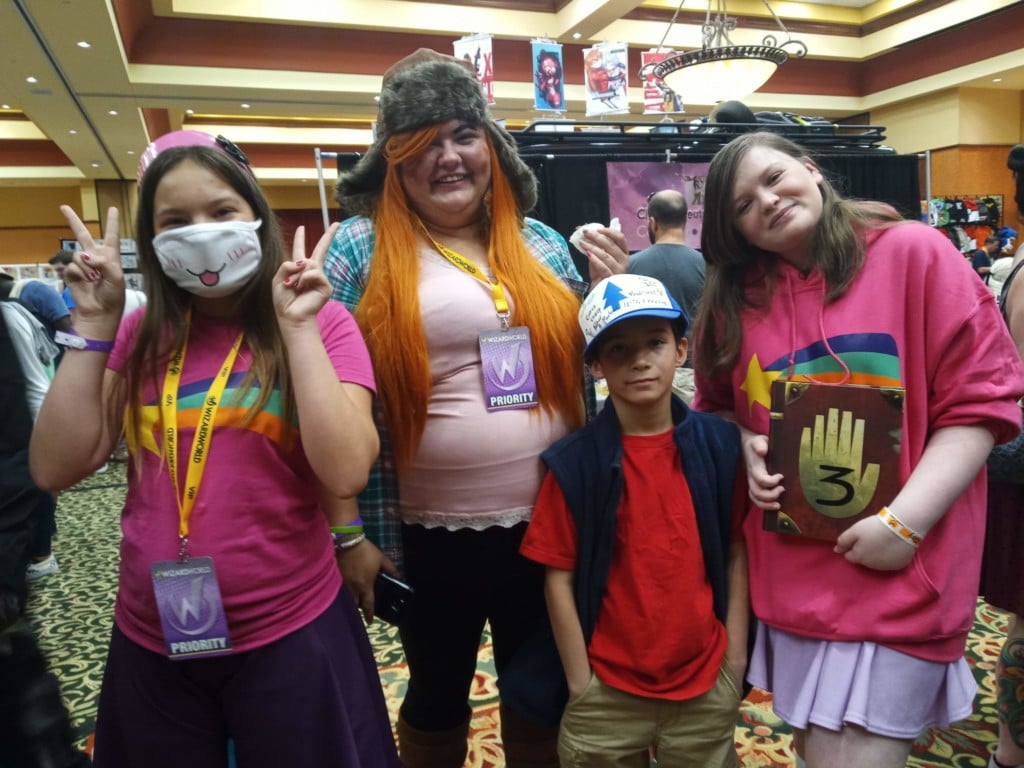 In my last blog post, I shared some advice for taking kids to genre conventions. I was thrilled to see so many families with kids of all ages at Wizard World Comic Con this year. It was mostly just Lucy and me this year, although Arthur did join us to check out the cosplay contest on Saturday night.
We had a fantastic time. My dreams of meeting Cary Elwes were dashed, but I did get to moon over Jason Momoa from about thirty feet away for a few minutes before the nice security folks told me to move out of the walkway. LOL oops.
And I got to meet my favorite interstellar mechanic, Jewel Staite of Firefly, and ask about what it's like to be a working mom in the entertainment industry (I shared her answer on my Instagram page). And yes, she was every bit the gem her name makes her out to be.
Later, when I sat down to rest for a moment, I looked up to realize the sweet mama talking to her kiddo on the phone in the chair next to me was Jewel, and it warmed my heart to be reminded that no matter how many galaxies you travel to or what your job is, we're all just trying to get back home to spend time with our families at the end of the day.
Cosplay Culture and Kids
We're working on putting together our cosplays for the upcoming Tulsa Pop Culture Expo, but we didn't have any prepared for Saturday at Comic Con. Being the festive gal she is, though, Lucy threw together what she refers to as an "OC" or original character for that evening.
Lucy's Original Character
Lucy has been cosplaying for two years, ever since the day that I came home to find she had dug around in the makeup and her closet to create her own version of Chica from Five Nights at Freddy's. She's been wild about cosplay ever since, and the only thing she loves more than putting together cosplays is sharing them.
Lucy is the family's super-extrovert, so every time she saw anyone whose cosplay she loved, which was often, she had to stop them and ask if she could take a picture with them. She also told them all about her OC and her plans to keep creating OC cosplays for future events.
One of my favorite things about Lucy's engagements with cosplayers is how encouraging they are of her. She spoke to the gifted gals behind Divine Creations after the Wizard World costume contest this year, and she couldn't stop talking about how nice they were.
The Divine Creations team hosting a panel on cosplay
After the contest ended on Saturday, we stood outside for a bit waiting on our ride and somehow, Arthur and Lucy ended up chatting with a couple of cosplayers visiting from out of town. In a matter of minutes, they had covered horror films, creating fake injuries with makeup, and eighties pop culture.
Lucy, in character, with one of the cosplayers we met outside after the show
Worried the kids were being a little too chatty, I apologetically said, "Hey kids, we don't want to talk their ears off!" The cosplayers laughed and one said, "Are you kidding? We've had a better conversation with these two than with most adults I've talked to this weekend!"
That response pretty much sums up the respect and empathy I've seen kids given in the cosplay world. In the world of genre conventions, kids are for the most part given as much respect and credit as the adults are. I find this remarkable because in my experience, when kids are treated like they're capable of anything, they're usually able to accomplish so much more.
I think this predator with a baby stroller pretty nicely sums up cosplay culture with kids.
And what Lucy wanted to accomplish was to create incredible cosplays. When she talked to the cosplayers she encountered, she wasn't just talking about how cool they looked. She was asking for advice about techniques and competition, and she got it. At one point in the evening, Lucy remarked to one cosplayer that she was a bit uncomfortable in her shoes. "That's part of it sometimes," they responded. "When you cosplay, you sometimes have to bear the discomfort to pull off the look. But it's worth it."
Lucy smiled and nodded, and after that, she didn't complain anymore about her shoes.
Another cosplayer told her, "Try to stay in character when you're in cosplay." Lucy took the advice to heart, and she would only break character after having sufficiently impressed someone she encountered.
The Competition
"Can I be in this contest?" she asked me on Saturday as we watched beautiful winged creatures and decadent anime costumes strut across the stage.
Winners of the adult cosplay contest
"How about a kids' cosplay competition?" I told her. So on Sunday, she put together one of her older Five Nights at Freddy's cosplays and was the first in line for the kids' cosplay event. She's never really done anything onstage before, and certainly not by herself, so I wondered if she would be nervous.
Maybe it's all that great advice she got or the countless YouTubers talking about cosplay, but as it turns out, Lucy was a natural cosplayer! Rather than simply showing off her cosplay and exiting stage left, she surprised me when she indicated to the MC that she wanted the mic and then sang a haunting children's tune in character as a possessed animatronic. She looked at both sides of the audience, never turning her back.
After Lucy, the kids that took their turns onstage were all equally amazing! Lucy exited the stage and sat on the floor up front, loudly applauding for each kid, sometimes shouting, "You're awesome!" Our favorites were the two young ladies dressed as Robin from Stranger Things, Stan Lee, and the narwhal.
The MC declared everyone a winner, and afterward, they all picked a prize from the prize table.
I loved the kids' cosplay competition because it was just so positive and inclusive. It gave any kid of any age or skill level a chance to feel excited about cosplay and feel great about themselves, and also it was absolutely freaking adorable.
If you've got a kiddo who is interested in cosplay, make the Wizard World Comic Con cosplay competition a priority next year. It takes place on both days of the con and is a perfect introduction to the cosplay world.
I don't have nearly enough room in this blog post for all the amazing cosplay pics we saw at Comic Con, but you can check out more on my Instagram.
We're super excited about seeing all our favorite cosplayers again in a little over a month at Tulsa Pop Culture Expo! In the meantime, be sure to check out the October issue of TulsaKids for my article on putting together a great Halloween costume with a little inspo from the cosplay community.
Thanks for reading, and have a beautiful week!
---