Katie King Ruley: Queen of Numbers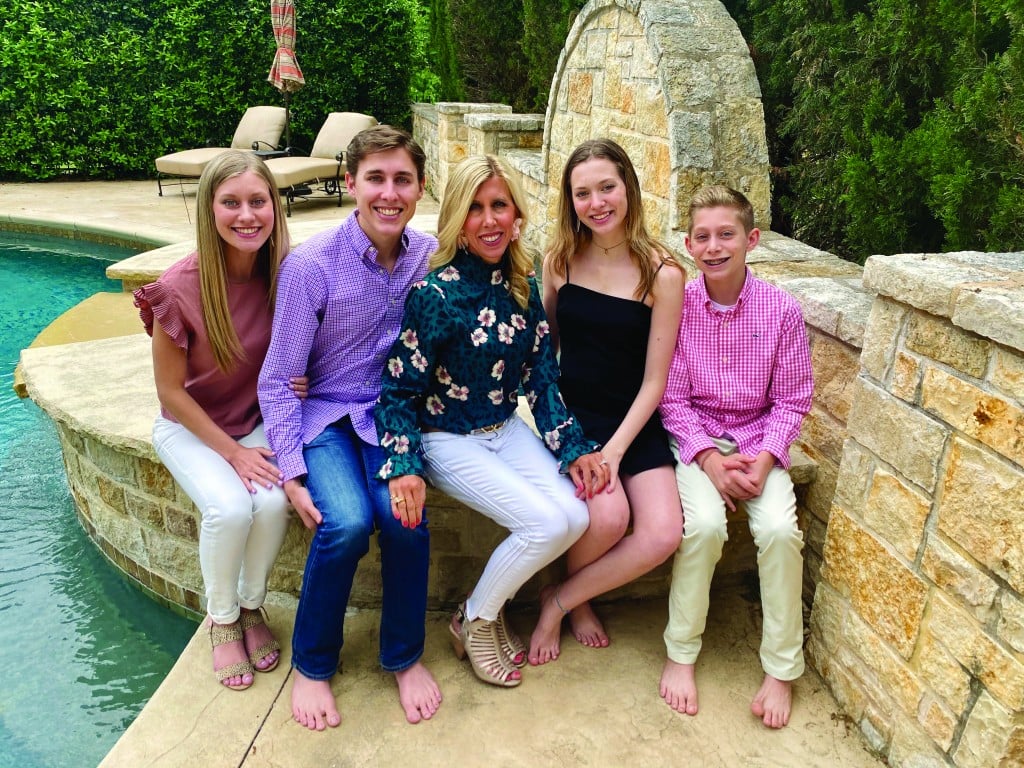 Raising kids can be difficult. They are unique individuals deserving of unconditional love and acceptance from parents, even when their personalities may be at odds with our own. Katie King Ruley believes the key to loving our children better is by understanding ourselves first.
Katie juggles several roles, including wife and mother of four kids ranging from middle school to college age. In April 2020, when the world was shutting down due to the global pandemic, Katie launched her life coaching business, EnLighten Enneagram. Her first business opportunity was pandemic appropriate – leading an online workshop over Zoom.
TK: Tell us about yourself.
Katie: My husband and I grew up in Tulsa and met when we were 14 years old at Bishop Kelley High School. We both attended college at the University of Oklahoma and got married shortly thereafter. Following my master's degree in Human Relations, I went on to have four children in seven years. We currently have two children in college, one in high school and one in middle school. I have spent the past 25 years involved in endeavors related to counseling, teaching and leading others to be their best self.
TK: Can you share a little about your background?
Katie: I've been passionate about all things related to psychology since my junior year of high school when I took my first class. I went to college knowing exactly what I wanted to pursue, the field of psychology. Following graduation, I moved back to Tulsa and continued on with my education, earning a master's degree. I have always been fascinated with understanding myself and others better. My first job was in Human Resources at St. John's Hospital where I led orientation for their new hires. Since then, I have had numerous leadership roles over the years, ranging from organizing local women's conferences to pre-marital counseling for engaged couples.
TK: Tell us what the Enneagram is:
Katie: The Enneagram is an amazing tool for spiritual, relational, and personal growth. The Enneagram represents 9 different personality types and how they interact with each other. These nine types are numbered simply to tell them apart and have no greater than or less than value. How the Enneagram is different from other personality tests is that it is much more fluid than say, Myers Briggs or the DiSC profile. It gives you something to do with the information that you learn. It is a lifelong journey that continues to reveal insights about your inner motivation and why you do what you do. These motivations are: Integrity, Love, Worth, Authenticity, Competency, Security, Satisfaction/Freedom, Autonomy, and Peace.
It is an insightful tool that brings astonishing clarity to our hearts' motivations. In short, it helps us wake up to our unconscious, repetitive patterns that direct our beliefs, emotions and behavior so that we can live life more fully and have a more satisfying life experience.
TK: What resonates with you about the Enneagram tool?
Katie: Learning Enneagram wisdom captured my heart. It gave me language for myself that I had never heard before. And as one of my mentors, Suzanne Stabile, says, "You can't change what you can't name." Enneagram descriptions can feel like someone read your diary…dug into the inner parts of your soul. The Enneagram is often referred to as a journey of discovery, and it truly is. Figuring out your "type" or number can take a couple of hours for some, but for other's months, even years! The investment is so worth it.
TK: What life events contributed to your decision to pursue opening a business at the beginning of a pandemic?
Katie: I have always been passionate about helping people be more successful in life, both emotionally and spiritually. After experiencing the gifts that the Enneagram brought to my life and my family members' lives, I wanted to share this amazing gift with the world. When I found out about the Enneagram, I dove into learning as much as I could about it. I read every book I could find, listened to podcasts and participated in a workshop under Suzanne Stabile, a 30-year veteran in the field. I already have the educational background in psychology and human relations combined with spending hundreds of hours researching the Enneagram. I was on the road to a coaching career, but it took someone asking me to lead a workshop to put the wheels in motion to officially open my business.
TK: How can understanding an Enneagram number help someone?
Katie: When you understand yourself better, it helps you grow in compassion for others. Becoming more self-aware helps us understand how and why we do what we do. When we become more accepting of ourselves, we also are more accepting of others. When we realize that there are nine different ways of seeing in the world, it greatly affects how we approach life. We learn to respect and honor that we are all uniquely created, each having something special to bring to the world.
TK: How do you see the Enneagram benefitting people?
Katie: It has brought incredible enlightenment to my parenting – a true game changer. It has helped save my relationship with my younger daughter by allowing me to love her for who she is and not for who I want her to be. As parents, we are so eager to understand our children better and would love to get them "typed." Enneagram research says that children should be 14 or older before looking into their Enneagram type.
TK: Why is it important to avoid "typing" others?
Katie: I would caution people, whatever you do, do not attempt to try to type others. This is an individual journey. Parents can guide, but please avoid labeling. Labeling is a very dangerous path when it comes to our children. Once your child is fourteen or older, you can work with an Enneagram coach or research together to learn about where your child lands. This knowledge can bring tremendous value to your relationship. You will learn how to better love and provide for your child's emotional needs. Each of the nine types experience love in a different way, and the Enneagram gives language and insight for how to do that.
TK: Tell us how you can help people in their journey to discovery?
Katie: I coach individuals, couples, corporate clients and groups of any size. When it comes to figuring out your Enneagram type, it is best to work one-on-one through what we call a 'Typing Session.' Working with engaged and married couples is another one of my favorite ways to coach because Enneagram knowledge will give them tools to better understand their spouse, which will benefit them throughout their entire marriage. Such a gift! The Enneagram can truly improve any situation, from individuals to couples to even corporate settings, where teamwork is an important value.
TK: What resources can people utilize to figure out their number?
Katie: I have listed numerous resources on my website – including books and podcasts. I would caution people who complete online assessments as they have a low percentage of accuracy. For the Enneagram to be beneficial, people need to be certain they have found their true type. Using a coach is the most recommended route to discovering your type.
TK: What's the bottom line?
Katie: As parents, we are all so eager to understand and love our kids and spouse better, but I would encourage people to start with understanding themselves. That's the key – once you become self-aware, you open yourself up to loving yourself and others better. You learn to let your children be who they are designed to be and love them for who they are. Your children will be able to detect how emotionally healthy you are, and it will serve as a gift to them and your relationship. "The beginning of LOVE is always understanding," Ian Cron (author of The Road Back to You.)
For additional enneagram resources or to contact Katie, visit https://enlightenenneagram.com.
To listen to the full interview, check out the Sharing Passion and Purpose Podcast by Nancy Moore on all major podcasting platforms.
---