Kansas City's Country Club Plaza Lights Up for the Holidays
If you want to take your hunt for jaw-dropping holiday lights outside of Tulsa, consider road-tripping to Kansas City.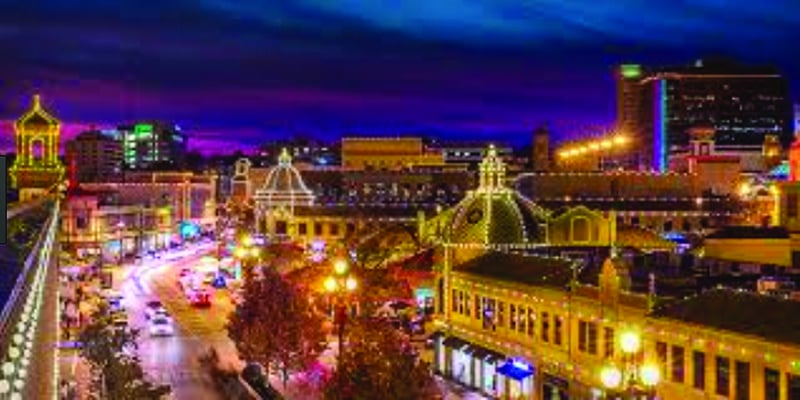 Tulsa's beloved annual Utica Square "Lights On" ceremony took place last month and, since that magnificent moment when the switch was turned on Thanksgiving evening, our beautiful outdoor shopping district will remain brightly illuminated like a starlit sky each night throughout this holiday season. It's a grand tradition that we as Tulsans have come to expect and adore. Sparkly white bulbs twinkle among the trees and along the storefronts and rooftops, and I can never seem to get enough of this joyful display.
If you are like me and seek to broaden your decorative lights horizons beyond the familiar streets of our hometown, then look no further than nearby Kansas City's Country Club Plaza, which offers a "Utica Square on steroids" family holiday experience. I thoroughly enjoy the Plaza for its atmosphere, the quality of the stores and the variety of places to kick back for good food and drink. The open-air mall has national retail chains such as Pottery Barn, Anthropology and The Gap, as well as unique, locally owned and operated stores.
History of Kansas City's Plaza Lights
Beginning as a "ceremony" that consisted of a short strand of lights hanging across one small street nearly 90 years ago, Kansas City's "Plaza Lights" display, has turned into the largest and most dazzling of its kind anywhere in the United States. The stunning Spanish architectural-style buildings, modeled after those found in Seville and punctuated with murals, sculptures, courtyards and fountains, are accented with a gazillion glimmering, gem-hued strands for all to admire as they shop, stroll, and dine throughout the holiday season.
Why Do We Love Lights, Anyway?
According to historians, the tradition of lighting the darkness dates back to the Norsemen's midwinter festival, Yule. During this time, they spent many a night celebrating and drinking Yule (a type of beer) while watching the burning Yule log. Over time, this Yule log tradition began to spread throughout Europe, and the folklore was that the flames fended off evil spirits. Over time, the Christians infused the tradition with a different meaning—- the light from their Yule Logs represented Jesus as The Light in the darkness. Today, the light theme has spread like wildfire. Kansas City's Plaza Lights will shine each night from 5 p.m. to 3 a.m. from Thanksgiving through January 14, 2018.
Extra Holiday Treats
In addition to the lights and the shopping and dining, you can brighten your holiday season with these extra-special holiday activities. All through the season, carolers croon, horse-drawn carriages fill the streets, and local businesses extend their hours for visitors to maximize their enjoyment of this picturesque place.
Caroling In the Courtyards
A huge part of the Plaza's holiday tradition is live holiday music. A variety of singers, choirs and musical groups are invited to perform in 45-minute intervals at several of the courtyards. As they meander through the streets, visitors can sing along each morning starting at 10 all the way through to nearly 9 p.m.
Snuggle Up In a Surrey
Excitement extends beyond the lights when you cozy up in a carriage and tour behind a strong, beautiful pair of workhorses. There are old-fashioned, horse-drawn carriages, surreys and sleigh rides, which are always a big treat for everyone. Tours begin along Nichols Road and take you on a Norman Rockwell-esque ride through the decorated district. Although not required, tour operators recommend that you make reservations, especially during the holiday season. Visit www.kccarriages.com and www.surreysontheplaza.com.
Passport To Savings
To welcome holiday shoppers, the Plaza's Customer Service office, located on Broadway between Williams-Sonoma and Cole Haan, presents complimentary booklets to those who come from outside a 50-mile radius. The "Passport To Shopping" contains attractive discounts and special offers at more than 50 establishments. (Note:  Be sure to have your driver's license or passport with you to qualify.)
Holiday Season Extended Hours/Special Offers
Through December 31, the general retail hours are Monday – Saturday: 10 a.m.-9 p.m. and Sunday: 11 a.m.-6 p.m. Holidays hours are as follows: Christmas Eve (Sunday): 11 a.m.-6 p.m.; Christmas Day (Monday): Closed; New Year's Eve (Sunday): Noon-5 p.m.; New Year's Day (Monday): 10 a.m.-7 p.m. During the holidays, all of the Plaza's parking garages are open to the public at no charge.
Stay and Play
Of course, to maximize your heartfelt holiday adventures and further enhance your spirits, you might wish to spend a night (or more) in or around the Plaza. There are nearly a dozen hotels to choose from, including the Courtyard by Marriott and Embassy Suites and the historic Raphael and iconic Intercontinental. For a full lodging list and complete details about stores and restaurants, check out www.countryclubplaza.com and www.visitkc.com .