Just Like Mom Makes
A visit to Cobbler Mom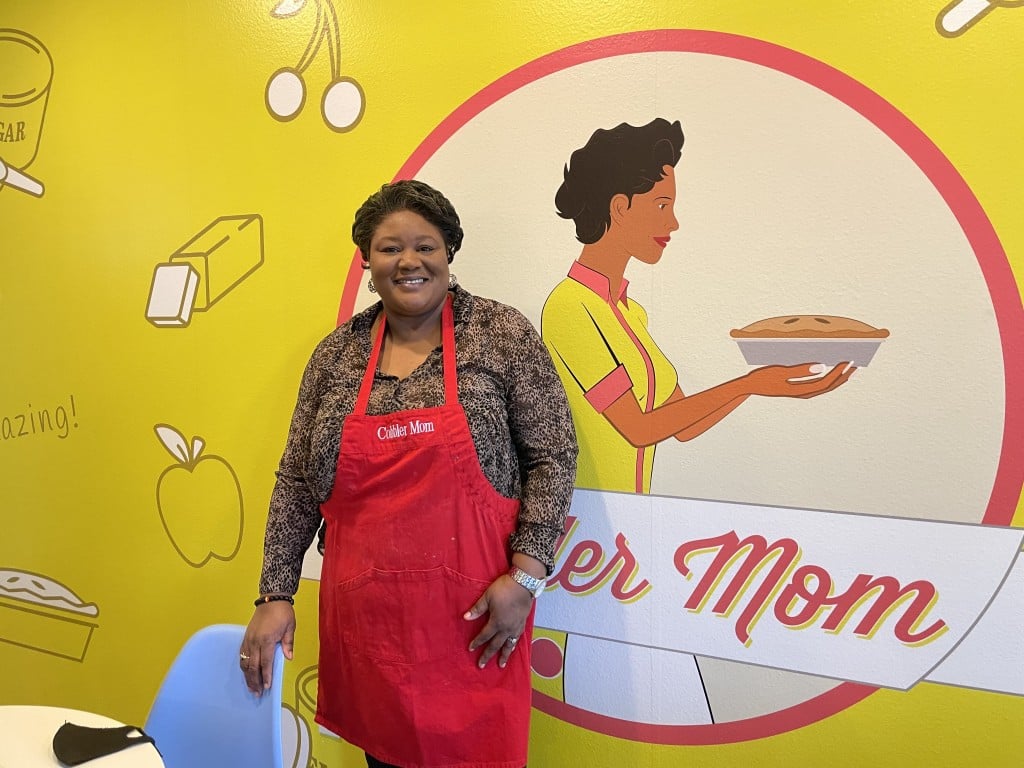 I was doing a little research for an article about the Greenwood neighborhood and stopped in at Cobbler Mom at 10 N. Greenwood. I love pie and cobbler, so I ordered the "The Greenwood," described as "antioxidant rich berries blanketed in a golden crust." While it may sound like a "healthy" option, who wants healthy cobbler? Not me. I was drawn to the mix of berries – including blueberries and raspberries – nestled in a sugary warm filling, topped with a perfect crust. I happen to like my cobbler crust noticeably pie-crust-like. A cobbler topped with a crumbly mixture of oats, brown sugar and maybe nuts is not a cobbler. It's a crumble. Cobbler Mom's cobbler has a true cobbler crust.
My take-out cobbler was in a huge plastic container. The contents were warm and some of the flaky crust had floated down through the berry mixture, making it easier to incorporate all the flavors into each bite. Delicious.
So large was the portion that I was pretty confident that I could take it home and share it for dessert with my dessert-loving husband and daughter, who is still home on break from graduate teaching. OK, I did try a bite and wanted to eat all of it but restrained myself.
Cobbler Mom Joyce Horton said that peach is a favorite. In fact, a peach cobbler was baking while I was there as a Door Dash delivery person was loading up the last portion of peach. If cherry or apple is more to your liking, they have that too.
If you want to grab something savory to go with your cobbler (I think it's called "lunch"), Cobbler Mom offers beans & cornbread, a turkey pastrami sandwich, beef tips & cabbage and a turkey burger.
And what's cobbler without ice cream and coffee? Of course, both are on the menu.
Read our February issue to find out more about places in and around Greenwood.
If you love cobbler like I do, I highly recommend Cobbler Mom. It tastes homemade.
I'm really struggling with not taking just one more bite, but I know that if I do, I'd probably never get home with enough to share.
I could get used to research like this.
---