"Jesus Christ Superstar" Performance Delivers on Its Rock Roots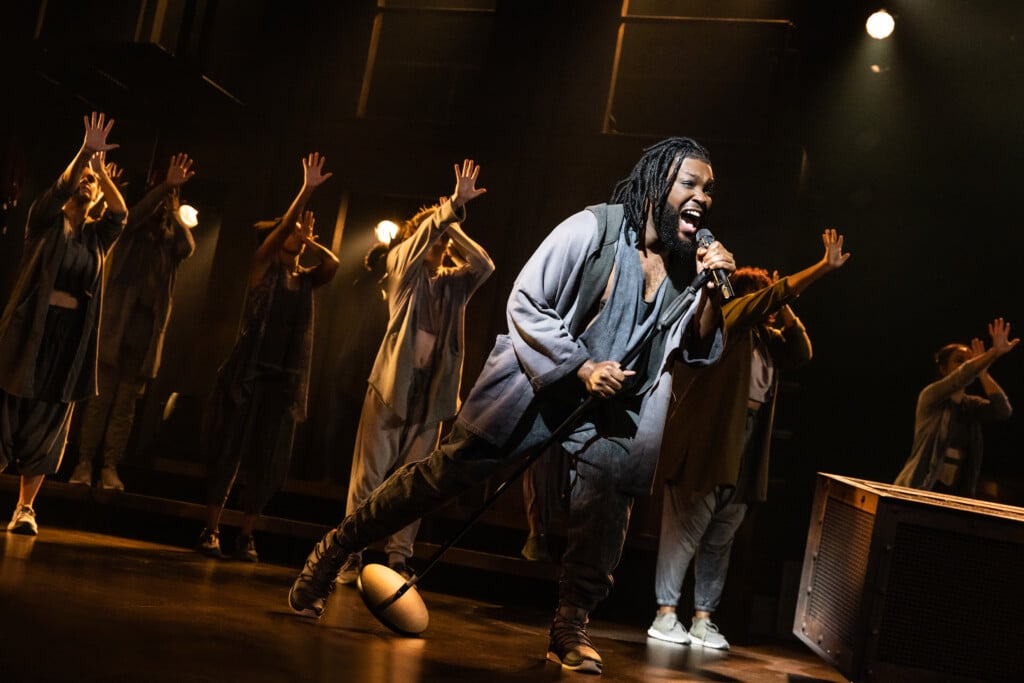 The 50th anniversary tour of "Jesus Christ Superstar" rattled the rafters of the Tulsa PAC last night.
Andrew Lloyd Webber's rock opera, running through Jan. 29, delivers a ramped up, passionate intensity that highlights the vocal talents of the cast.
As a teen 50 years ago, I remember the controversy surrounding the musical, which is based on the New Testament story of the betrayal, beating and crucifixion of Jesus Christ. Some religious leaders didn't like the rock music. Some didn't like that it ends with the crucifixion, not a resurrection – although in the current version, that ending is handled in a rather creative way. Conversely, others liked that the show captured the emotion of the Gospels in a way that might draw people to the biblical version. You'll have to see it and judge for yourself.
Regardless, this production gets down to the rock roots that had teens buying the album 50 years ago. The curtain opens to an industrial setting – a fallen beam in the form of a cross dominates the stage. A shattering electric guitar peals from above – no orchestra pit and no intermission underscore the show's rock concert sensibility. The singers use stand mics. Jesus and Peter often have acoustic guitars slung over their shoulders, ready to accompany themselves in quieter moments.
And the voices. Jack Hopewell as Jesus can deliver — from the emotionally raw "Gethsemane" to high-flying falsetto and shrieking rock wails in "The Temple." Elvie Ellis as Judas uses his body and his soaring vocals to illustrate the tension between himself and Jesus. Faith Jones as Mary Magdalene brings a beautiful warmth to songs like "Everything's Alright" and "I Don't Know How to Love Him."
I loved Isaac Ryckeghem's scary Caiaphas. Those scenes were genius with the spears flipping over to stand mics. It's worth going just to watch the staging. Speaking of which, the ensemble's energetic choreography with touches of hip-hop dance moves felt electric and modern.
Because the story's subject matter (the death of Jesus) is intense – and at times frightening – "Jesus Christ Superstar" is recommended for ages 12 and older. I would agree with this suggestion.
For those of you who, like me, fondly remember the rock album from 50 years ago, you will love this performance. If you haven't seen it, go. The electric, rock 'n' roll visual concert, delivered with high-flying vocals, creative choreography and emotional commitment, deserve your entertainment dollar.
"Jesus Christ Superstar" continues at the Tulsa PAC through Jan. 29. For tickets, call or visit celebrityattractions.com, tulsapac.com or call 918.596.7111.
---