I Got Past the Political "Junk Mail" With Two Oklahoma Candidates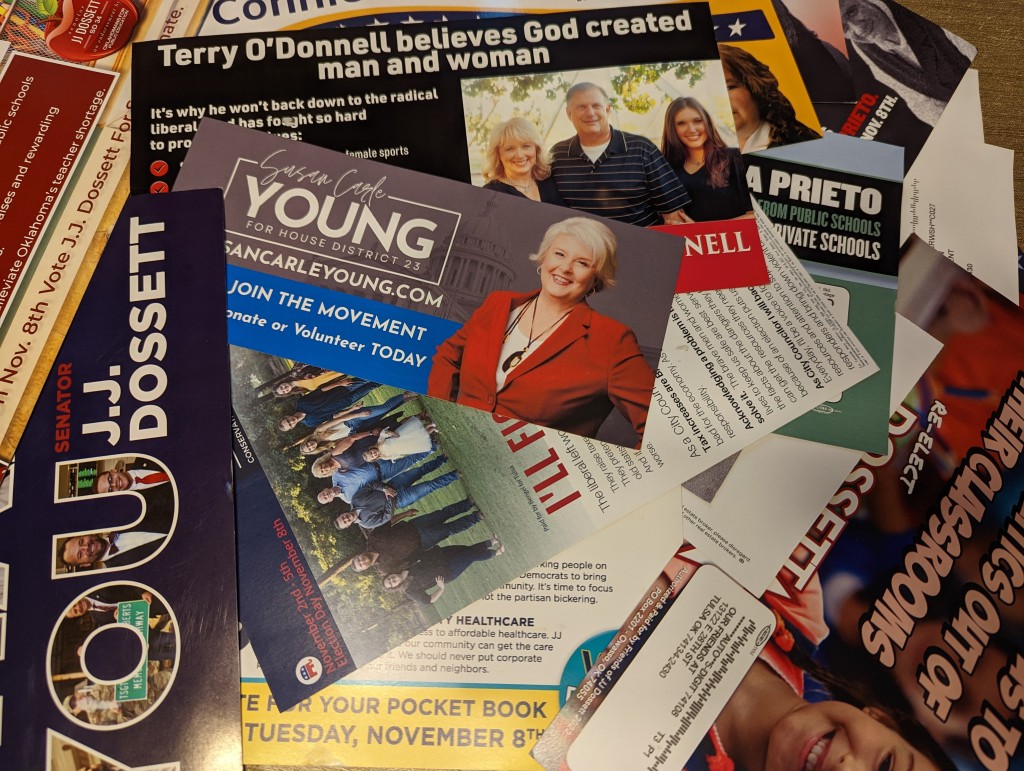 Do you read your political mailers? If you live in the Tulsa metro area, your mailbox has, like ours, undoubtedly been flooded with mailers from local political candidates running for office. If you don't put them directly in the trash, as it turns out, they tend to stack up pretty quickly, and it can be a lot to take in. Since I'm not sure they would make very good wallpaper and I felt civically guilty about tossing them in the bin without a read, my stack got fairly sizable before I finally took a crack at it and immediately felt pretty overwhelmed at the info dump.
I noticed right away that quite a few local politicians stand on platforms that have little to do with the gigs they're running for or even what year it is. Take Ryan Walters for State Superintendent of Education, whose campaign issues include Critical Race Theory, COVID school closures, the Second Amendment, pro-life policies, immigration, and jobs and the economy.
Sir, the year is 2022 and you're running for Superintendent of Education.
Sitting in my living room staring at the pile of mailers I've amassed, I wondered how many people actually read this and are impacted by what they say. Who are those people? Are they my friends? My friends' grandmas? What kind of words and ideas motivate them? Probably loaded words, I realize. The emotional ones that get people all riled up and spouting hot takes over Thanksgiving.
(Sidebar: Would Thanksgiving be nicer if we decoupled it from Election Day-adjacent?)
Oklahoma House District 23: Susan Carle Young / Terry O'Donnell
One fine fall day, I was hanging around my house typing and a very friendly lady showed up at my door, introduced herself, and gave me a mailer that actually had a platform that isn't just trashing the trans community or her political opponents.
Here's what her mailer says:
Her name is Susan Carle Young and she's running for

House District 23

.

She'll support our hometown businesses through economic development. Can't argue with that.

She wants to keep hospitals from closing.

She wants to fund schools and technical colleges. Okay, well now you're speaking my language.
Since I had her right there in front of me, I told her all about my political candidate mailer woes, how I was sorting through this stack like a deck of very dark Tarot cards. Never one to pass up an opportunity to learn, I asked her if she would join me for a coffee at my favorite panaderia, and she accepted.
I found her very easy to talk to as we sipped our cafe de olla. We're both fans of Sterlin Harjo and Taika Waititi's "Reservation Dogs," and like half of Tulsa, both know someone who was on an episode.
Susan, who has her Master's in social work and has been serving her community for decades, told me she grew up in a politically active but politically divided home, with two parents supporting two different political parties. I could see just by talking with her how this left its mark – she speaks with a civility that's been rare if not an endangered species in this election cycle.
But turmoil is nothing new, she reminded me, and I realized that somehow, we always get through the hard times. "I remember when Kennedy was assassinated," she told me. "I was in fourth grade. We had the Vietnam War where all our big brothers and dads were getting killed, and the nuclear war threat was hanging over us all the time. When I was in middle school, Martin Luther King and Bobby Kennedy were assassinated."
Susan told me her family had been in Oklahoma since before statehood thanks to a relative taking a shine to the place. "My grandmother and her first husband came through here on a train on their honeymoon and saw that it was poised to grow huge. This was in 1913. They started a grocery store on Main Street."
The location she's referencing is near the location of the old Fox Hotel, a building my husband used to work in back when it was The Bowery.
I told Susan about our family's issues with our kids' overcrowded classrooms this year, issues that have been echoed by almost every parent we know, and I asked what we could do as parents to see this change.
"You can vote for people who will help fix this instead of making it worse. People like Kevin Stitt and Ryan Walters are using culture war issues to hide the fact that they have an agenda – they want to privatize the schools. And most of the people I talk to, Republican and Democrat, don't want that."
"When the schools go down, crime goes up," Susan told me. "It's a public safety issue as much as anything. I will fight every effort to take tax money away from public schools. I am absolutely opposed to using public money for private schools, and I will fight that. Vouchers are not that popular even with Republicans in the legislature. I think we can work across the aisle."
And, Susan assured me, "There's $2 billion in the rainy day fund – they need to spend some of that on education." She compared sitting on that fund to living under a leaky roof while you've got millions sitting in the bank. "This is a rainy day – our schools are disintegrating."
Susan told me about her experience going door to door and speaking with folks who had heard these culture war talking points. One thing that she was committed to doing was listening to their concerns, hearing them out, and treating them respectfully even if she didn't agree with them.
"People need to vote their well-being," Susan emphasized.
As the mom of an autistic son, I also wanted to know what Susan was willing to do to support Oklahoma's neurodiversity. She committed to me that she was absolutely eager to work with the neurodiverse community and allies to find out public policies that will better serve them.
After I met with Susan, I flipped through my mailers again to find her opponent and came across one mailer for incumbent Terry O'Donnell. There was a lot to unpack here, so I'm going to take it point by point because Good Lord, Terry. And I say Good Lord because you brought him up.
Instead of a platform, his mailer is just a list of transphobic scare tactics:
He believes God created man and woman.

He stopped males from competing in female sports.

He stopped males from using female bathrooms and locker rooms.

Stopped transgender studies from being taught in public schools.

Stopped the indoctrination of our kids by the federal government.

Something about the "woke left"
Obsessive transphobia aside, it's unclear how any of that translates to his role as an Oklahoma representative or even how common any of the issues he's talking about are. Percentage-wise, how much of the representative's job deals with sports and bathrooms? Why is there no discussion of funding, taxes, or infrastructure?
I asked Google, and the third entry that came up was about how Terry O'Donnell and his wife are currently under indictment for a scandal involving using his office to try to change a law in a way that would financially benefit his family. I could only conclude that if he didn't read the fine print on his job duties, he probably doesn't have much of a platform on infrastructure, education, or taxes.
US Congressional District 1: Adam Martin / Kevin Hern
As it turns out, Susan wasn't the only candidate I had a chance to connect with. As I was going down to pick up my yard sign for Joy for Governor, I connected with someone who told me about a super hard-working guy running for United States Congressional District 1, Adam Martin. I left my number to see if he could answer a few of my questions, and to my surprise, he called me back.
An affable Wagoner native and an OSU graduate, Adam told me, "I was raised by strong women – my grandmother and my mother – and I was raised in the church. When I was in Wagoner, I didn't grow up around politics or people that looked like me, to say the least. But it was always a passion of mine because I was one of those kids that asked a lot of questions. I think that's what led me on my journey that I'm on today."
Growing up, Adam explained, "We had to work hard for what we had." Like so many folks I know, Adam worked his way through college. "I hit hard times that first year – it was my reality. I knew if I wanted to see the American dream for myself, I was going to have to tackle so many stereotypes, so many walls that I was up against."
"I just didn't give up – I never quit."
Adam told me he knew after graduation that he wanted to get involved in making the world a better place for others as well. In the wake of George Floyd's death amid the pandemic, Adam moved to Tulsa and led a march for unity on Greenwood. "I was just speaking unity, that we need to come together. It wasn't defund police. It was that we as a community need to come together."
He told me about a family that approached him and asked what they could do. "I told them, 'We gotta work together. These elections that are coming up, we gotta go vote. We gotta get people running for these seats.' " This was before he planned to run himself. Instead, he was spending his days educating members of the community on the importance of civil engagement and knowing their rights. He also became the Vice President of the African American Federation in Tulsa.
Adam told me while he doesn't have the funding levels or the name recognition as Kevin Hern, he does have the lived experience to match many of the issues that many District 1 voters are dealing with. "When you talk about free tutoring, when you talk about using federal dollars for a free school lunch – I was that kid."
Like our family, Adam believes in his community, telling me, "I love Tulsa. Tulsa's a community that you'd think is really big, but even though it's a big district, it's almost like a small community."
"I want everyone to experience Oklahoma, to experience Tulsa, for the uniqueness that it is. Oklahoma – we speak our truth. We stand up when other people are sitting down, and we work on trying to be better ultimately. We truly have each other's back at the end of the day."
I asked Adam where he stands on issues affecting the Indigenous community and specifically about the tribe's push to honor the 1835 Treaty of New Echota by seating a non-voting delegate to the United States Congress.
"I respect tribal sovereignty," Adam affirmed. "I would absolutely support that. I would at least want to be an advocate for that." Adam says he would also support any bill to help find missing and endangered Indigenous women.
We asked Adam about how he would support infrastructure to rural communities, something Kevin Hern voted against when he voted against the American Rescue Plan. "I will always support infrastructure in Oklahoma. I get a little passionate about that because we all drive on these roads, we all share the highways, we all have to make sure that our children can get online. If they don't have the Internet at home, they have to go to a McDonald's to work on their schoolwork."
"We've got to get representatives who will never vote against the people's well-being based off of their own hatred towards the other party. If a Republican proposed that bill and I know it will benefit my district, I will vote for it because it makes sense. We have to work together."
I spoke with Adam about some of our concerns with our kids' classes being overcrowded, and he told me solving these issues begins with connection and advocacy. "Be an advocate for the issues that take a phone call to just figure out, how can we fix this problem?"
He would also support developing a "real plan for our district," emphasizing that no matter what some candidates claim, "Every federal dollar is accounted for. You can't just go spend that money and oh, it's going to left-wing ideology. That's just scare tactics, and it's taking away from real people that really do the work, and that's our teachers."
"I had teachers that really changed my life, and I will always support paying our teachers more. These teachers are staying late to tutor a kid, spending their own money for resources in the classroom. My heart hurts for our public schools, for our rural schools. If you build a public school, you build an economy that works for us."
Adam told me he would advocate for all students whether they're going to college or trade school. "I'm a big advocate for trade school. And I will always support legislation that builds up our public school systems."
He also assured me that he would "definitely" support the neurodiverse community. "Every kid is different. Every kid is unique. We need to have leaders that will speak up. We need public officials who will take time to understand. I need to make sure that I'm being an advocate for them."
And he understands the value of admitting there's more to learn. "I don't have all the answers right now. But I'm willing to do the work. I'm willing to do the hard stuff because that's what it's going to take."
Adam also emphasized the importance of supporting working families and making sure that workers are paid a living wage. "When people talk about workers having to make sacrifices, those sacrifices are choosing between the lights and the heat. I don't wish that on anyone. We need a representative that understands the working family."
And while Kevin Hern's campaign is heavily funded by PACs (political action committees), Adam has refused PAC money. "I won't take any money from any PAC. My campaign received two checks from a Washington, D.C. PAC group. I made it known that it was going to be shredded because I'm not taking any money from anybody that's not the people."
"There are lobbyists and insider deals going on. Kevin Hern – and Democrats do the same thing – they all went against the 2012 Knowledge Act. The Knowledge Act was about insider trading. Working families are not at the top of Hern's agenda."
And like Susan, Adam is going door-to-door meeting his constituents, getting to know them and how he can serve them in Congress.
"There's a lot of things we can do to benefit our district, and that starts with having a conversation with someone who's been through that."
After speaking with Adam, I looked up Kevin Hern to find out more about his voting record and learned it's true that he has a history of downvoting almost anything a Democrat proposes without really considering it, which I find terrifying whether it's a Democrat or a Republican doing this. I get that reading a piece of legislation can be time-consuming and a bit of a slog, but it's literally the job, Kevin.
And while Kevin Hern doesn't support student loan forgiveness, he had more than $1 million in PPP loans forgiven for his McDonald's franchises. It's hard for me to believe a person who financially benefits from paying his employees below a living wage could be even remotely unbiased in considering legislation regarding worker pay.
Election Day is Tuesday, November 8
No matter how you vote, I hope you do. But most importantly, I hope you manage to get beyond the flashy mailers and the trash talk to actually learn about politicians' histories, who they are, what the job is they're applying for, and what their platforms are really about. If you do that and you land somewhere other than where I did, I respect that wholeheartedly because it means you've taken the time to look closer. If you're not sure like I was, call up the candidates. Ask yourself whether your candidate is willing to answer questions and go door-to-door or how their businesses or financial interests could benefit from any legislation they might be involved with in the future.
Don't forget to grab your voter ID card, grab your photo ID, and get to the polls on Tuesday. And one more thing: Due to redistricting, some voting locations have changed, so be sure to check your voter ID or look it up online before you go to vote.
Thanks so much to Susan and Adam for taking the time to connect with me. I hope all of my readers and political candidates have a beautiful, civically fruitful week in their nebulas.
---