Head for the Hills in the Heart of Texas
From lavender fields to peach orchards to German-influenced Main Streets, Texas Hill Country has a lot to offer.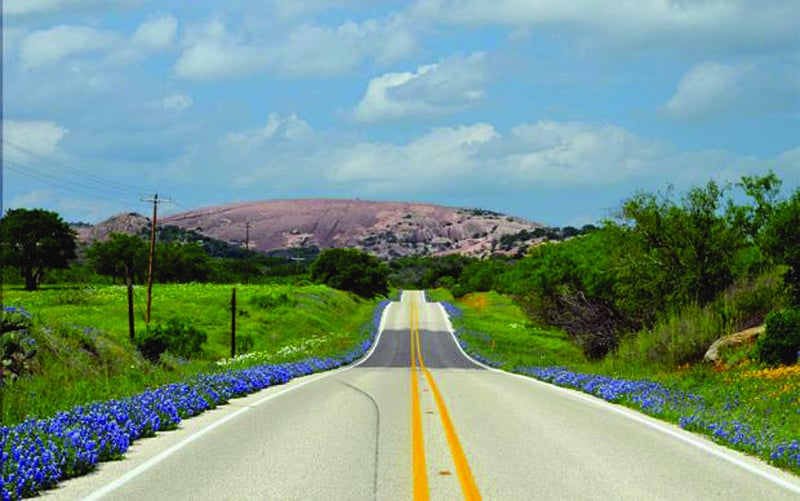 Each spring, miles and miles of abundant fields, meadows and pastures throughout Texas Hill Country awaken with the season's vibrant colors. The region comes alive with black-eyed Susan, lavender, Indian paintbrush and bluebonnets, Texas' state flower. Expansive vistas also include blue-hued lakes and winding, spring-fed rivers that glisten in harmony with a backdrop of rugged limestone and granite hills. Many do not realize all this beauty exists deep in the heart of Texas (where East, West and South Texas intersect), but it does, and it will surely take your breath away.
The warmer weather opens doors to extensive outdoor activity and adventure among the roughly 11.4 million acres. Charming small cities and towns that operate at a much slower and more carefree pace than their large urban neighbors, Austin and San Antonio, comfortably co-exist. For added peace and quiet, there's significant access to the underworld of caverns throughout the region. An added bonus while hanging out in Hill Country is the exceptional night sky where millions of twinkling stars shine brighter than most any place else in the nation. It's hard not to fall in love with Texas Hill Country.
Hill Country Affairs
Happening activities in Texas Hill Country include driving along the roads to admire the landscape while stopping to visit shops, boutiques and local restaurants, enjoying the aquaculture by fishing, tubing, kayaking and swimming in the many rivers and lakes, or spelunking in the treasure trove of caves. After exhausting daytime activities, evening stargazing is a popular pastime, whether camping at one of the state parks, staying at a quaint B&B or resting your ten-gallon hat at a luxury resort.
The region offers so much that it's hard to showcase it all in one sitting. But, here's a sampling of some cities/towns that serve up Texas Hill Country hospitality.
Blanco
As you approach Blanco, prepare your olfactory sensors to go into overdrive, thanks to the sweet smell of light purple lavender. This herbal plant, popular for not only its smell, but it's relaxation and calming properties, fully blooms in mid-May. Blanco is dubbed the state's "Lavender Capital" with farms in full swing, allowing access to visitors, who, in some cases, can pick their own lavender. Shops sell oils, soaps, edibles and other lavender-laced products. The lovely Blanco River is dammed up in a few areas, creating relaxing natural swimming pools.
Fredericksburg
A larger town and one of major German influence, Fredericksburg is visited by many due to its darling main street (called "Hauptstrasse), outstanding German eateries and pastry shops and beautiful natural surroundings. The Historic District was added to the National Register of Historic Places in the1970s. There are many B&Bs and "Sunday House" Inns. Rich vineyards nearby produce award-winning wines and may be a place of interest particularly to parents who want to grab a grown-up souvenir. Be sure to head north to visit Enchanted Rock, a massive 45-foot pink granite formation. This famous Texas landmark as one of the country's largest natural rock structures.
New Braunfels
Named by German settlers for its brown rocks, New Braunfels is home to modern-day German Texans. The cold, spring-fed Guadalupe and Comal Rivers flow through the city and are hugely popular tubing tracks during the summertime. Here, Bier Gardens are popular dining/drinking holes. Another joy is spending time at Landa Park, home to Ancient Oak Trees which serve as shady spots that protect patrons from the hot Texas sun. Old World heritage abounds in the Gruene District, with a dense concentration of German-style architecture. There's also Schlitterbahn New Braunfels, a Bavarian themed water park providing hours of entertainment.
Stonewall
Nicknamed the peach capital of Texas and famous, in part, as the birthplace of our nation's 36th President, Lyndon Baines Johnson, Stonewall is yet another wonderful site to explore. The Lyndon B. Johnson State Park and Historic Site contains a living history farm, known as The Sauer-Beckmann Farm. Visitors learn about rural life by observing interpreters dressed in period clothing as they tend to the property and conduct household chores in the same fashion as they were in the early 20th century.
Head For the Hills
As a point of comparison, Lonely Planet, The World's largest travel guidebook publisher worldwide says, "New York has the Hamptons, San Francisco has the wine country and Texas has the Hill Country." You can likely guess that Texas Hill Country is a super special place for Lone Star State residents to enjoy. Due to the unique beauty, it's growing in popularity as not only a vacation destination, but as a retirement spot for many Americans.
So, shine your cowboy boots and head for a gem of a getaway. Take a road trip or fly into either Austin or San Antonio, building a vacation that combines big city with small-town adventures.
Learn more by visiting www.texashillcountry.com and www.tripstodiscover.com/best-things-to-do-with-the-kids-in-texas-hill-country/.