Hamilton's Carvens Lissaint
Fathering our country — and a 2-year-old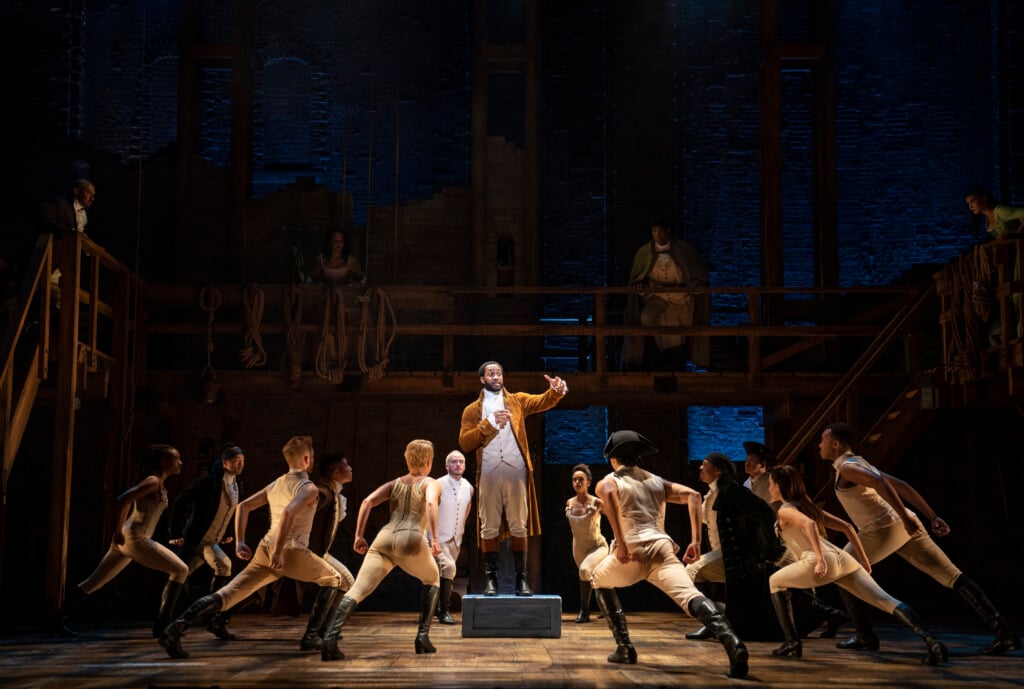 Not a fan of musical theater? Somewhat surprisingly, neither is Carvens Lissaint, who nonetheless has been portraying George Washington in the groundbreaking Broadway musical Hamilton for the past five years.
"I'm not necessarily a fan of musical theater," the award-winning poet and actor explains. "I am a fan of how Lin-Manuel Miranda tells stories."
Miranda's unique storytelling, in the case of Hamilton, involves a cast of non-white actors in the roles of Alexander Hamilton, his fellow founding fathers and their associates relating the story of our country's birth through hip hop, rap, R&B, jazz and traditional-style show tunes.
Parents of young children may have gotten a taste of Miranda's talent from his contributions to the animated films Moana and Encanto and his supporting role in Mary Poppins Returns. But one experiences the full force of his creativity in his blockbuster stage shows, which he conceives, writes, composes and performs on Broadway. Miranda's first such show was 2005's In the Heights. Lissaint saw the multiple Tony Award winner 13 times when he was a teenager, and he says it's what made him decide to be an actor, eventually leading him back to Miranda in Hamilton.
"Working on a show that Lin wrote is the greatest full-circle of my life," he says, adding that "it's been a rollercoaster," one that has included stints on Broadway, on tour, in the Los Angeles company (which was interrupted for more than a year due to the pandemic), and then back on tour beginning last October. It's an enviable ride for an actor, but a sometimes difficult one for this "Father of our Country," who, in real life, parents a 2-year-old son with his wife, Leslie.
"It's very hard to be away from my family," he says. "We try to make sure we visit each other at least every two weeks. My advice to parents who have to be away is to break out a calendar and set up systems for family time, even if that means you have to sacrifice opportunity and money. Family always comes first."
Lissaint's son isn't old enough to enjoy a production of Hamilton yet, but the actor says his toddler has heard the song "My Shot" from the cast recording and seemed to like it. Lissaint doesn't perform in that number, though. General Washington makes his grand entrance later in "Right Hand Man," which used to be Lissaint's favorite, but he says it stresses him out too much now. Currently, he most enjoys the end of "One Last Time," in which Washington demonstrates the peaceful transition of power by voluntarily stepping down after two terms as President. Lissaint also likes "Yorktown (The World Turned Upside Down)," which contains the crowd-pleasing boast by Hamilton and Lafayette: "Immigrants: We get the job done!"
Hamilton, who became the first United States Treasury Secretary, was born in Nevis, a small island in the Caribbean, and immigrated to New York when he was a teenager. Lissaint's parents came to the Big Apple from Haiti, also in the Caribbean. Lissaint says his father gave him a long, teary stage-door hug after seeing him perform in Hamilton. He was no doubt thrilled to see his son on Broadway, but when Lissaint was asked if perhaps his dad was also moved by the similarities in his and Hamilton's get-the-job-done immigrant stories, he replied, "Absolutely! My father is the hardest worker I know, and I think he was inspired by seeing a bit of himself on stage."
Hamilton, winner of 11 Tony Awards — including best musical, book, and score — and recommended for children ages 10 and up, is coming to the Tulsa Performing Arts Center March 7-19. While many may bring their teens and preteens for an entertaining, fast-paced American history lesson, Lissaint suggests another benefit:
"I think it's important for parents to expose their children to the rich storytelling art forms of hip hop, R&B and jazz. These are art forms that have made large waves in culture and in history. There is so much to learn from it."
Nancy Bizjack is a retired editor of Intermission magazine at the Tulsa Performing Arts Center. She currently does freelance writing and editing and loves spending time with her 7-year-old granddaughter.