As Normal as Possible:
Groundhog Day 2021 and Green Country Habitat for Humanity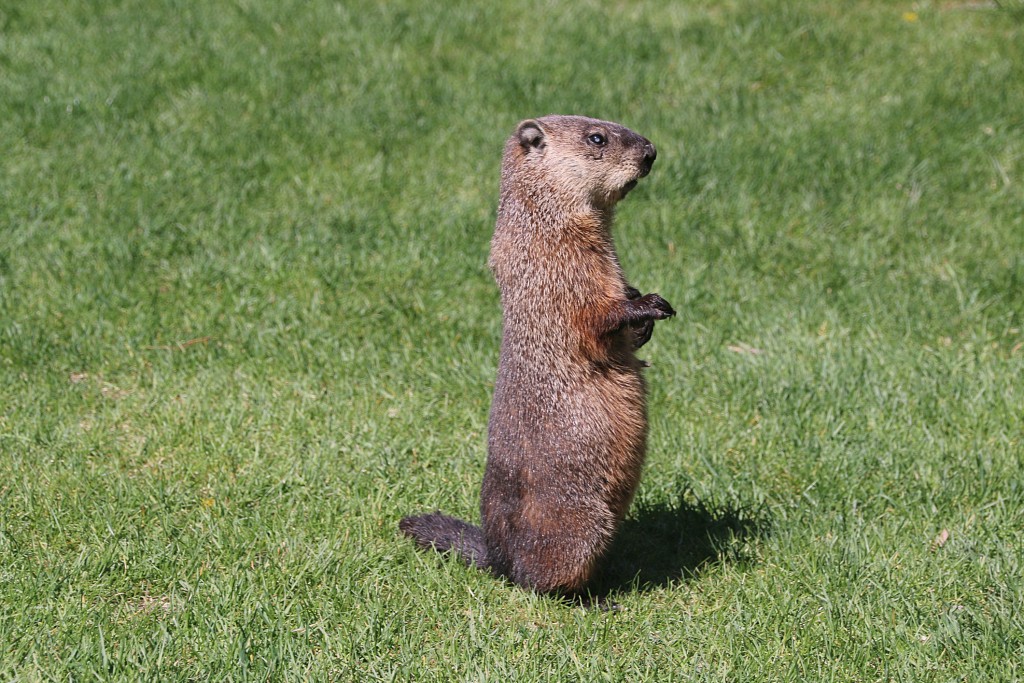 Happy Groundhog Day! Sadly, Punxsutawney Phil saw his shadow this morning so six more weeks of winter. Or maybe he just decided: "yeah, I'm not going out there." (Next year will be 2.2.22!)
Today is the 135th Groundhog Day. Wow! He doesn't look a day over 100. Hey oh! The ceremony took place, as usual, in Gobblers Knob, Pennsylvania. But unlike usual, there were not thousands of people tailgating and watching. There were just the members of Phil's "inner circle." Apparently, after the ceremony Phil told one of his handlers:
"After winter, you're looking forward to one of the most beautiful and brightest springs you've ever seen."
So, we have that to look forward to. However, in six weeks, on March 16th, while I'm getting my stash of beads and sparkly green top hat ready for St. Patrick's Day, it had better be sunny and warm, Phil! Can you make stew out of Groundhog meat?
I digress. It's hard to be mad at the cute, furry critter. Unlike a Kardashian, I'm sure he didn't want any of this hoopla. It's fun to see the pomp and circumstance, even if it was with all his handlers wearing masks, cardboard cutouts as an audience and modest attempts to stay six feet apart. Just to have something even resembling "normal" is nice. Now just pray in two weeks we don't find out it was a super-spreader groundhog event.
"As normal a routine as possible." I've heard that so many times in the past year, and it's great advice. Whether your kids are learning from home, you're working from home, or you're not working at all, like many of us who lost our job because of the pandemic, sticking to the same bedtimes, mealtimes, meeting times, work out times, etc. is a good idea. I think it's a valuable tool to help us all get through these hard times. So, get your cheese, tomatoes and jalapenos ready for your nacho dip this Superbowl weekend just as you would every year, even if you must do it via a video-watching party instead of gathering at your friend's house.
It will be a cold Superbowl weekend. With temperatures expected to drop to 15 degrees this Saturday night (thanks, Phil) it's hard to imagine not having a home. This week, the charity I have chosen to support is Green Country Habitat for Humanity. Each week I choose a different non-profit to support either financially, in-person or both. And certainly, all over my social media pages.
For over 30 years, Green Country Habitat for Humanity have built safe, quality, beautiful homes and offer affordable, low-interest mortgages to families who cannot afford a traditional mortgage. What's new is the name and scope. They dropped "Tulsa" and added "Green Country" because they want to begin helping families outside Tulsa. But they can't do it without you.
Yesterday, I posted a video on my Facebook page talking a little bit about "Habitat." I donated $25 and encouraged you to help also. Even if all you can do is share my video that's great and helps Habitat get the word out!
You're probably aware they ask volunteers to actually pick up a hammer and help build a house, which I totally want us to do together sometime. However, due to the pandemic, they have paused that part of the process. They are still building homes but are instead asking for other donated goods and services. Please call them and ask how you can help: 918-592-4224 or email: info@greencountryhabitat.org.
Like the great Bill Murray said in the 1997 classic film, Grounhog Day: "A thousand people freezing their butts off waiting to worship a rat. What a hype. Groundhog Day used to mean something in this town."
Well, I'm glad even in this devastating pandemic it still means something. We can take a few minutes and watch a rodent predict the weather. And have some fun.
---