Greenwood Rising
Preview tickets now available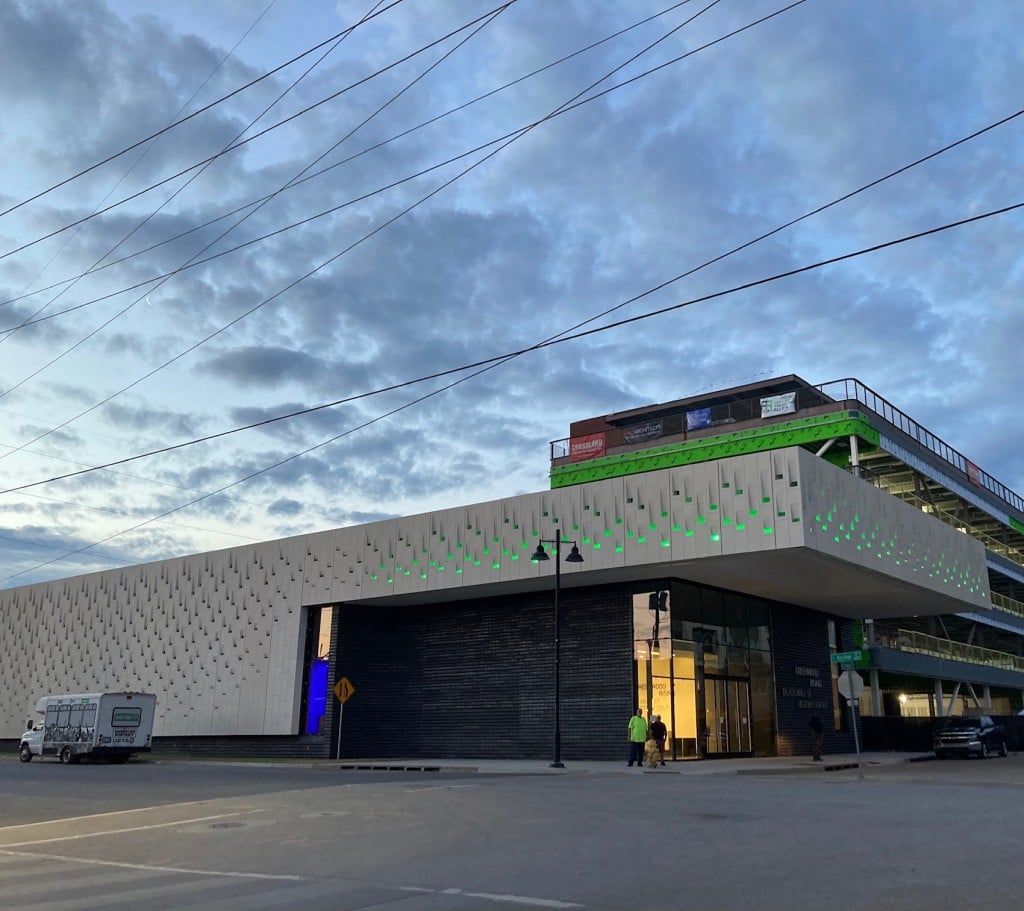 Greenwood Rising, a project of the 1921 Tulsa Race Massacre Centennial Commission, is tentatively scheduled to open July 3. Construction was delayed due to the spring weather (so much rain!). However, when I saw they were allowing media previews, I knew I had to take advantage of that. Even though it meant waking up at 5 a.m. on a Sunday! Located at Greenwood and Archer, Greenwood Rising tells the history of the Greenwood District, from its founding to the present day.
In advance of the official opening, the Tulsa community is invited to preview the museum from June 9-June 12. Find tickets at greenwoodrising.org. In the meantime, here's a brief tour.
Entry
When you first walk into Greenwood Rising, you'll see an information desk to the right, a large screen in front playing video set to Maya Angelou's powerful poem, "Still I Rise." To the left are a series of "window boxes" – small video screens set into the wall. Each screen switches slowly between a photograph of Greenwood taken around 1921 to a photo taken of the same location in 2021. Several of these transitions highlight the disruption of highway I-244 to the Greenwood District. Learn more about "urban renewal" and the Greenwood District here: https://www.smithsonianmag.com/history/black-wall-streets-second-destruction-180977871/.
"The Roots of Greenwood"
This room tells the story of the founding of Greenwood, beginning with the Freedmen who walked the Trail of Tears and the establishment of Oklahoma's 50+ all-Black towns. It also highlights some of the notable Black Wall Street entrepreneurs. These include John and Loula Williams, who owned Williams Dreamland Theatre and more.
"The Heart of Life"
When you exit the Roots of Greenwood room, you enter a recreated Black barber shop. On the far wall are three barber chairs. Projected onto a screen in front of these are three barbers discussing the relevant issues of the day. A plaque explains, "Getting a haircut was a social experience that built community spirit and shaped the lives of men."
Structural Oppression
This room comes with a trigger warning before you enter. Artifacts here include a KKK robe and shackles. Its purpose is to teach how racism is perpetuated socially, economically and politically. From that background, it moves to the 1921 Tulsa Race Massacre, providing a timeline of events that highlights just how quickly everything escalated towards the destruction of Greenwood.
The Tulsa Race Massacre
I think I missed this on my tour, or perhaps it was still under construction, but there is a 7-minute video using survivor testimony and archival imagery that shows how an ordinary day in the prosperous Greenwood community ended in tragedy. This room also includes information about William "Choc" Phillips, a white teen who witnessed the massacre. Phillips said, "In no other incident since the Civil War have Americans inflicted such disastrous destruction and death on other Americans. And yet today, the danger of other horrible incidents developing into holocausts in which innocent people are sacrificed to satisfy the false pride and hatred of petty men increases daily."
One of the three brick monuments in this room also recognizes the importance of Booker T. Washington High School.
Rebuilding Greenwood and Urban Renewal
I was glad that the museum didn't end with the Tulsa Race Massacre. Much of Greenwood was rebuilt after 1921, at the expense of the survivors. The area thrived again in the 1930s and '40s. However, "urban renewal" and the construction of I-244 led to a decline through the 1950s and '60s. Learning more about this was something that really stood out to me during the Centennial events. It's so important to learn about the Tulsa Race Massacre, but also to learn about how more recent and modern policies contribute to oppression. You can't just say "Oh, that happened 100 years ago…" because there are still policies, structures and politics in place that prohibit true reconciliation.
Reconciliation and Committment
The final room(s) of Greenwood Rising really encourage personal reflection. There's an amphitheater where visitors can sit and contemplate questions posed on the wall in front of them. I don't remember the exact questions, but I believe they are along the lines of "What would true reconciliation look like?" I thought it was interesting that this room brought up the idea of reparations because there's been some controversy over how much money was spent on Greenwood Rising when the survivors and descendants are still waiting on reparations. Learn more about that here: https://www.nytimes.com/2021/05/28/us/tulsa-race-massacre-commission.html.
For further reading, check out this Black Wall Street Times article on Tulsa City Council's recent vote seeking "to create a process by which community members can evaluate the recommendations for reparations listed in the State of Oklahoma's 2001 report from the 1921 Tulsa Race Riot Commission."
After reflecting, visitors are invited to make a tangible commitment toward racial reconciliation. There are some pads set up so you can record your commitment immediately, or a QR code leading to a website if you need more time to think.
After that, you're back at the entrance. Before or after your visit, take time to visit some of the other Greenwood Ave. businesses. Frio's Gourmet Pops is a favorite, and I'm still long overdue for a visit to Black Wall Street Liquid Lounge!
Address: 23 N. Greenwood Ave.
Hours:
Preview: June 9-12, 8 a.m.-10 p.m. Reserve tickets in advance at greenwoodrising.org/visit. Closed starting June 13 through opening day (tentatively July 3)
After Official Opening Day: Monday-Friday, 9 a.m.-8 p.m.; Closed Tuesdays
Admission: FREE for the first year.
---