Green Country Grown-Up: Stephanie Donaho
Kids, skates--and a pig named Charlie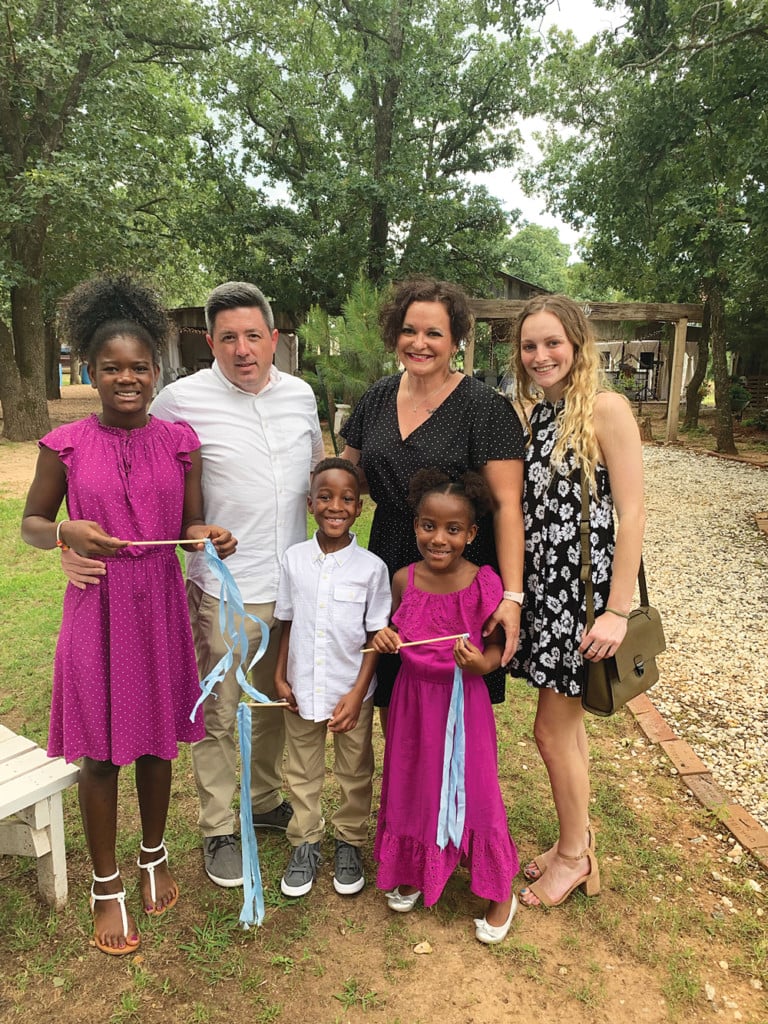 The old adage, "Anything worth having is worth waiting for" definitely applies to Stephanie Donaho and her family. Their adoption journey was arduous and long but well worth the wait, resulting in adding three amazing children to their family. Now, she is a mother of four children, ages 19, 12, 8 and 7.
Throughout the adoption process, Stephanie gained an awareness of keeping herself healthy – both mentally and physically – and stresses the importance of self-care to others. Meet this thriving family who was brought together by adoption and lives together in love.
Infertility and Adoption:
TK: What led to your journey of adoption?
Stephanie: We started the process to adopt our kids in 2011. We wanted more kids, went through some infertility treatments and just really felt like adoption was the right direction for us.
TK: How did the adoption process work for you? Would you recommend it to others?
Stephanie: Well, since it took seven years to get our kids home, I definitely wouldn't recommend the route we took to others! We were a fairly unique situation. I knew a woman from Tulsa who started an orphanage/adoption agency in Haiti. We started the process through her and met our kids in 2011 only to find out she was scamming us and several other families.
On top of being scammed, Haiti decided in the middle of our adoption process to change their adoption laws. This meant that a very disorganized government was now having to figure out which cases were new law and which cases were old law. Nothing moved quickly. There were years of starting over, making sure our kids were legally available to adopt, government red tape, Haitian/US governments disagreeing on processes. My husband and our oldest daughter went to Haiti a couple of times. I went several times to visit in those seven years. Ultimately, I moved to Haiti for four months last summer to complete our adoption, and we flew home to Oklahoma with our kids seven years to the day I first met them.
TK: How has the transition been for your kids?
Stephanie: They have really transitioned well! We are lucky to have a great school. They attend Timber Ridge in Broken Arrow and the English Learner program there is outstanding! To give a quick example, our 12-year-old started school in November with reading and math skills on a 1st grade/1st month level. She finished the school year at almost a fourth-grade level. They are all so smart and their English has improved so much.
TK: What is something that others assume or a myth about adoption that you would like to clear up?
Stephanie: I think one thing that needs to be talked about more often is how questions or comments are worded to adoptive parents or adopted children. For example: We are their "real" parents. Our skin doesn't match, so sometimes things are worded that way without ill intent, but I think it's important to be mindful of the way things are said. They can be confusing or hurtful to kids involved. Also, nobody but my kids are entitled to know their "story." We get asked all the time if they are "real" siblings. My answer is yes. Just like we are their "real" parents. When they are old enough, if they want to share about their Haitian families, they can do that, but it isn't my story to tell.
TK: What has been the hardest part of the adoption process for your family?
Stephanie: I think a lot of people think that waiting for your kids to get home is the hardest part. In my opinion, the adjustment to them being home is just as hard. Parenting kids with trauma is tough work. It isn't pretty sometimes. We have to remind ourselves that even though they're older kids, there are basic life skills that they're learning. When they first came home, they were learning things, like how to properly use silverware, that toddlers in America would learn. There's definitely a learning curve for all of us.
TK: What advice would you like to share with others who are facing infertility?
Stephanie: Make sure you have a great doctor who listens to you and whom you trust. Keep going until you don't want to anymore. It can make you feel crazy. Listen to your body. It's ok to decide to be done. Remember that there are other ways to have a family (i.e. adoption, foster care or surrogacy).
Roller Derby
TK: How did you become interested in roller derby activities?
Stephanie: I've always loved skating. I was one of those kids that spent her weekends at the skating rink. I realized several years ago that Tulsa had a roller derby team; it just took me a while to get up the nerve to try it out. I'm so glad I finally did. It's given me something to have that's just for me.
TK: How long have you been competitively skating?
Stephanie: Technically, I started in July of 2017. The fundamental skater's program is about 12 weeks long. I've started that program three different times. The first time, I had to stop because I was traveling quite a bit for work. The second time was last summer and I had to stop because I moved to Haiti. So, this time, I have completed the 12 weeks and now need to pass my laps requirement (27 laps in 5 minutes) and I'll be able to be rostered.
TK: What do you enjoy about the sport?
Stephanie: My favorite thing about derby is gaining a second family. My teammates are the most encouraging, funny, sweet, caring people you could ever meet. They're the kind of people you want in your corner. It's also an excellent, unconventional workout! It's hard work and so rewarding and empowering to feel yourself getting better and better every week.
TK: Does your family enjoy cheering you on during derby days?
Stephanie: My husband and oldest daughter have gone to a few games and love it. Our youngest three experienced it for the first time in April and can't wait to go again!
Summer Fun
TK: What has your family been up to this summer?
Stephanie: We love outdoor activities! We are Zoo Friends, so we frequent the zoo for picnic lunches. We have walked Main Street in Broken Arrow, played at various splash pads, gone on walks, played with the slip and slide, painted with water guns…and the summer has just begun!
We visit Branson every summer, so we are looking forward to the youngest three experiencing that for the first time. I can't wait to see their faces on roller coasters!
TK: What is your favorite summer activity?
Stephanie: I like anything crafty, so the painting with water guns was super fun for me. But I also love going on walks. They'll usually ride their scooters which means I can skate through the neighborhood with my kids by my side!
TK: I heard you have a pot-bellied pig as a pet! What is it like having such a unique indoor pet?
Stephanie: We do! She's about six years old. Her name is Charlee and she's about 200 pounds of lovin'! She tends to have a bad attitude sometimes, so to escape the loudness of our family of six, she has her own bedroom where she can sneak away.
TK: What else would you like readers to know?
Stephanie: I want to share two things:
1. Self-care is important. Whether it's spa days or roller derby, find what feels good for you.
2. Adoption doesn't make me a hero. It doesn't make me better than others. My kids aren't "blessed" to have me. It's just the route we took to complete our family. They are just as much my kids as my oldest daughter. Mom fails are real, whether you give birth to your kids or adopt your kids.
TK: How can people follow along on your journey?
Stephanie: I post quite a bit on Instagram. Follow along: @stephaniedonaho.
Nancy A. Moore is a Public Relations Coordinator at Montreau, Adjunct Professor at Tulsa Community College, and has been writing for TulsaKids for almost 20 years.
---