Green Country Grown-Up: Robert Thompson
Thompson shares about the pain of growing up fatherless and overcoming obstacles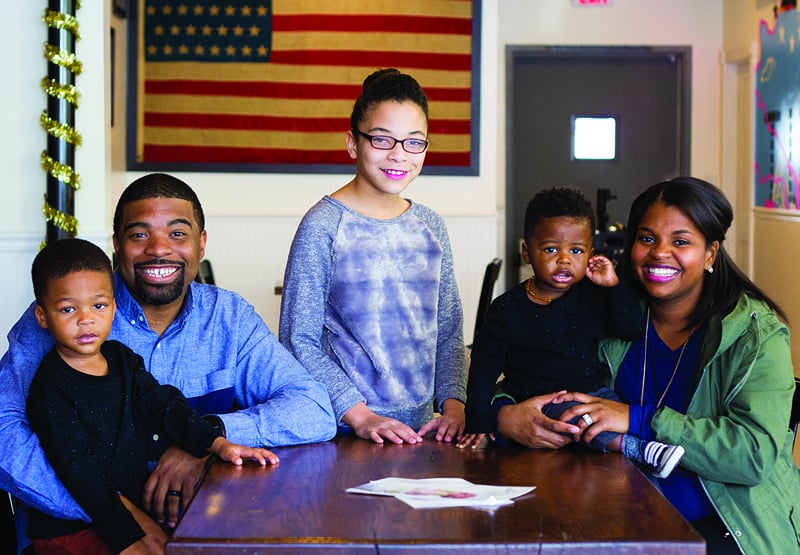 When Robert Thompson was only 2 years old, his dad was tragically killed in a work-related accident. From that moment on, his life would never be the same. For Thompson, losing his father at such a young age was not only life-changing, but it became a burden he struggled with during his formative years.
Everyone has obstacles in life; some are more difficult to overcome than others. Thompson's obstacle was growing up without a father. It took him years to change the way he felt about his situation. Today, he firmly believes that anyone can successfully overcome personal obstacles. In his book, From Fatherless to Fulfilled, he provides the tools he discovered that positively changed his mindset and helped him work toward reaching his full potential.
TK: Tell us a little about yourself:
Thompson: I grew up in Charlotte, North Carolina. Most of my family still lives in the southeastern part of the country. I have an older sister, my only sibling, who lives in Tampa, Florida. I moved to Tulsa in 2000 to attend ORU and have been here ever since.
TK: What is your family life like now?
Thompson: I'm fortunate to have gotten to marry the love of my life, Elise, and have three children. Harmonee is 10, Josiah is 3 and Quincy is 1. We also have a Beta named "The Fish." Right now, our lives center around working, homeschooling, minor renovations on our home and activities with the kids.
TK: How would you describe yourself in three words?
Thompson: 1.) Passionate, 2.) Developer, 3.) Strategic
TK: What does your family enjoy doing together in Tulsa?
Thompson: Most of our family activities in town center around the children. We frequent many of the Tulsa City Parks, the Tulsa Zoo, the Oklahoma Aquarium, the gym, and have play dates with close friends.
TK: How did growing up without a father affect you when you were a child?
Thompson: Growing up without a father, I frequently struggled with insecurities and self-confidence, especially when it came to things that I felt defined me as a man.
TK: What do you feel your father missed out on as you were growing up?
Thompson: Some of the things I feel like my father missed out on were my involvement in various significant athletic and academic competitions. In the culture I grew up in, performance in these events was somewhat of a "rite of passage." Not having him there definitely left a void.
TK: Having grown up without a father, where did you learn your parenting instincts?
Thompson: Despite growing up without a father, I had an incredible mother who I learned so much from. I also had, and still have, great mentors that I ask a lot of questions to. Mostly, I just strive to be the antithesis of what I had.
TK: When did you finally decide not to let the loss of your father at such a young age negatively define you?
Thompson: In my late 20's, after making a lot of mistakes and feeling myself moving further away from the life I had envisioned, I decided I was done. I was done allowing insecurities and a lack of self-confidence to continue holding me back from the life I'd always wanted.
TK: What do you suggest for others who feel they can't overcome the obstacle they currently have?
Thompson: The first thing I would suggest for someone who feels they can't overcome an obstacle is for them to allow their desperation to change the way they think. In order to overcome any obstacle, they are going to have to believe that it is possible to overcome it. Overcoming the obstacle can be hard. And you will probably need help, but it's possible.
TK: What do you love about being a father to your children?
Thompson: The thing I love most about being a father is that I get to be present in my children's lives. Watching them grow and being a part of their development has been an incredible experience.
TK: What else would you like to share?
Thompson: No matter how old you are or whatever challenges you're facing, you can still overcome your obstacles and begin fulfilling your potential. It's never too late.
To learn more about Thompson or his book, go to Fatherlesstofulfilled.com where, as of January 26, 2018, you can get a free digital download of the book. "From Fatherless to Fulfilled" can also be purchased on Amazon. Twitter: @RobertMacy
Nancy A. Moore is a Public Relations Coordinator at Montreau, Adjunct Professor at Tulsa Community College, and has been writing for TulsaKids for almost 20 years.