Great Costume Ideas from the Cosplay World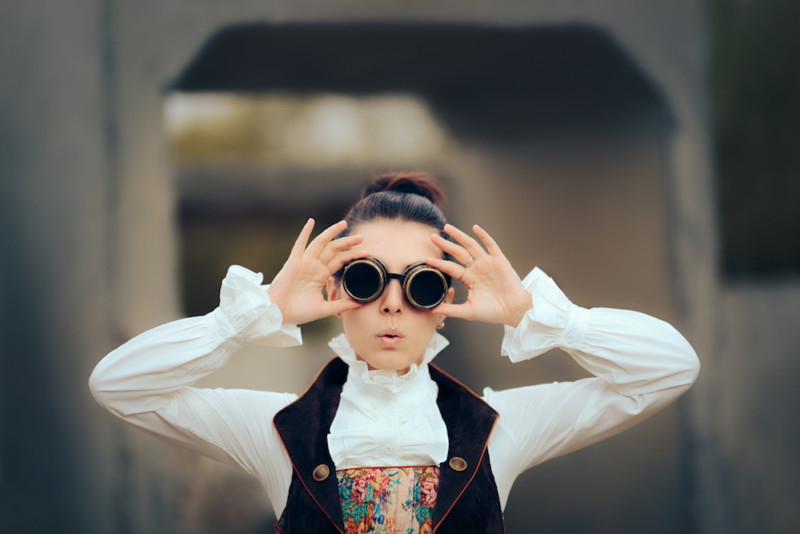 "Although I've given you some pretty wild ideas, it doesn't take a ton of skill to pull off a cool costume."
For our family, dressing up in costume is one of the best things about Halloween. It's a chance to make-believe you're someone else out in public, which under ordinary circumstances is somewhat frowned upon. It's also an opportunity to share a piece of your personality with others. Not everyone will recognize your Supernatural-themed costume, but it totally pays off when you're out trick-or-treating and someone squeals with delight and yells "Oh my gosh! It's Sam and Dean!"
There are tons of great costumes available for purchase or rental, but they're mostly limited to what's trending this season. If you really want to get creative with a costume that stands out, try making your family's costumes with a few tips from the cosplay community.
If you're not familiar with the term, cosplay is a portmanteau of the words "costume" and "play." Cosplay culture is a big part of the pop culture convention scene. Cosplayers dress up as their favorite characters from books, movies, graphic novels, or anything else they love.
The great thing about cosplay is that it's a way to share your love of the character with others however you feel inclined to, and that's why it's a fantastic way to create a completely memorable Halloween costume. It's also a way to make any costume you can imagine a reality whether or not it's available at the store.
Here are a few costume ideas borrowed from cosplay culture to create your perfect Halloween costume:
1. Mine your family faves for ideas.
Instead of choosing a costume based on what's available at the store and looks cool, start by creating a list of your family's favorite TV shows and stories. Look beyond the obvious. Some of the best cosplays I've seen lately were from video games like Bendy and the Ink Machine and a killer Bioshock costume created by local cosplayer Manicorn. And yes, there will probably be dozens of Marvel-themed and Harry Potter costumes out there, but if that's what you like, that's what you should do.
Just remember, sometimes you can bring a fresh take to your cosplay. You don't have to be Harry, Ron, and Hermione. Be Harry, the Golden Snitch, and Hedwig. Love Stranger Things? Include the Christmas light wall or the dry erase board as one of your costumes. Think outside the box and look at smaller but iconic characters or even inanimate objects.
2. Consider a group costume.
When you add your costume to a group, there's a cool multiplier effect that happens. And sometimes, less recognizable characters become instantly recognizable when they are part of a group. Remember that Supernatural reference? One year, our entire family dressed as Supernatural characters. By themselves, the boys were just guys in flannel and jeans holding fake weapons. But when we added Bobby with his iconic trucker cap, Crowley's solid black suit, and Castiel's recognizable khaki trench coat, blue tie, and wings, we were a hit everywhere we went.
TV shows are a great source for group costume ideas. Beloved iconic faves like The Golden Girls can still make a huge splash, and you're bound to get big laughs by dressing your toddler as Sophia Petrillo.
And again, think outside the box if your favorite show doesn't have a cast that fits your family size. Sure, Bob Ross is the only character in The Joy of Painting. But why not have someone go as a canvas, someone as a happy little tree, and add in a couple of random squirrels?
3. Try a mashup.
Mashups are one of the coolest expressions of cosplay culture. At past conventions, we've seen Totoro Sailor Moon, the Addams Family with the wrong cousin IT (Pennywise instead of Cousin Itt), Deadpool Pikachu (this stroke of genius was also Manicorn), and many more amazing mashups.
Try choosing your costume and then changing the colors to another iconic and highly recognizable character. For example, go as Supergirl, but change the blue of her outfit to gingham, add red sparkly shoes, and add two braids. Voila! SuperDorothy.
4. Don't be limited by gender or age.
Some of the best cosplays are the ones that change a character of one gender or age to another. Consider these costume ideas: a lady Joker; Dorothy down to the glittering red shoes but with a gingham shirt, white bowtie, and suspenders; gender-reversed Mabel and Dipper from Gravity Falls. If you're going trick-or-treating with your grandson, consider switching roles for your Up! Costume so you're the scout and he's the old guy.
5. Get creative.
Sometimes, the coolest costumes go a completely different route with the look. Imagine those Wizard of Oz costumes but in formal attire. Or create people versions of popular animal characters like Bambi and Thumper in the style of Equestria Girls.
6. Start with the basics.
Although I've given you some pretty wild ideas, it doesn't take a ton of skill to pull off a cool costume. Take a look at the basic idea of the costume. Our family is creating Bee and Puppycat costumes this year. Puppycat is basically an animal of unidentifiable species with cat and dog qualities. But at his most basic, he's white, so we purchased white long sleeves and a skirt for the Puppycat costume, and anything else can be added onto that. For Bee, we'll start with a yellow sweater and pink skirt. Almost all characters can be boiled down to a color pattern, so find out what it is before you do anything else.
Next, shop your own closet first. Nine times out of ten, you've got something in there you can use. If you don't, move on to a thrift store. Once you've exhausted those options, you can always buy the basics online.
7. Think outside the box.
We recently saw a presentation by local cosplayers Divine Creations where they suggested using dye on wigs or fabric that don't quite work for your costume. They also talked about using creative sourcing for fabric like thrift store drapes.
8. Add the details.
Once you've got the basic layout of your costume, you can add the details that make your costume stand out. Accessories and details can all be crafted and added. For our Puppycat costume, once we've got the white foundation, we'll add a pink collar, a large yellow bell, and brown gloves, ears, and eyebrows. Cosplayers create many of their accessories from foam, but you don't have to be that committed with your Halloween costume. For our costumes, our family usually looks for similar objects and just paints them.
9. Try DisneyBounding.
If you love the idea of creating a clever and unique Halloween costume but find the idea of putting it all together a bit overwhelming, you can always go the Disneybound route.
DisneyBounding is a style of cosplay where you basically wear clothing and accessories in the style of the character. It was originally started by blogger DisneyBound, who wanted to find cool ways to dress up at Disney parks without violating their no costumes rule.
Take The Little Mermaid, for example. If you wear a purple shirt, a pair of green mermaid leggings, and a large white flower in your hair, you'll be recognizable as Ariel. To dress up as a cylon, find a cool lamé dress at the thrift store and wear a ton of metallic jewelry with bright red eye makeup. Voila!
We hope these costume ideas were helpful! Whatever you choose to dress up as this Halloween, be sure to post your pics to Instagram and tag #tulsakids #coffeenebula. Have a great time!
Kristi Roe Owen writes a weekly blog for TulsaKids Magazine, Coffee Nebula. Themes from the Coffee Nebula include Geek Culture, budget friendly living, autism and more. Find Kristi's latest blog posts at tulsakids.com/blog!
---