Getting into Youth Civic Engagement with Tulsa Changemakers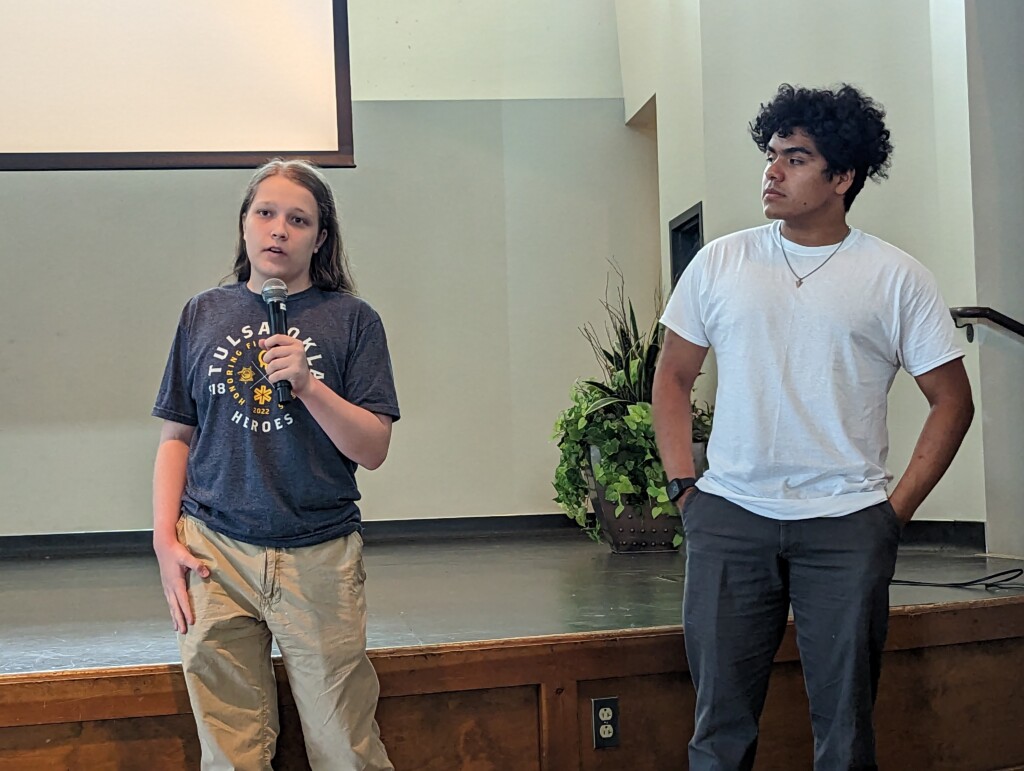 As the political and cultural divides in our country continue to widen, I can't help but wonder if part of the problem is the tension created by the age dynamics of our increasingly older population. As has presumably always been the case, the younger generations tend to have very different beliefs and values than the generations before them, which makes sense since they've grown up in a completely different world and have very different economic, technological, and environmental experiences and concerns.
While the experience and wisdom of elder generations can and should provide valuable insight for younger generations, the fact remains that younger folks should also be part of the conversation when it comes to creating policy that will impact the world long after the elders are gone. That's why it's more important than ever to help prepare youth for stepping up to the plate as leaders whether it's politically, in the workplace, or simply within their communities and families. And preparing those youth is a call that Tulsa Changemakers is committed to answering — something all three of the Nebula kids got to learn about firsthand as they got to participate in rollout leadership programs over the summer.
Who are Tulsa Changemakers?
Tulsa Changemakers is a program developed by Leadership Tulsa, a nonprofit organization formed jointly by the Junior League of Tulsa and the Tulsa Chamber of Commerce in 1973. The focus of Leadership Tulsa is to develop a diverse cross-section of community leaders who "learn about the infrastructure, needs and resources of Tulsa and how to get involved to effect positive change." Tulsa Changemakers narrows that focus to Tulsa's youth by offering a range of ongoing programming.
City of Tulsa Youth Advisory Council
My 15-year-old sons Arthur and Noah spent about six weeks participating in the City of Tulsa Youth Advisory Council early this summer. The program, which met after school, was made up of high school students from across the city. Each week, the youth in attendance were educated on leadership skills and topics related to the governance of Tulsa's municipality.
Students had the opportunity to work with other youth in their district, interviewing folks in their community about key issues and pain points and then working together to brainstorm actionable solutions. During the course of the program, they had the opportunity to connect with several city councilors as well as Mayor G.T. Bynum.
The program wrapped up with presentations from each group and several additional presentations, all of which were outstanding and truly made me feel inspired and hopeful for Tulsa's future. One student that touched on a key issue dear to my heart was Abigail Chow, who spoke about the ongoing need for supporting menstruation equity in the Tulsa community. Arthur and Noah also had the opportunity to speak about their proposal for a first responder autism training and awareness program.
One of the things that really stood out to me during the boys' time in the program was how impressed they were by the other youth. They frequently spoke about one graduating senior who they both felt was someone who would undoubtedly become an influential changemaker in the future. I quickly realized the benefit of this program wasn't just the things they were learning, but the culture of leadership and commitment to change they were experiencing when connecting with other change-minded students through the program.
Power of Youth
After the youth council ended, all three Nebula kids had the opportunity to participate in Summer Power of Youth, a weeklong half-day program for rising 6th through 12th graders from Tulsa-area schools aimed at teaching students civic advocacy, collaboration, and building power as youth in the Tulsa community.
"It taught us more about how to get your voice out there and act for ourselves, who to talk to, how to protest if that doesn't work," Arthur told me. Noah echoed the sentiment, telling me, "I feel like it was pretty useful, and bringing in younger kids is good because it educates them sooner."
Getting Involved
Whether you're a parent, a teacher, a teen, or just someone who wants to help empower the next generation, Tulsa Changemakers offers some fantastic resources online:

The At-Home Impact Project

gives kids a step-by-step guide to creating their own impact project.

The website also offers a handful of

self-guided mini lessons

on a range of topics including everyday leadership, public speaking, and environmentalism, just to name a few.

Participate in the next Power of Youth cohort. These programs are offered several times a year.

Volunteer or donate to help keep their programs going.
On behalf of the Coffee Nebula family, a huge thanks to Tulsa Changemakers for all our kids learned this summer as part of their program. Thanks to all of our readers, and have an impactful week in your nebula!
---