Geek Out with a Family Holiday Special Watch Party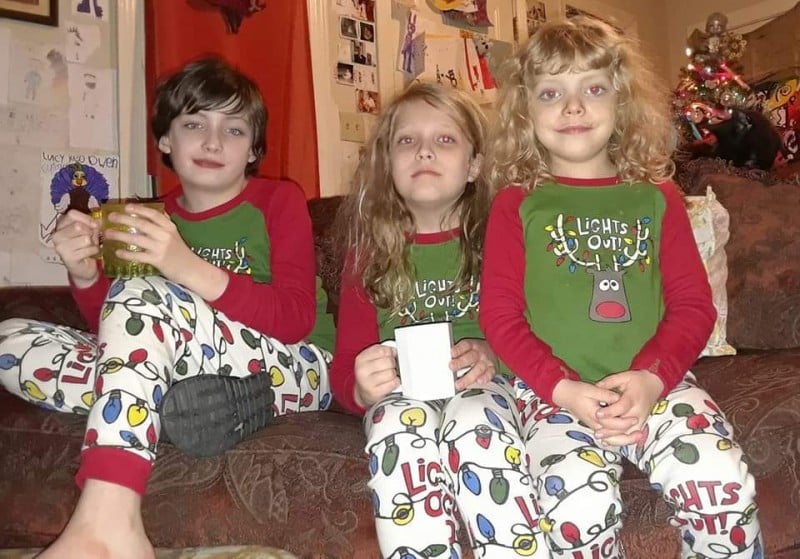 It's the holiday season, and if you're like us, you've got big plans. Just kidding! COVID is raging and you're not going anywhere. But pouters get coal for Christmas, so deck the halls with boughs of protective facial coverings and toilet paper. If we're all good kids and socially distance, we'll get good news soon enough. Santa Fauci is making his list of vaccine manufacturers and checking it twice, and although the FDA sleigh won't be coming down our chimneys in time for Christmas, it won't be long now.
In the meantime, I've got you covered with plenty of holiday whimsy for your socially distant holiday-themed couch potatoing. I've put together my favorite holiday-themed episodes from all of my top sci-fi and geeky shows. Most of the content on this list is at most equal to about a PG or PG-13 rating, but I always recommend checking out content first before viewing with the fam if you're not sure.
Whether you're hosting your kids' pandemic pod friends for a safe holiday sleepover or you're just trying to max out your holiday cheer, grab your Owencorn and clicker, break out your favorite pair of lounging pants, and settle in with your teens and tweens for geeky holiday fun. For a more complete list of holiday episodes, check out this fantastic Wikipedia entry.
Start With DIY Geek-Themed Ugly Christmas Masks!
You've got the watch list ready to go, you've got the snacks. Why not take things to the next level with a holiday geek-inspired ugly Christmas mask? Ugly sweaters are fun, but between you and me, they were played out long before the Rona came along. Heck, most of what passes as ugly sweaters these days aren't even actually ugly! This year is your one and only shot to shake things up by making ugly masks instead of another ugly sweater, supporting your commitment to public safety, the geeky arts, and your favorite fandom!
Start with a multi-pack of plain face masks. Gather glitter glue, sequins, fabric paint, fabric glue, felt, and whatever else you can think of to bling up your masks. Have everyone create a holiday face mask inspired by their favorite holiday special or fandom.
To share the fun, start a virtual event on Facebook, and invite all of your friends and fam. The rules are simple: Have everyone embellish and upload their ugly Christmas mask photos and then vote with a gif or a like. The mask with the most likes wins!
Make Your Watch List and Check it Twice!
Once you've made your masks, it's time to party like it's 2020. Gather your fandom-inspired snacks, dress in your finest cosplay-inspired geek gear, and settle in for a long winter's watch party.
🎄 A Very Psych Christmas (Prime or Peacock)
If you have tweens or teens and you're not watching Psych, you're missing out. For my money, it's one of the cleanest and most fun shows on TV. In a nutshell, fake psychic and his best friend eat snacks and act silly while making loads of hilarious pop culture jokes.
Like many of the 80s and 90s shows the writers love to reference, Psych features several dedicated holiday episodes:
S2 E10: "Gus's Dad May Have Killed an Old Guy"
S3 E9: "Christmas Joy"
S5 E14: "The Polarizing Express"
Required Snacks:
Snyder's of Hanover pretzels
Fresh pineapple
Quatro quesos dos fritos
Thanksgiving balls
🎄 Christmas Time and Space with Doctor Who (Hulu with HBO Max Add-on)
Doctor Who Christmas episodes have been a staple of the series since it was first revived, kicking off with the Tenth Doctor's "The Christmas Invasion." In fact, there are so many Doctor Who holiday specials that there's an entire Wikipedia entry dedicated to them. To watch Doctor Who, you'll need an HBOMax subscription or a Hulu subscription with HBOMax. Here's the trick: You won't find Doctor Who on Hulu, so you'll need to log in to the app on your Roku or device and select "Hulu" as your provider.
My Favorite Christmas Episodes:
"The Christmas Invasion"
"The Unquiet Dead"
"The Runaway Bride"
"Voyage of the Damned"
"A Christmas Carol"
"The Doctor, the Witch, and the Wardrobe"
"The Snowmen"
Required Snacks:
Fish fingers and custard
Marshmallow baby adipose
Jammie dodgers
Jelly babies
And of course, tea!
🎄 Futurama: Bite My Shiny Metal Sleigh (Hulu)
Nothing says Christmas of the future like a murderous Robot Santa. The Planet Express crew would probably celebrate with plenty of Slurm and popplers, but you'll have to settle for regular human food unless you've got a secret intergalactic portal in your basement.
Episodes:
S2 E4 "Xmas Story"
S3 E3 "A Tale of Two Santas"
S6 E13 "The Futurama Holiday Spectacular"
Required Snacks:
Manwiches
(Panucci's) Pizza
"Bachelor" Chow
🎄 Twilight Zone and Tinsel (Netflix, Hulu, or CBS)
One thing I've learned from rewatching Twilight Zone with my kids is that it's surprisingly just as relevant today as it was when the show first came out. Rod Serling perfected the concept of science fiction as a mirror of the human condition, and Christmas is arguably a fairly concentrated distillation of what it means to be human. View the original series on Netflix or Hulu, and catch the new episodes on CBS where they can be viewed in black and white or full color.
Episodes:
Original series:
S2 E11: "Night of the Meek"
S3 E14: "Five Characters in Search of an Exit"
S3 E37: "The Changing of the Guard"
New series:
S1 E4: "A Traveler"
Required Snacks:
🎄 Have Yourself a Golden Little Christmas
When I imagined what it would be like to have teenagers, I never imagined it would mean grounding them for sneaking around to school-night binge the Golden Girls, but here we are. My kids love the Golden Girls, and I've heard we're not alone in this. Maybe it's the fact that they're sassy women ahead of their time who dole out equal amounts of sick burns and soul-nurturing compassion, but Zoomers seem to really connect with Blanche, Rose, Sophia, and Dorothy.
Episodes:
S2 E11: "'Twas the Night Before Christmas"
S4 E12: "Have Yourself a Very Little Christmas"
Required Snacks:
Cheesecake
🎄 Community Christmas Party
Hang out with your favorite study group/paintball team/Dungeons and Dragons party for cross-cultural holiday hilarity.
Episodes:
S1 E12: "Comparative Religion"
S2 E11: "Abed's Uncontrollable Christmas"
S3E10: "Regional Holiday Music"
S4E10: "Intro to Knots"
Required Snacks:
Subway sandwiches
Holiday Mix
Listed below are a few random favorites from shows that don't have enough holiday episodes to warrant their own individual holiday binge but are definitely worth the watch.
🎄 Sliders
S3 E12 "Season's Greedings" (Watch on Peacock for free!)
Giant mall, elves, weirdly awesome capitalist dystopia.
🎄 Xena: Warrior Princess
S2 E9 "A Solstice Carol" (Watch on Prime for $1.99)
Ancient Greece, evil warlords, Santa Claus.
🎄 Supernatural
S3 E8 "A Very Supernatural Christmas" (Netflix)
Sam, Dean, and the anti-Santa. Required snack: Pie
🎄 The X-Files
S6 E6 "How the Ghosts Stole Christmas" (Hulu)
Lily Tomlin is fantastic in this. As a monster-of-the-week classic X-files storyline, it's a pretty good one. Fair warning: This episode pretty scary for easily frightened tweens and does have a murder/suicide theme related to the ghosts, so use your own discretion.
🎄 Leverage
S3 E14 "The Ho Ho Ho Job" (Prime)
Robin Hood heist holiday hijinks.
🎄 The Librarians
S1 E4 "And Santa's Midnight Run" (Hulu)
Magic library. Need I say more?
🎄🎄🎄🎄🎄🎄🎄🎄🎄🎄🎄🎄🎄🎄🎄
Do you have a favorite holiday episode I've left off the list? Be sure to share it in the comments so I can check it out! And don't forget to upload your ugly mask pics to Instagram with the hashtag #tkholidaygeek! Thanks for reading, and have a magical week in your little nebula!
---