Frost Bison and Ice Giants:
Our second visit to Tulsa Botanic Garden's Garden of Lights!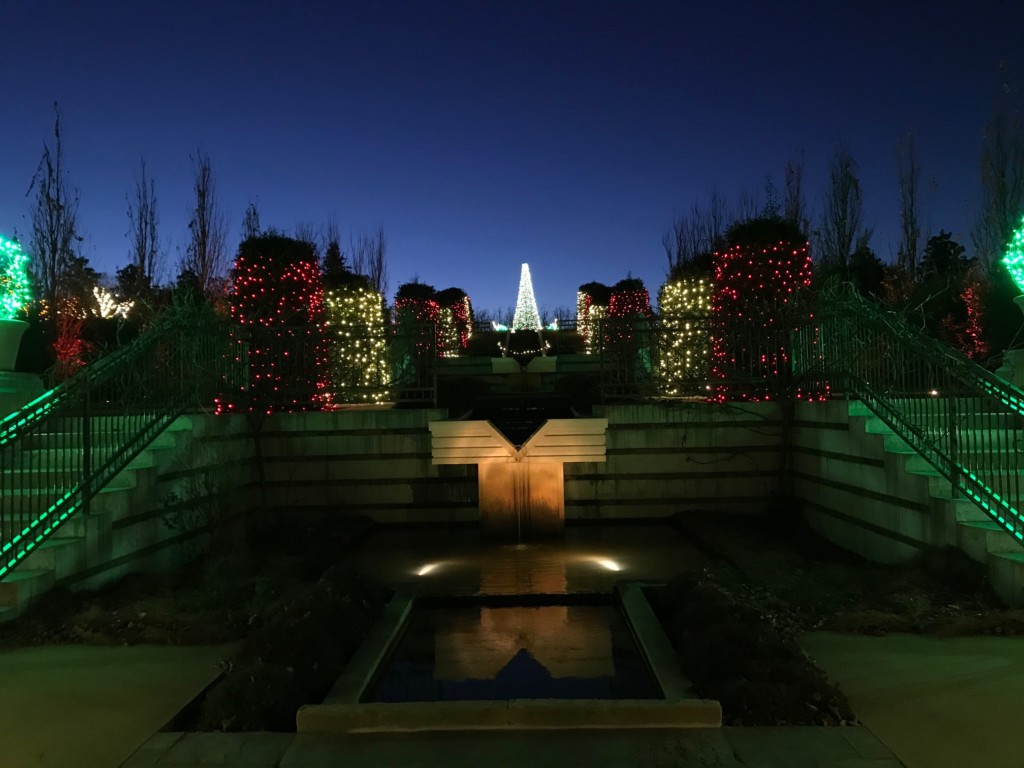 For the second year in a row, Tulsa Botanic Garden invited our family to their Garden of Lights media preview night. (Thank you, TBG!!) We love this event. Last year, Daniel wasn't able to come, but this year, he was available! So it was a special experience to get to go as a family.
Tulsa Botanic Garden's Garden of Lights officially opens on Friday, November 29 and runs Thursday-Sunday, 5-10 p.m. through January 5. I'll talk about some of the nightly sights/activities in a bit, but here's information about some date-specific special events:
Botanical St. Nick: Thursdays-Saturdays, 6-9 p.m., December 5-21 (Mother Christmas will visit on December 21 instead of St. Nick)
Train Rides: Thursdays-Saturdays, 5-9 p.m. (Nov. 30 and Dec. 7 will feature golf cart rides rather than train rides)
All aboard!
Holiday Craft Cocktails and Live Music: Sundays, 6-8 p.m. (Click here for musician schedule)
Holiday Model Railroad by the Tulsa Garden Railroad Club: December 12-15 and 19-22
Garden Member Appreciation Nights: Thursdays. (Click here for details about special member discounts)
Without further ado, here are our top five Garden of Lights highlights:
1. Snowball Pit!
I had to put this first because this was definitely Joss's favorite part of the evening–and such a simple, fun idea! For Autumn in the Garden, TBG had set up a hay bale maze, and it looks like they repurposed it for Garden of Lights! They added several lit pine trees, making the whole maze absolutely lovely, and–most importantly–the Snowball Pit.
The snowballs are made out of cloth, so they'll never melt, and–as long as you don't get hit point-blank in the face (as Joss did at one point), shouldn't cause any damage. No chance of getting hit by a sneaky ice ball!
Anyway, Joss got a kick out of throwing snowballs at us (naturally), and we were happy to return some friendly fire.
2. Speaking of Fire…
Opportunities to roast marshmallows for s'mores over a real fire are few and far between (at least, for us). So getting to spend some time around a cozy fire pit discussing whether marshmallows are better "lightly toasted, with perfectly gooey centers" or "slightly blackened" is always a treat.
There were two fire pit stations at this year's Garden of Lights, one just South of the Visitor's Center and one at Mabee Grange. The first one featured long hay bales with blankets to sit on, and a little cabin where you could purchase s'mores kits, hot chocolate or wine. We also got to roast hot dogs at Mabee Grange, but I don't know if this is an ongoing opportunity because there's also a food truck schedule, available here.
3. Frost Bison!
I'd seen Instagram previews of TBG's Frost Bison leading up to the event, so was excited to see these new additions in person! The three Frost Bison are located in the Children's Discovery Garden, and let's just say, that whole garden is magical!
In keeping with the frosty theme, lights in the Discovery Garden are turquoise and purple-hued (as opposed to bright red and green), plus they had some ethereal nature sounds playing on speakers throughout the garden, like owl noises, etc. Combined with the sounds of fountains and waterfalls–they did a great job of creating a really "cool" atmosphere!
Path from the Discovery Garden to Mabee Grange
If you attended Garden of Lights last year, don't worry: Although the Ice Giants weren't set up for preview night, we were reassured that they would be making their appearance soon!
Photo by Daniel
4. Photo Booth
I love a good photo booth, and Tulsa Botanic Garden really did a nice job of setting the stage with theirs! The gold frame was surrounded by black curtains, so it looked nice and professional (you know, to go with the goofy-glasses and sparkly reindeer antler props, haha). They also had stools, which was a great touch–I didn't have to attempt to pose while holding Joss up!
Joss, naturally, chose a martini glass from the prop table. It was a little difficult to get him to keep the "straw" away from his mouth for the photos. Thanks for making me look like mother-of-the-year, little guy 🙂
5. Lights! Music!
Tulsa Botanic Garden is gorgeous at all seasons. But getting to see the garden lit up by thousands of lights is something special! It would be hard not to become completely immersed in the holiday spirit while walking through an illuminated curtain in the Tandy Floral Terraces, listening to instrumental renditions of your favorite carols.
Photo by Daniel
Indulge me while I share a couple more photos…
Wrapping Up!
I would be remiss if I didn't mention the Wishing Tree. We didn't spend much time on this activity because Joss has been watching a lot of "True and the Rainbow Kingdom" lately, so when he heard the words "Wishing Tree," all he could think of were magical, cartoonish Wish characters with names like Whoosh and Blub-blub.
But if your child is a bit more focused, you are encouraged to think about and write down/draw wishes for yourself, your family and your community, then hang these on the Wishing Tree. A beautiful tradition…if you go, read some of the other wishes to get an idea of what's on the minds and hearts of people in our community!
Hopefully this has encouraged you to think about attending Garden of Lights this year! Easily one of our favorite holiday traditions. Tickets are $15 for ages 13+, $5 for children ages 3-12 and free for children under 3. Tickets are limited, so it's definitely a good idea to pre-purchase tickets, which you can do here.
Let me know if you attended Garden of Lights last year or plan to do so this year! What did your family enjoy the most about the event?
---