Frighteningly Fun Recipes to Make for Halloween
Recipes for S'more Rice Krispie Treats, Taco Soup and Oven-Baked Caramel Corn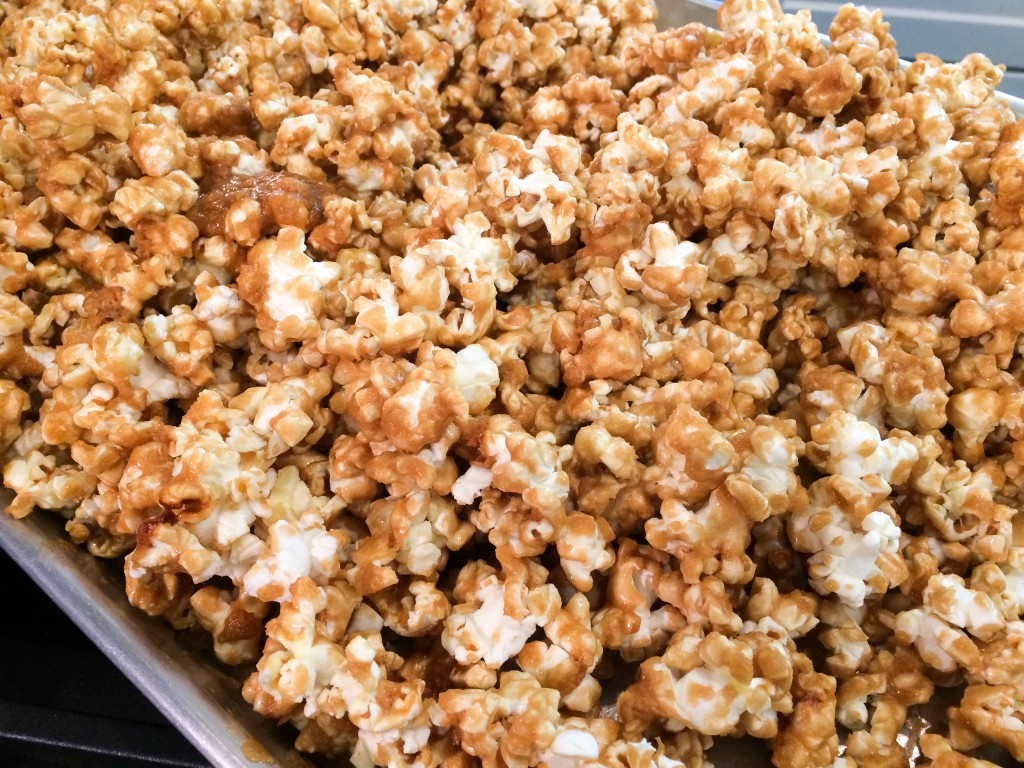 The best way to create a fun Halloween is to think about what made it fun for you as a kid.
As parents, it's easy to put Halloween on the never-ending checklist. Buying the candy, throwing a costume in the cart, taking the photos and moving on to the next thing.
But even a quick reflection on our own childhoods can help us think of creative ways – whether simple or all-out – that can imprint on our own kids' memories.
For me, I'll never forget the Halloween party my mother had for my sister, me and our friends. She created a spooky buffet. Cold spaghetti noodles were worms. Hot dogs wrapped in bread dough were mummies. Big marshmallows with little dots of chocolate for the eyes and mouth were ghosts. It was pretty simple to create, but so much fun.
I will never be the parent who makes a haunted house, sews an amazing costume or creates cool Dracula makeup. But I can cook! And I can make passing out candy to trick-or-treaters fun by wearing my ladybug costume that gets dragged out of my closet once a year.
Think about what you could do to make Halloween memorable with your kids. Take time during the rush of the day to watch their faces as they experience the fun.
Here are some fun Halloween recipes to make for your kids and their friends before you trick-or-treat.
---
Try this new take on a classic kids' favorite.
S'more Rice Krispies Treats
Rice Krispies Treats ingredients (see instructions)
4 graham crackers, roughly chopped
1 cup mini marshmallows
1 (12-ounce) package chocolate chips, divided
Make Rice Krispies Treats according to direction on cereal box. Before spreading in pan, add graham crackers, mini marshmallows and half the chocolate chips. Stir to mix. Spread mixture in a parchment-lined 9-by-13-inch pan. Melt remaining chocolate chips and drizzle over cereal mixture.
---
You can feed a lot of trick or treaters with this easy soup. Serve it with tortilla chips, cheese and sour cream. (If you fill them up, maybe they'll eat less candy.)
Taco Soup
2 pounds ground beef
½ onion, chopped
1 (15-ounce) can pinto beans
1 (15-ounce) can ranch-style beans
1 (15-ounce) can corn
1 (4.5-ounce) can chopped green chiles
1 can Rotel tomatoes with green chiles
1 (1-ounce) package Ranch dressing mix
1 (1-ounce) package taco seasoning
Brown ground beef and chopped onion. Drain fat. Add beans, corn, green chiles, tomatoes, ranch dressing mix and taco seasoning. Cook until heated through.
---
Fill the house with the toasty smell of caramel corn.
Oven-Baked Caramel Corn
1 cup butter
2 cups brown sugar
½ cup light corn syrup
Pinch of cream of tartar
1 teaspoon baking soda
10-12 quarts popped popcorn
Heat oven to 225 degrees. Mix butter, brown sugar, corn syrup and cream of tartar in a saucepan on the stove. Bring to a boil for 5 minutes, stirring continuously. Remove from heat. Stir in baking soda.
Place popcorn on a large roasting or sheet pan. Pour caramel mixture over popcorn and stir. Bake 50 minutes, stirring every 10 minutes.
Natalie Mikles is a mom of three – 12-year-old twin girls and an 11-year-old boy. She writes about food, sharing recipes for busy families and picky eaters. She has been recognized for her food columns as well as features on families and issues affecting local children. She loves pizza and movie nights with her family.
---